Realme GT2 review
GSMArena Team, 28 March 2022.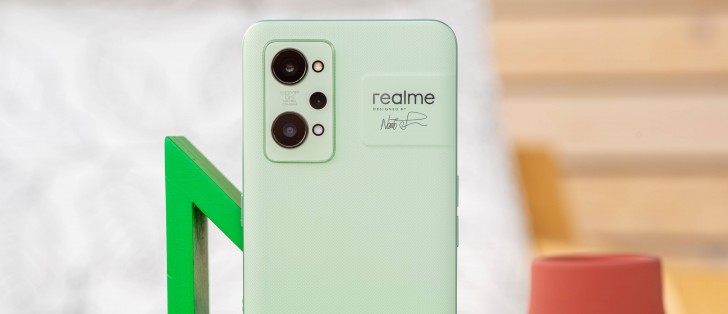 Realme UI 3.0 and Android 12
Realme UI 3.0 is a familiar OS running on top of Android 12. Most of the features we saw in the GT2 Pro are available here as well, except those that require some specific hardware. And since the GT2 and the GT2 Pro are pretty similar to each other, there's little to no difference in the software as well.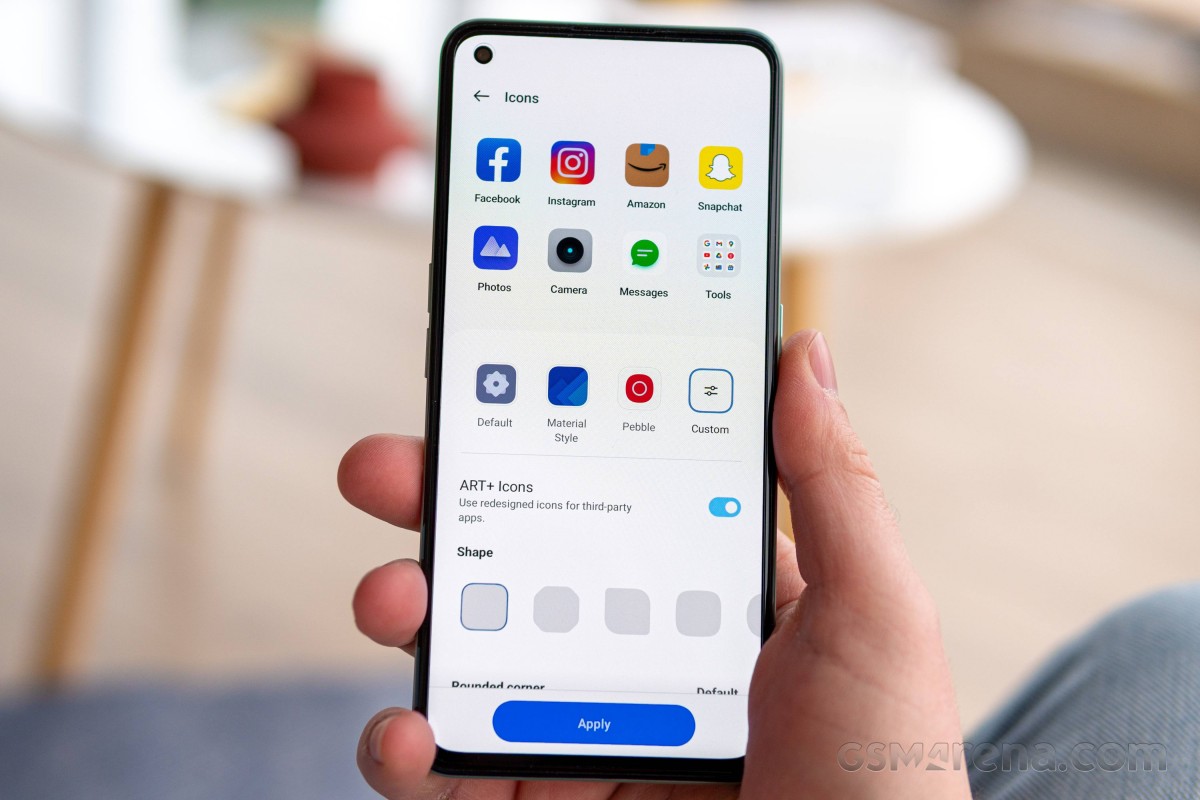 Visually, the OS hasn't changed much. Realme UI has a colorful UI with customizable UI elements and its own iconography for the notification shade and the general Settings menu. The app drawer hasn't been tweaked either, but we did notice a bit of inconsistency with the swipe up and swipe down gestures on the Home screen when opening/closing the drawer. A small annoyance that shouldn't bother most users.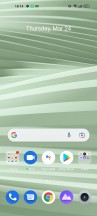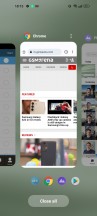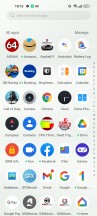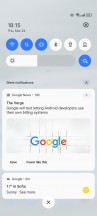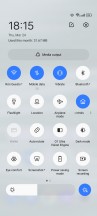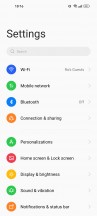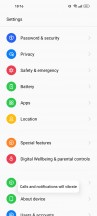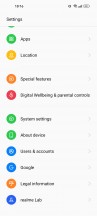 Home screen, recent apps, notification shade, Settings menu
Realme also kept the so-called Icon pull-down gesture. Swiping alongside the left or right edge of the screen crams icons at the bottom half of the screen so they can be easily reached with your thumb. The gesture is pretty reliable as well. By default, the swipe down gesture on the Home screen opens up the so-called global search, but you can always set the notification shade instead.
When it comes to Android 12-specific features, most of them are under-the-hood changes. However, the privacy-focused efforts from Google are translated into Realme UI 3.0. The so-called Privacy dashboard is one example. It's a unified view for all your permissions and user data settings. It gives you information on which apps and how often they access your information or ask for certain permissions. It looks and feels like the Digital wellbeing dashboard introduced with Android 10.
In addition to those privacy features, Android 12 lets you choose the accuracy of your location shared with certain apps. Let's say you want to share an approximate location with some apps instead of your exact location. And when a certain app is accessing your mic or camera, a green dot will appear in the upper-right corner of the screen so you'd know what's going on.
For a more in-depth look at Android 12, we suggest reading our full Android 12 review as we will try to focus on the Realme UI itself in the following paragraphs.
As before, Realme UI offers deep customization of the interface by letting you choose accent colors (or a combination of accent colors), wallpapers, icons, the shape of the quick toggles as well as the font and size. All of these settings are found in the Personalization sub-menu.
The Dark mode isn't a new feature, especially for Realme's UI, but with the second iteration of the OS, you get some additional options. Scheduling the Dark mode is possible, of course, and forcing it on third-party apps is also available. However, we were surprised by the color schemes, as the Dark mode now offers three variations - dark gray instead of black and a bit lighter gray. The gray color has been proven to be just as effective as the pitch-black color when it comes to energy consumption. So going for a lighter gray might be a sweet spot for users that are hesitant to use the conventional Dark mode.
The Always-on display customizations aren't left out. You can customize it to your liking or choose from the default presets. Scheduling is also an option.
Under the Special features sub-menu, Realme put the Smart sidebar and Flexible windows features, both of which boost multitasking. When turned on, the sidebar offers quick access to some of your favorite apps. The system allows you to adjust the position of the sidebar, which is crucial because it might interfere with the back gesture if you are using the standard Android gestures. Anyway, tap and hold on an app icon enters split-screen mode while a single tap opens up the app in a floating window or as Realme likes to call it, "Flexible window". The supported apps can be opened in small, draggable and size-adjustable windows.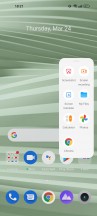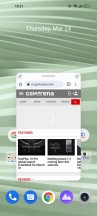 Smart Sidebar and Floating window
A few good words about the vibration motor - it seems to be improved upon as the haptic feedback feels precise, punchy and strong. It feels great alongside the whole frame of the phone when typing or during certain actions when navigating through menus and apps.
The good old screen-off gestures that allow you to launch certain apps or the flashlight by drawing letters on a locked screen are here to stay.
In the Realme labs, where the company likes to introduce experimental features, there's one that caught our eye. You can stream music to a Bluetooth headset and wired headphones simultaneously. Pretty neat if you are traveling with a friend and want to listen to the same tunes.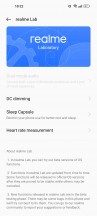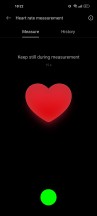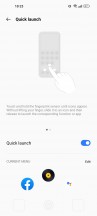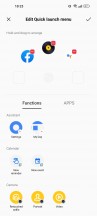 Advanced fingerprint reader features
Lastly, let's talk about the fingerprint reader. It's fast, it's accurate and reliable. This one seems to be at the right spot. Two new features are now available with the fingerprint reader, though. One of them is the built-in heart rate monitor, which seems to be rather okay in terms of accuracy in the user's resting state, but it's largely inconsistent also. A Quick launch option is now available and seems to be taken straight from OnePlus' OxygenOS. You just tap on the fingerprint scanner and hold until icons for your pre-defined apps appear. Dragging your finger on one of them launches the app in question.
All in all, though, the Realme UI 3.0 looks snappy, offers some new features and looks and feels the same as the previous iteration of the software, for better or worse. It's also highly customizable, and that's something a lot of Android users are looking for. Bonus points for that.
Synthetic and sustained performance
Being the cheaper option of the two, the vanilla GT2 uses last year's top-tier SoC from Qualcomm, which arguably is a better solution from price/performance standpoint. Sure, the Snapdragon 8 Gen 1 is one powerful chip with substantial performance gain over its predecessor, but it's hardly justified for the vast majority of users. The Snapdragon 888 chipset is capable of serious number crunching and can run pretty much everything you throw at it.
The SD 888 is built on the 5nm manufacturing process by Samsung and uses an octa-core CPU. The latter consists of 1x 2.84 GHz Kryo 680 Prime (Cortex-X1) core + 3x 2.42 GHz Kryo 680 Gold (Cortex-A78) cores + 4x 1.80 GHz Kryo 680 Silver (Cortex-A55) cores. The Adreno 660 GPU clocked at 840 MHz takes care of the graphically-intensive tasks.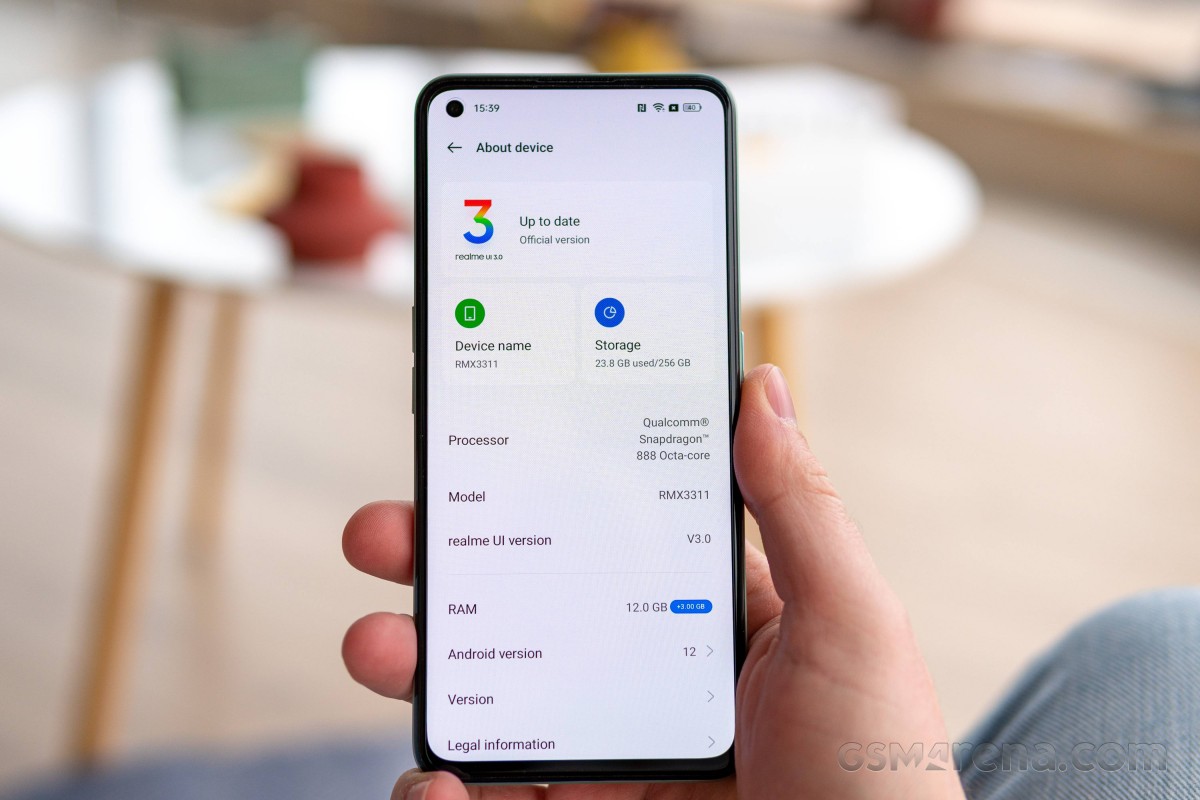 The Realme GT2 comes in three storage configurations as opposed to the GT2 Pro, that offers four flavors, one of which is is 512GB. The standard GT2's base configuration is 8GB/128GB, whereas the other two are 8GB/256GB and 12GB/256GB. Of course, all options use UFS 3.1 storage chips.
We ran the usual synthetic benchmarks to assess the implementation of the Snapdragon 888 and how it fares against other similarly-priced alternatives.
GeekBench 5 (multi-core)
Higher is better
Xiaomi 12
3652
OnePlus 9
3629
Realme GT 5G
3555
Samsung Galaxy S22+ (Max processing)
3542
Samsung Galaxy S22+
3528
Realme GT2 Pro
3501
Realme GT2
3487
Samsung Galaxy S21+ 5G
3476
Samsung Galaxy S21 FE 5G
3049
Xiaomi 11T
2834
GeekBench 5 (single-core)
Higher is better
Realme GT2 Pro
1238
Xiaomi 12
1187
Samsung Galaxy S22+
1165
Realme GT 5G
1139
Realme GT2
1131
OnePlus 9
1129
Samsung Galaxy S21 FE 5G
1096
Samsung Galaxy S21+ 5G
1091
Samsung Galaxy S22+ (Max processing)
1037
Xiaomi 11T
742
AnTuTu 9
Higher is better
Xiaomi 12
985115
Realme GT2 Pro
966251
Samsung Galaxy S22+
886916
Realme GT2
810512
Realme GT 5G
810433
Samsung Galaxy S21 FE 5G
719696
Xiaomi 11T
590837
3DMark Wild Life Vulkan 1.1 (offscreen 1440p)
Higher is better
Xiaomi 12
9535
Realme GT2 Pro
9487
Samsung Galaxy S22+
7405
Realme GT2
5879
Realme GT 5G
5872
Samsung Galaxy S21+ 5G
5757
OnePlus 9
5667
Samsung Galaxy S21 FE 5G
5432
Xiaomi 11T
4172
GFX Car Chase ES 3.1 (onscreen)
Higher is better
Xiaomi 12
75
Samsung Galaxy S22+
68
OnePlus 9
58
Realme GT2
56
Samsung Galaxy S21 FE 5G
56
Realme GT 5G
55
Samsung Galaxy S21+ 5G
54
Realme GT2 Pro
48
Xiaomi 11T
40
GFX Car Chase ES 3.1 (offscreen 1080p)
Higher is better
Realme GT2 Pro
95
Xiaomi 12
84
Samsung Galaxy S22+
76
OnePlus 9
70
Realme GT2
68
Samsung Galaxy S21+ 5G
66
Realme GT 5G
65
Samsung Galaxy S21 FE 5G
57
Xiaomi 11T
47
GFX Aztek Vulkan High (offscreen 1440p)
Higher is better
Realme GT2 Pro
46
Xiaomi 12
45
Samsung Galaxy S22+
34
Realme GT2
30
OnePlus 9
30
Realme GT 5G
29
Samsung Galaxy S21+ 5G
26
Samsung Galaxy S21 FE 5G
25
Xiaomi 11T
20
GFX Aztek Vulkan High (onscreen)
Higher is better
Xiaomi 12
59
Samsung Galaxy S22+
51
OnePlus 9
43
Realme GT2 Pro
39
Realme GT2
38
Realme GT 5G
38
Samsung Galaxy S21 FE 5G
38
Samsung Galaxy S21+ 5G
37
Xiaomi 11T
29
The Snapdragon 888 inside the Realme GT2 performs as expected with no serious deviations from other SD 888-powered phones. It's also right up there with the best-performing SoCs in the industry trailing only the Exynos 2200 chip from Samsung and this year's Snapdragon 8 Gen 1. In some instances, like the CPU-bound workloads, last year's Exynos 2100 is doing better, too.
Note that in the onscreen GPU tests or combined workloads like AnTuTu 9, the GT2 may post considerably higher results than other SD 888 handsets and current SD8 Gen 1 smartphones because of the lower 1080p resolution, while premium flagships with 1440p displays struggle to reach the same frames per second.
Sustained performance
The Realme GT2 Pro proved to be an excellent performer during long and heavy workloads thanks to its 9-layer cooling design. The GT2, on the other hand, uses an 8-layer cooling design, and the company doesn't specify which layer has been left out. Either way, the standard cooling solution for the devices includes a stainless steel vapor chamber with 36,761 mm2 cooling surface area and is 26% larger than the one used in the previous Realme GT series. There's also a diamond thermal gel with 50-60% better thermal conductivity than standard thermal pastes. The stainless steel chamber has been complemented with an additional copper alloy layer. Once again, one of those components or an unnamed one is missing from the vanilla GT2.
However, the results from our stress test are more than promising. The hour-long CPU throttle test showed a relatively flat curve and the system maintained about 90% of the maximum CPU performance for most of the time. In fact, there was a brief drop to 81% before returning back to the 90% zone. That's an outstanding result for a powerful flagship, and it's close to what we got on the GT2 Pro with the Snapdragon 8 Gen 1.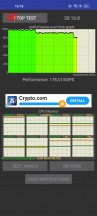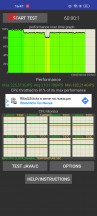 CPU throttle test: 30 mins • 60 mins
We also didn't find the phone's back all that hot. The side frame was sensibly warmer, but the back remained adequately warm without causing discomfort.
The 20-minute, GPU-heavy Wild Life Unlimited Stress test returned a good score as well - 68.7% stability with a relatively gradual decline in performance from loop to loop.
Anonymous
15 Jul 2023
7kj
buy a professional dslr camera
Does realme gt 2 have face shape change ( thinner or opposite) form front camera because of lack of telephoto?
Johnvoxville
22 Apr 2023
J2x
In my country GT2 8/128 and Poco X5 Pro 8/256 have the same price tag. I don't mind having less storage. Right now I have Samsung A50 6/64 and I'm fine with its storage. I also like its GUI and underscreen fingerprint sensor (I know it'...