Realme GT Neo2 review
GSMArena Team, 20 October 2021.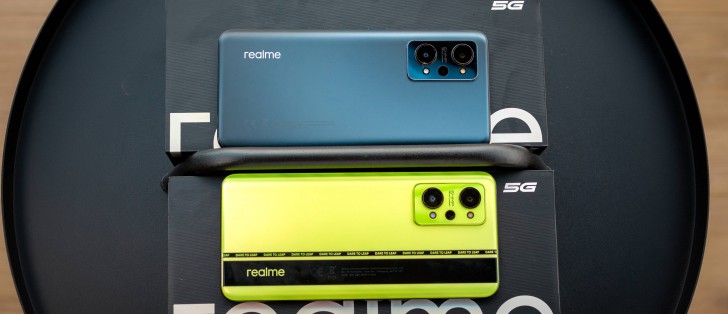 Realme UI 2.0 and Android 11
Even though, Realme said that the GT Neo2 would most likely launch with Android 12 and Realme UI 3.0 in Europe, the update has been pushed back to December going by recent official news. This isn't such a bad thing, though, as December is just around the corner, and the Neo2 will be running the latest and greatest shortly after its global release anyway. As for now, we will focus on the well-known Realme UI 2.0 based on Android 11. We've already reviewed the Realme GT Master and GT Explorer Master, both employing the Realme UI 2.0. However, the GT Neo2 has a couple of additional features, but the basics are the same.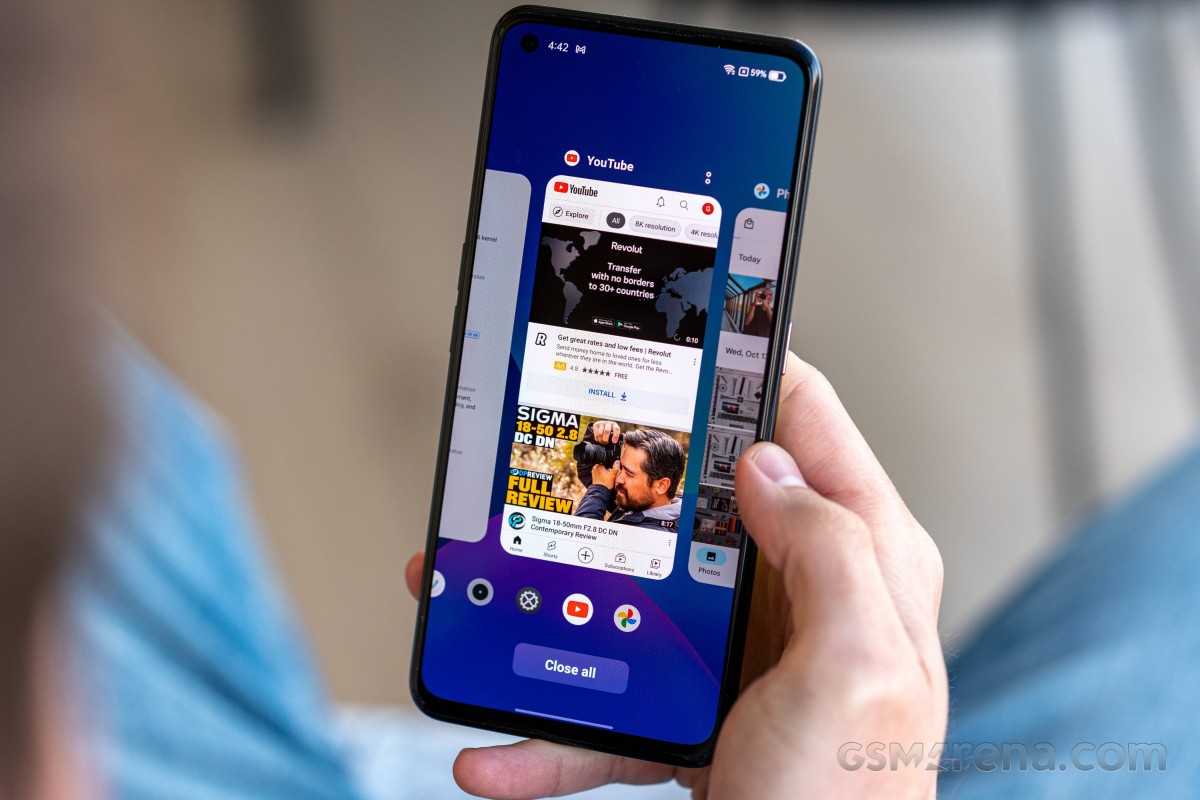 Despite its customizable nature, Realme's UI has a cleaner approach to Android, much like OnePlus' OxygenOS. However, most of the ColorOS features from Oppo's skin can be found here. You can say that Realme's UI is an interesting mix of the two. In any case, once you boot up the device for the first time, you will be greeted with the standard home screen, the usual notification shade stock-ish looking icons, and a no-nonsense recent apps menu with the carousel style formation.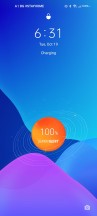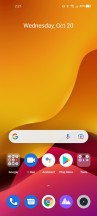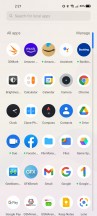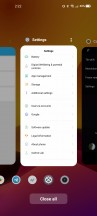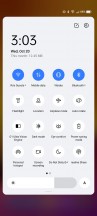 Home screen, recent apps, app drawer, notification shade
A couple neat things to note here - there's the option to open each app in a separate mini window or floating one. A nice multi-tasking feature that's been around for a while. Also, you can scroll through the recent apps faster using the icons at the bottom as a scroller.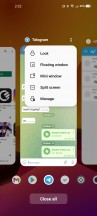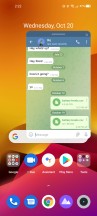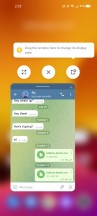 Recent apps menu and floating window
Opening the Home screen settings menu would show some useful features. For instance, you can set the keyboard to slide out every time you open the app drawer, you can set the animation speed, activate some screen-off gestures and enable the so-called Icon pull-down feature. We've first seen this on Oppo's ColorOS, and we found it to be quite helpful on phones with extra-large screens. It's pretty simple, and the gesture seems to work consistently. Slide down along the left or right edge of the display, and the icons on the Home screen would minimize towards the bottom half. Proceed with dragging your finger across the apps, and the highlighted one will be opened once you lift your finger.
Most of the visual customizations are gathered in one place. You can choose the icon pack or customize one by yourself, set a fingerprint animation to your liking, choose the accent colors, adjust the font and even change the shape of the quick toggles in the notification shade. The color of the edge lighting can be changed too.
The Always-on display is customizable as always - a wide selection of clock styles, animations, graphics is available, and in case that's not enough, you can set an image from the gallery.
The Dark mode isn't a new feature, especially for Realme's UI, but with the second iteration of the OS, you get some additional options. Scheduling the Dark mode is possible, of course, and forcing it on third-party apps is also available. We were surprised by the color schemes, however, as the Dark mode now offers three variations - dark gray instead of black and a bit lighter gray. The gray color has been proven to be just as effective as the pitch-black color when it comes to energy consumption. So going for a lighter gray might be a sweet spot for users that are hesitant to use the conventional Dark mode.
The Convenience tools section is home to some of the iconic Realme/Oppo/OnePlus screen-off features. Drawing letters on a locked screen can launch an app or execute a task. Gestures for multimedia control are also on the menu.
Similarly to Samsung's Edge panel, Realme has a Smart Sidebar feature. The actions and apps that appear along with the sidebar's position along the edge of the screen are all customizable. That last one is crucial as it can interfere with the back gesture if you are using Android's default gesture-based navigation.
The Realme Lab sub-menu holds three unique features, which we haven't seen before. They are located in the Realme Lab tab for a reason - these features are still in beta. DC dimming is old news, but the Smooth scrolling and Sleep Capsule are new. The former doesn't seem to improve scrolling; at least we couldn't see the change. Sleep Capsule restricts your phone usage so you can get a good night's sleep. Lastly, Realme is working on a feature that can stream music on a set of wired and wireless headphones. Seems like a cool feature to be able to share your music with a friend.
Performance
The Realme GT Neo2 utilizes the potent Snapdragon 870, which is basically a re-badge, flagship Snapdragon 865+ from last year with a slightly higher clock of the main Kryo 585 Prime core clocked at 3.2 GHz while the 3x Kryo 585 Gold cores are running at 2.42 GHz. These two clusters are based on ARM's Cortex-A77 cores for serious number crunching, while the 4x Kryo 585 Silver cores ticking at 1.8 GHz are Cortex-A55. A slightly higher clocked Adreno 640 GPU is on board as well.
The Neo2 comes in a couple of flavors - 8GB/128GB, 8GB/256GB and 12GB/256GB with no expandable storage, but funnily enough, you can expand the memory by allocating storage. We've got the 12GB/256GB unit that allows up to 7GB of memory allocation. But from our experience, the maximum allowed value may vary depending on the phone's memory configuration.
Let's see how it fares against the competition in strictly synthetic workloads.
GeekBench 5 (multi-core)
Higher is better
Realme GT 5G
3555
Realme GT Neo2
3186
Samsung Galaxy A52s 5G
2801
OnePlus Nord 2
2792
Poco X3 Pro
2574
Samsung Galaxy A72
1627
GeekBench 5 (single-core)
Higher is better
Realme GT 5G
1139
Realme GT Neo2
1019
OnePlus Nord 2
814
Samsung Galaxy A52s 5G
771
Poco X3 Pro
735
Samsung Galaxy A72
537
AnTuTu 9
Higher is better
Realme GT 5G
810433
Realme GT Neo2
726039
OnePlus Nord 2
598022
Samsung Galaxy A52s 5G
506432
Samsung Galaxy A72
333668
GFX Car Chase ES 3.1 (offscreen 1080p)
Higher is better
Realme GT 5G
65
Realme GT Neo2
59
OnePlus Nord 2
46
Poco X3 Pro
45
Samsung Galaxy A52s 5G
33
Samsung Galaxy A72
17
GFX Car Chase ES 3.1 (onscreen)
Higher is better
Realme GT 5G
55
Realme GT Neo2
49
OnePlus Nord 2
38
Poco X3 Pro
38
Samsung Galaxy A52s 5G
28
Samsung Galaxy A72
15
GFX Aztek Vulkan High (onscreen)
Higher is better
Realme GT 5G
38
Realme GT Neo2
33
Poco X3 Pro
27
OnePlus Nord 2
26
Samsung Galaxy A52s 5G
20
Samsung Galaxy A72
10
GFX Aztek Vulkan High (offscreen 1440p)
Higher is better
Realme GT 5G
29
Realme GT Neo2
24
OnePlus Nord 2
20
Poco X3 Pro
18
Samsung Galaxy A52s 5G
14
Samsung Galaxy A72
7
3DMark Wild Life Vulkan 1.1 (offscreen 1440p)
Higher is better
Realme GT 5G
5872
Realme GT Neo2
4250
OnePlus Nord 2
4224
Poco X3 Pro
3401
Samsung Galaxy A52s 5G
2491
Samsung Galaxy A72
1031
As expected, the Realme GT Neo2 smokes its direct competition as the latter is mostly powered by the Dimensity 1200 while the Samsung alternatives are even running the Snapdragon 7xx-series. Only the more expensive Realme GT 5G boasts this year's flagship SoC, the Snapdragon 888, and even then, the difference isn't dramatic. In all three - CPU-intensive, GPU-intensive and mixed workloads, the Snapdragon 870 slots comfortably between the Snapdragon 888 and the Dimensity 1200.
So, did you end up getting the GT Neo 2? If you did, can you share your experience with the phone so far? Thanks
Im a bit late on this one,so im sorry, but im a realme gt neo 2 user here and this phone is damn great. All of your bad responses towards this comments never happened to me at all. And yes it does capture 4k 60 fps video as well. One thing im confuse...
i am tired up by searching call recording setting in this phone i am unable to set auto call recording