Realme Pad X review
GSMArena Team, 20 October 2022.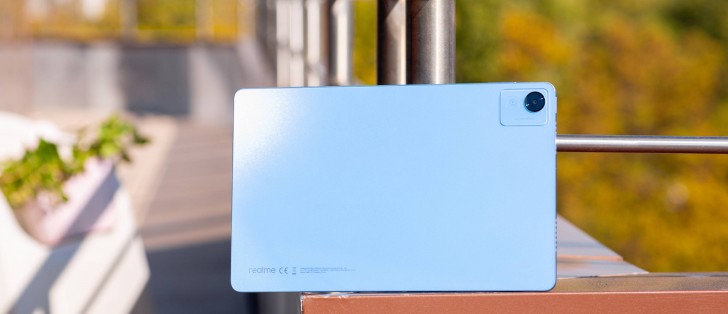 Big and bright LCD panel
The Realme Pad X features a standard IPS LCD panel with 1200 x 2000px resolution, which makes for an unusual 5:3 aspect ratio. And although unusual, it seems to be pretty good from a productivity standpoint (and we already see several tablets with it. And before you get upset about why the company didn't use an OLED screen in a 2022 tablet release, you'd have to remember that LCD panels are still king in this price segment. Only a handful of high-end tablets use OLED panels.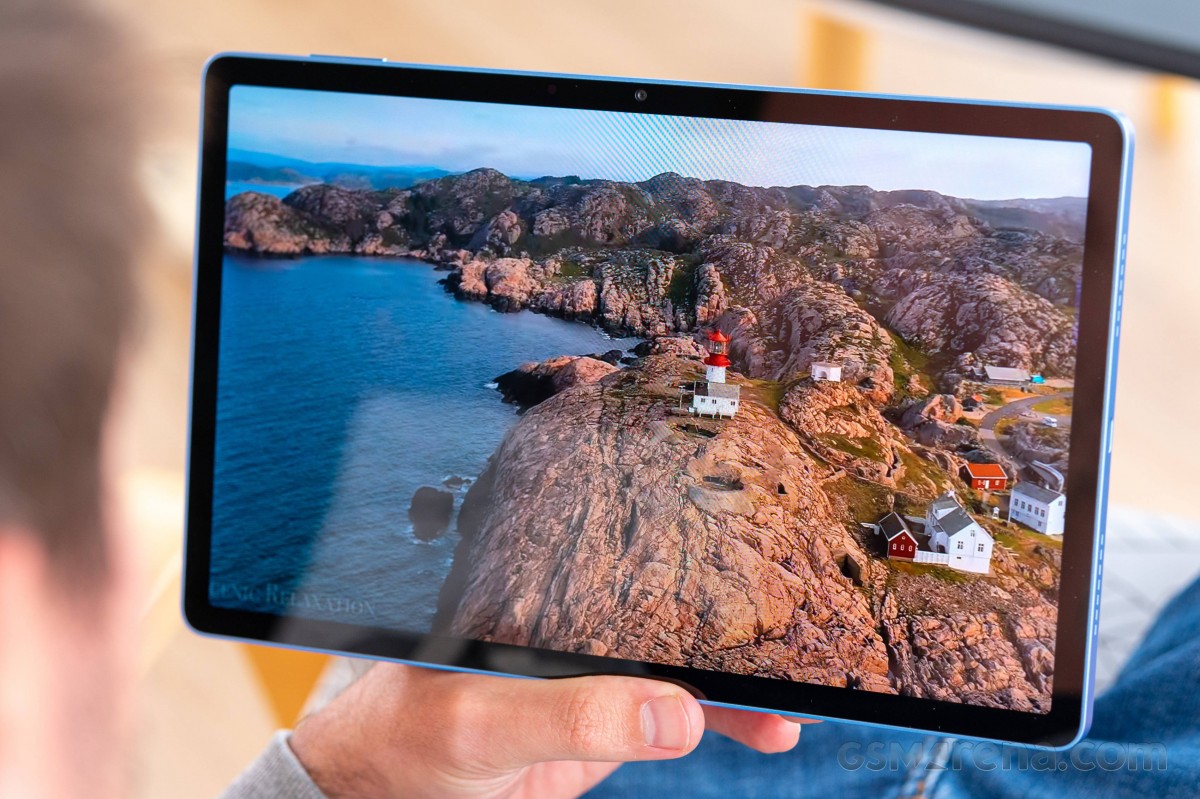 This screen doesn't have any HDR capabilities, which is quite expected. YouTube is happy to serve 1080p60 streams. However, we were disappointed that Netflix recognizes the device as having Widevine L3 only, which means only SD streaming is available. Update, Oct 27: HD Streaming on Netflix works now. It appears it was just a temporary bug that resolved itself after testing the tablet.
Aside from this, this display shows solid performance in almost all of our tests. The display reached 394 nits in manual mode and achieved a respectable 1:1655 contrast ratio. In auto mode, the display peaked at 496 nits - an excellent result that would ensure relatively comfortable use outdoors. Multimedia consumption might be an issue, but reading text and general browsing outdoors shouldn't be a problem.
The minimal brightness we measured was 1.6nits, which is really low - great for reading in the dark.
Best of all, the image quality is really nice, and there is absolutely no color shift when looking at the display from an angle.
Display test
100% brightness
Black,cd/m2
White,cd/m2
Contrast ratio
Samsung Galaxy Tab S7 FE (Max Auto)
0.282
522
1851:1
Apple iPad 10.2 (2021)
0.457
513
1123:1
Realme Pad X
0.298
496
1664:1
Xiaomi Pad 5
0.376
478
1271:1
Samsung Galaxy Tab S7 FE
0.229
432
1886:1
Xiaomi Redmi Pad
0.263
402
1529:1
Honor Pad 8
0.267
392
1468:1
Oppo Pad Air
0.253
352
1391:1
Out of the box, color accuracy isn't great, but we got the best results in the sRGB color space with the whites and grays still looking a bit too blue-ish. Setting the color temperature to Warm in the tablet Settings will get you an average dE2000 of 3.5, which is quite okay.
Battery life
The device's endurance is excellent, as expected from an energy-efficient Snapdragon 695 chipset coupled with a massive 8,340 mAh battery. The screen-on web browsing and video tests both returned impressive scores comparable to the recent tablets we got for testing.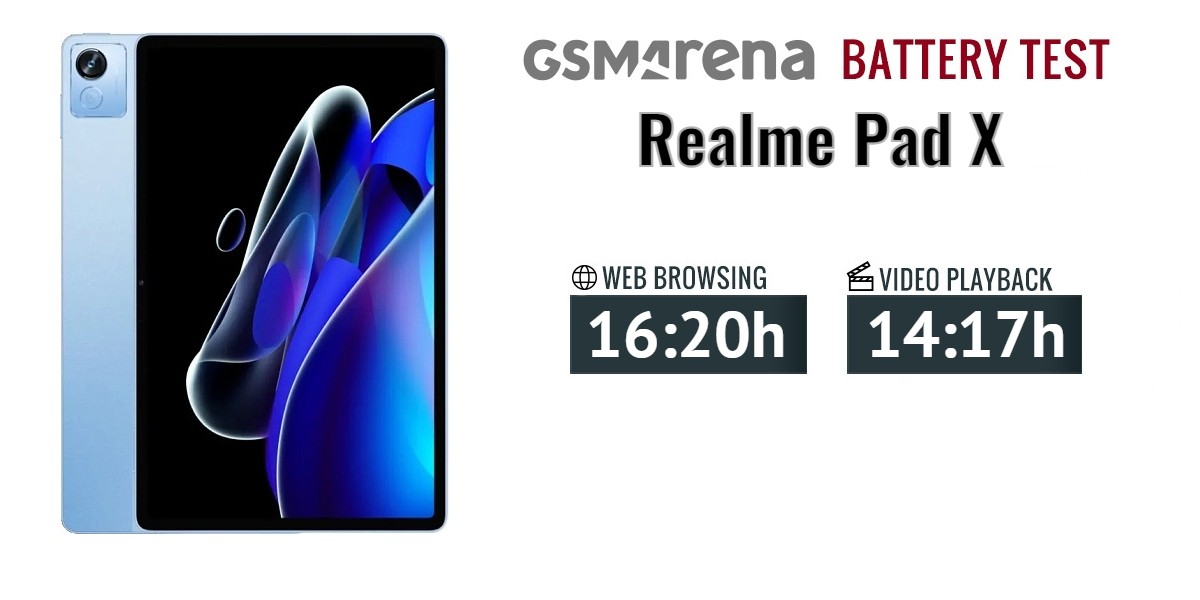 The Realme Pad X came out on top compared to its competitors, with the Redmi Pad being a close second since it features a similar 8,000 mAh battery. Note that those runtimes will inevitably get lower if you use it on a cellular connection and not on Wi-Fi.
We don't calculate tablet endurance ratings as our formula for phones takes standby battery draw into account. Applying the same formula for tablets with their larger batteries doesn't make sense because their standby power draw is minimal, so we focus on the active screen-on tests instead.
Charging speed
In the context of a tablet, the Pad X charges reasonably fast. It replenished its battery in exactly two hours, while a 30-minute charging cycle got 30% of the battery back.
So the Realme Pad X not only has great battery life but it also offers a competitive 33W charging solution.
It also supports USB OTG with reverse charging, so it's capable of charging other devices with a cable.
30min charging test (from 0%)
Higher is better
Apple iPad mini (2021)
35%
Honor Pad 8
35%
Realme Pad X
30%
Xiaomi Redmi Pad
25%
Oppo Pad Air
25%
Samsung Galaxy Tab S7 FE
18%
Time to full charge (from 0%)
Lower is better
Apple iPad mini (2021)
1:57h
Honor Pad 8
1:57h
Realme Pad X
2:00h
Xiaomi Redmi Pad
2:21h
Oppo Pad Air
2:25h
Samsung Galaxy Tab S7 FE
3:05h
Speakers
Realme's tablet doesn't skip on multimedia-related features and offers a set of four stereo speakers. We found the sound quality to be pretty good, with clear vocals and deep bass. Loudness is also great - our test shows -22.5 LUFS loudness. That makes Pad X the loudest of the bunch. The quad speakers are complemented with Dolby Atmos tuning, too.
Use the Playback controls to listen to the phone sample recordings (best use headphones). We measure the average loudness of the speakers in LUFS. A lower absolute value means a louder sound. A look at the frequency response chart will tell you how far off the ideal "0db" flat line is the reproduction of the bass, treble, and mid frequencies. You can add more phones to compare how they differ. The scores and ratings are not comparable with our older loudspeaker test. Learn more about how we test here.
How connect with oneplus z2 wireless headphones?
Anonymous
09 Nov 2022
PIJ
Snapdragon and 5G worth the price different