Report: Europe saw the highest growth of smartphone sales globally in Q3
Enrique, 22 November 2019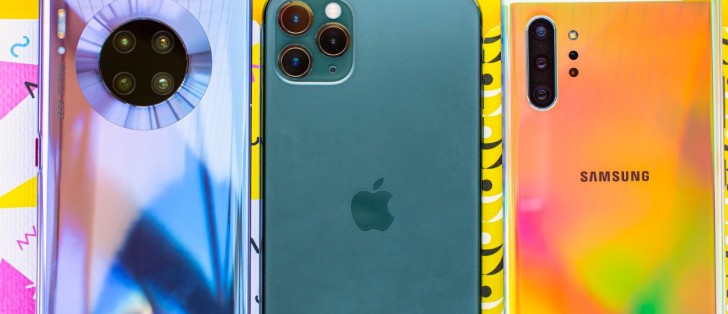 Friday's report from Canalys gives an overview of smartphone shipments and market share among OEMs, specifically for Europe. Samsung moved the most shipments in Europe this past quarter with a market share of 30.4%. It grew 26% year-over-year compared to the14.8 million from the same quarter in 2018.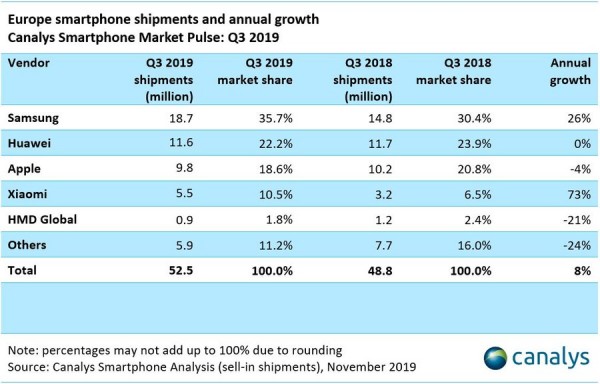 Despite the US-Huawei ban, Huawei managed to sell more devices in Q3 (11.6 million) after moving just 8.5 million units in Q2. Huawei, however, saw no growth in Q3 for number of sales, though it still managed to maintain its second position in market European market share at 23.9%.
Apple ranked third this quarter with 9.8 million units, but sales were 4% lower than they were in the same quarter last year. Xiaomi ranks fourth and saw 5.5 million shipments in Q3, seeing significant growth of 73% YoY and resulted in 10.5% market share. Xiaomi's growth is attributed to its aggressive expansion in Europe over the past year.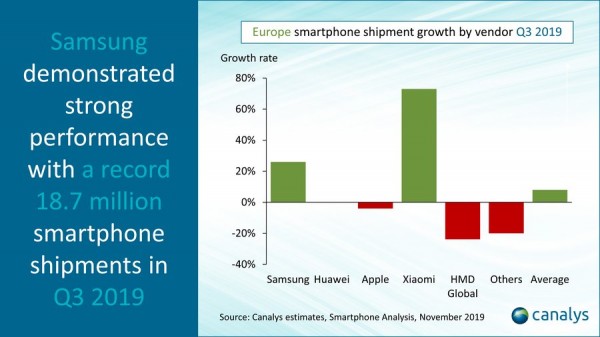 HMD Global takes the fifth spot selling 0.9 million units for a market share of just 1.8%. Sales for HMD slowed by 21% from last year's Q3 which saw 1.2 million units and 2.4% market share.
Europe is in a favorable position and attracts the attention of many Chines vendors given its channel balance. Operators and open channels form 47% and 50% respectively in terms of go-to-market. This has given the potential to scale and healthier margins with mid to high-end products. – Mo Jia, Canalys analyst
Jia explains that the European market is almost evenly split between sales from open channels (i.e. buying unlocked phones at full price) and sales directly from operators (buying a smartphone with service through a provider). This is unlike the US, where a vast majority of sales come directly from operators.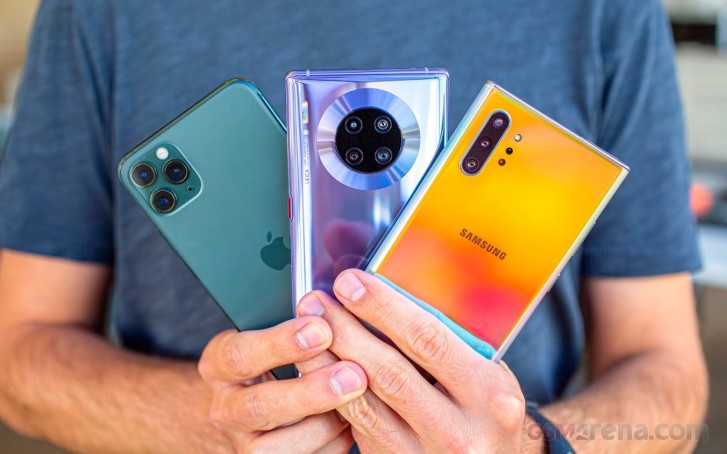 with hurting Huawei sales, other Chinese vendors stepped in to try to take market share from Huawei. Looking forward, the fragmented implementation of 5G across many operators within Europe gives OEMs lots of opportunity to partner with and sell 5G devices. We expect to see an influx of midrange smartphones with 5G support in the next year, so the success of each OEM will depend on many factors in the European market.
Related
Will be even nicer to see you doing the same.
Anonymous
24 Nov 2019
p7d
Why it's nice? I also have bad news to you, this is before new iPhones. Apple is actually going up currently
Popular articles
Popular devices
Electric Vehicles