Report: Top 100 App Store publishers earning over 60% more than Android counterparts
Michail, 20 June 2019
A new report examining the revenues generated by app developers shows a great disparity between iOS and Android publishers. According to the Sensor Tower app research group, the top 100 app makers on Apple's mobile platform earn on average 64% more than their Android counterparts for Q1 2019.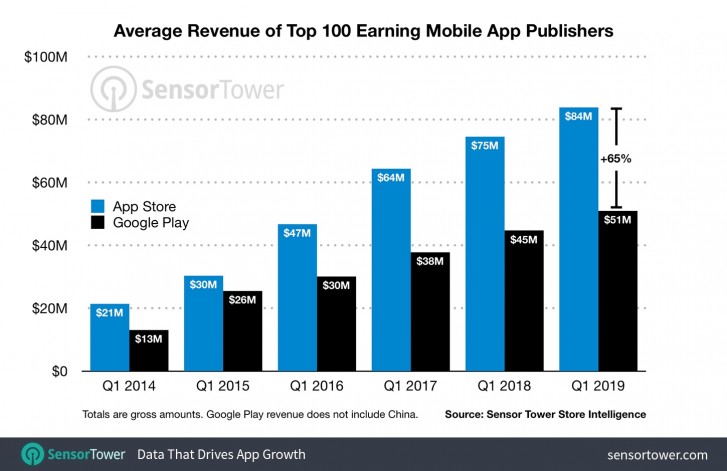 The data from Sensor Tower Store Intelligence reveals that iOS publishers of the top 100 apps earned an estimated $83.8 million while their Android colleagues brought in $51 million for the first quarter of 2019. As a whole, both platforms saw a 12% year on year increase in earnings compared to the values from last year. The aggregate growth is even more impressive when compared to the 2014 values when both platforms generated just $34 million.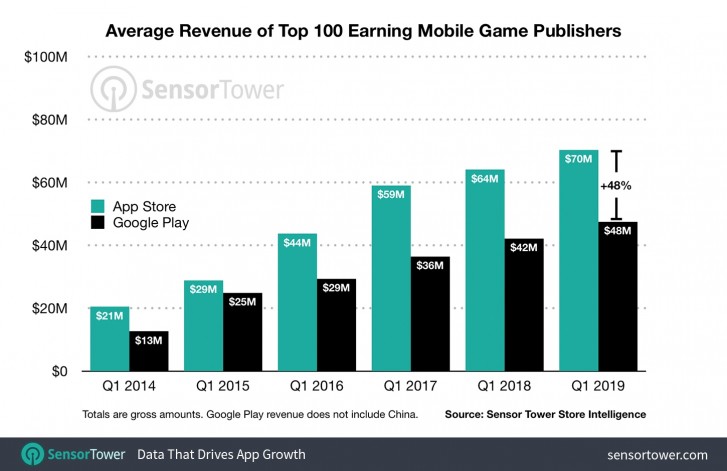 Game publisher specifically saw a smaller disparity in earnings but iOS developers still held a 48% lead with $70 million compared to $48 million for the Play Store. This is the largest earning category by far driven by the increasing popularity of mobile gaming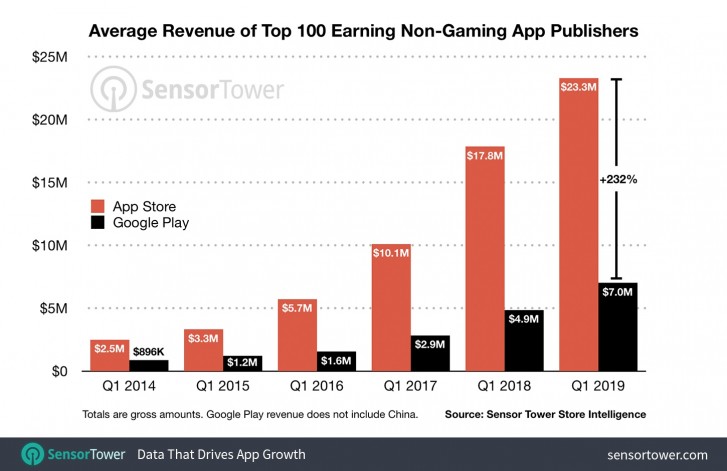 Non-gaming apps on the other hand show an even wider gap between the two mobile platforms with a 232% discrepancy between the top 100 App Store and Google Play app publishers. Apple users spent an estimated $23.3 million while those on Android racked in just $7 million.
While Apple's App Store is leading consumer spending in all major app categories it's important to note that it has a major advantage over Android in China where Google services are blocked.
Related
s-pen pusher
22 Jun 2019
PMT
some apps are more expensive on ios than its android counterpart, but there is a reason for that. developers know that ios users do spend more on apps and games so they actually refine more, and in some cases include more features in the ios version ...
True, though why take the bad rep by not including the mount or the stand in a regular 6k price tag? It just feels kinda stupid
Well Duhhh!!!
21 Jun 2019
jR0
It obviously there is much more willing purchases in the Apple's App Store versus android counterparts. First look at how it is setup, how secure it is and last and most important how much trust & expectation in will generate from the clientele. ...
Popular articles
Popular devices
Electric Vehicles