Retail package of Motorola Droid Turbo leaks out
25 October, 2014

Live images of the retail package of the upcoming Motorola Droid Turbo made the rounds on Twitter. The high-end smartphone for Verizon Wireless is set to debut this coming Tuesday, on October 28.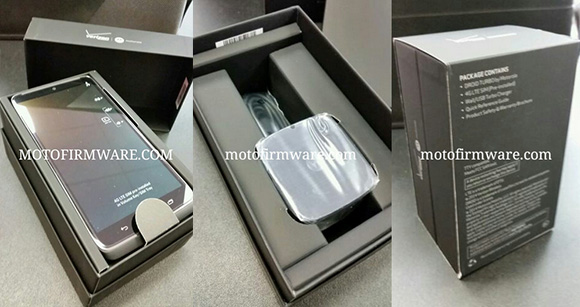 The elegant retail box of the Android powerhouse contains only the basics. Users will get a charger, a pre-loaded SIM from Verizon Wireless, as well as the usual array of booklets.
Motorola Droid Turbo has appeared on a number of occasions already. Rumored specs of the device include 5.2-inch QHD (2,560 x 1,440 pixels) display, Qualcomm Snapdragon 805 chipset, 3GB of RAM, 32GB of storage, 21 MP rear camera with dual-LED flash, and huge 3,900 mAh battery. The handset will run Android 4.4.4 KitKat when it launches.
We will be covering Motorola Droid Turbo's launch event live. Be sure to tune in for the full scoop on the smartphone.
Related
Don't know about that, don't you think it's a waste of resources? For me, 5~7 fits 1080p just fine although that's just me.
QHD on a 5.2 display? Come on, this has got to stop...
Verizon Droid Turbo: FCC ID of IHDT56PK1 AT&T Moto X Play: FCC ID of IHDT56PK2 Has AT&T bands, and the documentation also states that the new device "is electrically equivalent to the certified device carrying FCC ID IHDT56PK1.&qu...