Samsung Ativ Tab preview: First look
GSMArena team, 12 September 2012.
Windows RT in charge
In its pre-release form, the Samsung Ativ Tab runs a Consumer Preview of the Microsoft Windows RT. The latest version of Microsoft's OS boasts the familiar tile-based user interface.
Here's a quick hands-on video of the Ativ Tab UI to familiarize you with Windows 8 for tablets.
The "RT" part of the name indicates a special variety of the Windows 8 OS, designed to run on ARM-powered hardware. As a result, Windows RT could only run Metro apps, and not the typical x86 Windows desktop programs.
This limitation doesn't take anything away from the great looks though. Microsoft has done an outstanding job of rethinking a rich and complex Windows 8 into a touch-friendly and easy-to-use everyday companion without compromising its capabilities.
The lockscreen in Windows RT is minimalist, showing the time and date as well as battery and Wi-Fi status icons. Swiping up unlocks the slate and welcomes you with the redesigned Start menu.
Here's where the Windows Phone 7 tiled style that we love storms Windows 8. The start menu is composed of live tiles (which can be resized) acting as shortcuts to different apps and services. They can display app-specific information and use cool animations doing so. Mind you, only pinned apps are showed in the Start menu.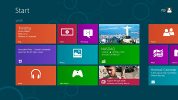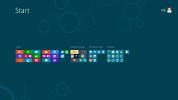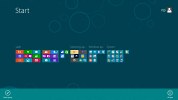 The revamped Start menu in Windows 8
You can group app tiles by dragging them onto a new group or an already existing one. A pinch will zoom out all pinned apps and show the different groups. From here, you can rename groups.
Windows 8 introduces a few new gestures that enhance the user experience. A swipe from the right most edge of the screen brings up what Microsoft calls "Charms". A taskbar of sorts with icons for Search, Share, Start, Devices and Settings. If you have opened an app and bring up Charms, they will perform context-specific actions: bring up settings for the relevant app, do app-specific Search or Share.
The classic Windows settings are found in the Control panel, in the Desktop mode, which we'll cover later.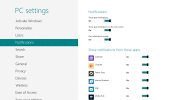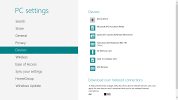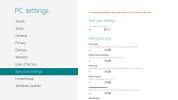 The settings menu in Windows 8
A left to right swipe acts like a classic ALT+Tab command and switches over to the next app you have opened. Alternatively, swiping left and going back right in a peculiar double swipe displays a thin strip listing all opened apps.
A swipe from the bottom unveils a pop-up bar with a contextual menu for the current app. Think a cousin of the right mouse click. To simulate a right click (and bring the contextual menu) on a specific item on the screen (e.g. a tile on the start screen), tap and hold and nudge down. The same pop up bar appears bellow showing you different options.
Lastly, there's the top-to-bottom swipe. It has two functions depending on the swipe you make. On a short swipe, it reveals an app-specific contextual menu. In Internet Explorer 10 for instance, it brings a list of opened tabs. A longer swipe from the top will close an app (just like the ALT+F4 combo). Some serious Nokia N9 stuff here.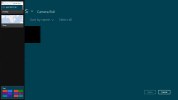 A list of currently opened apps in Windows 8
We loved the split-screen feature allowing you to accommodate two apps at a time. An app can be dragged and docked to a part of the screen without completely pushing the previous one away. You cannot split the screen in half - there's always a small and a big window. It actually makes sense to have the web browser or video player in reasonable size and stuff like email, messages, stocks, etc. in the small window.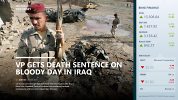 Split-screen mode for multitasking
Plenty of neat tricks in the Windows 8 user interface, no doubt about that. Now, let's take a look at some specific apps and the Desktop mode.
HTML Benchmarks
We couldn't run our usual set of benchmarks on the Ativ Tab for obvious reasons. The browser is the single aspect of the Ativ Tab performance we were able to compare with other tablets you may know.
With the latest Internet Explorer 10, Microsoft boasts class leading HTML5 support, faster JavaScript processing and overall better web standards support. It seems that the JavaScript part is ready to deliver as the Ativ Tab aced that benchmark, but the HTML5 engine obviously still needs polishing.
Still, the Sunspider score shows that the potential is there and once the browser is finalized, the Windows 8 tablets should offer pretty great browsing experience.
SunSpider
Lower is better
Samsung Ativ Tab
1150
Samsung Galaxy Note 10.1
1194
Samsung Galaxy Tab 2 10.1
2188
Samsung Galaxy Note
2867
Samsung Galaxy Tab 7.7
1953
Google Nexus 7
1703
new Apple iPad
1722
BrowserMark
Higher is better
Samsung Ativ Tab
52980
Samsung Galaxy Note 10.1
162657
Samsung Galaxy Tab 2 10.1
94662
Samsung Galaxy Note
57995
Samsung Galaxy Tab 7.7
89659
Google Nexus 7
131788
new Apple iPad
103264