Samsung built a 5.5 inch 4K smartphone screen for VR
Ricky, 28 May, 2016
Remember when just a few short years ago, the smartphone industry was shifting from 720p (1280x720px) to 1080p (1920x1080px) displays and we thought: What for? We don't need so much resolution just to read text and see pictures off the screen, right?
Well, no one would have predicted at that time that we'd be sticking our phones into VR headsets to enjoy an immersive virtual reality experience powered by our everyday smartphones and the displays they power.
The demand for 4K (3840x2160px) has since sky-rocketed. Especially with Google recently announcing its VR platform called Daydream and 4K TVs becoming more and more common, there is more reason for consumers and OEMs alike to be interested in even higher resolution screens with pixel densities soaring past 800 ppi. (Samsung's 5.5 inch 4K display is at 806 ppi!)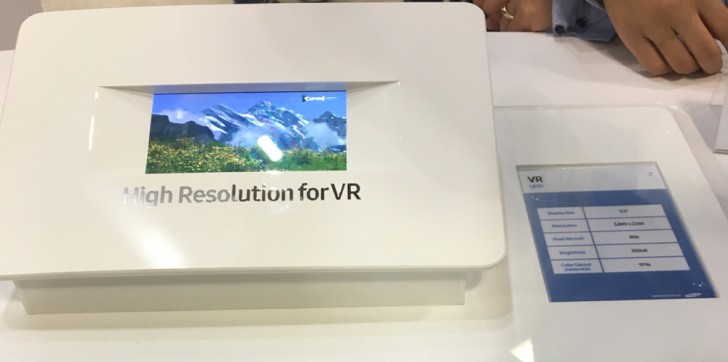 Source: UploadVR.com
Smasung's recently showed off its newest 5.5 inch 4K AMOLED display at San Francisco's Display Week conference. The screen's display read "High Resolution for VR". The display features a 97% color gamut and 350nit brightness.
The current VR experience in smartphones is limited by the resolution of the screens that are inserted into the VR device (Gear VR, Google cardboard, Loop VR, just to name a few). Even the Galaxy Note 5 or the Galaxy S7 both have QHD (2560x1440px) and the VR experience is still somewhat a novelty.
So reasonably, the next step to improve the VR experience with smartphones would be to bump up the resolution.
Related
Sony uses 1080p displays because the user can have a better battery life and z5p had 4k resolution on album and videos only thats great why would you want to have 4k everwhere it would just drain the battery and for YouTube app the z5p only shows 108...
You are mistaken. every pixel is an output and the more outputs mean more complex logic equations that you rom, ram, cpu, controllers ect must handle. You will have a 96×65 pixel screen (only black pixel color) vs a 4096 x2160 screen with mil...
That's not true. Anything that raises the workload and heat output of the gpu will affect the thermal ceiling of the soc and cpu performance. Further, a lot of things as far as desktop composition are handled by the cpu on android because a lot ...
Popular articles
Popular devices