Samsung explains the design ideas that shaped One UI 4
Peter, 29 March 2022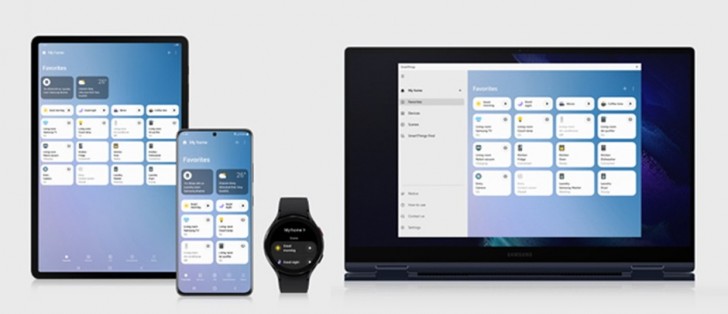 Samsung offers a rare glimpse behind the scenes into how One UI 4.0 was designed. Key goals were for the interface to be intuitive and safe while making it easy for users to express themselves.
Version 4 starts out with a color system that was focused on cleaning up the look. Color is applied to the most important elements, everything else is left in monochrome. The system has three groups of colors: core, functional and app colors.
Before One UI 4.0, the interfaced used slightly different colors to mean the same thing. Version 4 unified them in a consistent manner to create the functional colors, e.g. red means "stop", "reject", "delete", "remove" and so on.

The team also considered how to redesign One apps to better suit the needs of different people. This was the guiding idea behind the redesign of the Weather and Calendar apps, for example. Some users want to check the current weather, others want to know what the weather will be throughout the day. Previously, that information was mixed together, but was split into separate views for the latest Samsung UX.

A primary goal for One UI 4.0 was to give users assurances that their privacy is respected. The status bar displays privacy indicators to warn you when an app is using your camera, microphone and other functions. The Permission Dashboard shows stats about which apps used what permissions and how often, it also offers the option to revoke them.
One UI 4.0 lives up to its name by applying the same visual language to various Galaxy-branded products – from phones to tablets, smartwatches to laptops. Getting Dark mode right was tricky as it had to balance visual comfort with preserving the look and feel of apps.

Self expression was also an important factor. The interface leverages Android 12's Material You color system to extract five colors from your wallpapers and style application UI with them.

Samsung also created Emoji Pair, which combines a couple of emojis for when a single one doesn't quite capture your emotion. AR Emojis have gained new animations after polling users what they want to express with them. For example, people in their twenties were leaning more towards caricatures, while people in their thirties wanted something less exaggerated. All age groups wanted to focus on positive emotions rather than negative ones, however.

If you want to read more about the ideas that shaped Samsung's One UI, check out the Q&A post on Samsung Newsroom.
Related
Anonymous
04 Apr 2022
pjh
One of the most ugliest themes out here. Funny how they seem to have put a lot of work for this junk UI.
Denverskier
31 Mar 2022
IbE
Everyone does it stop picking out just Samsung
I absolutely hate that they can't decide on a single accent colour I much prefer the Pixel UI, but some One Ui features are really nice.
Popular articles
Popular devices
Electric Vehicles