Samsung Galaxy A32 review
GSMArena Team, 26 March 2021.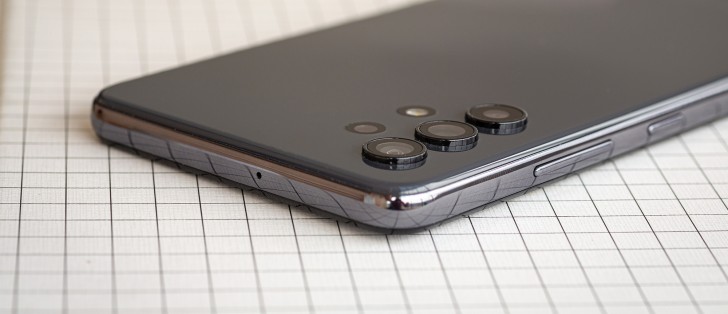 Android 11 and OneUI 3.1, all of the updates
The Galaxy A32 is launching with the latest One UI 3.1 and Android 11 combo out-of-the-box - the same treatment as the A52. Like most other recent Samsungs, the A32 should get 3 major OS updates, as well as 4 years of security patches. Theoretically, your Galaxy A32 should get Android 14 in 2023. That's a great commitment to support if we've ever seen one.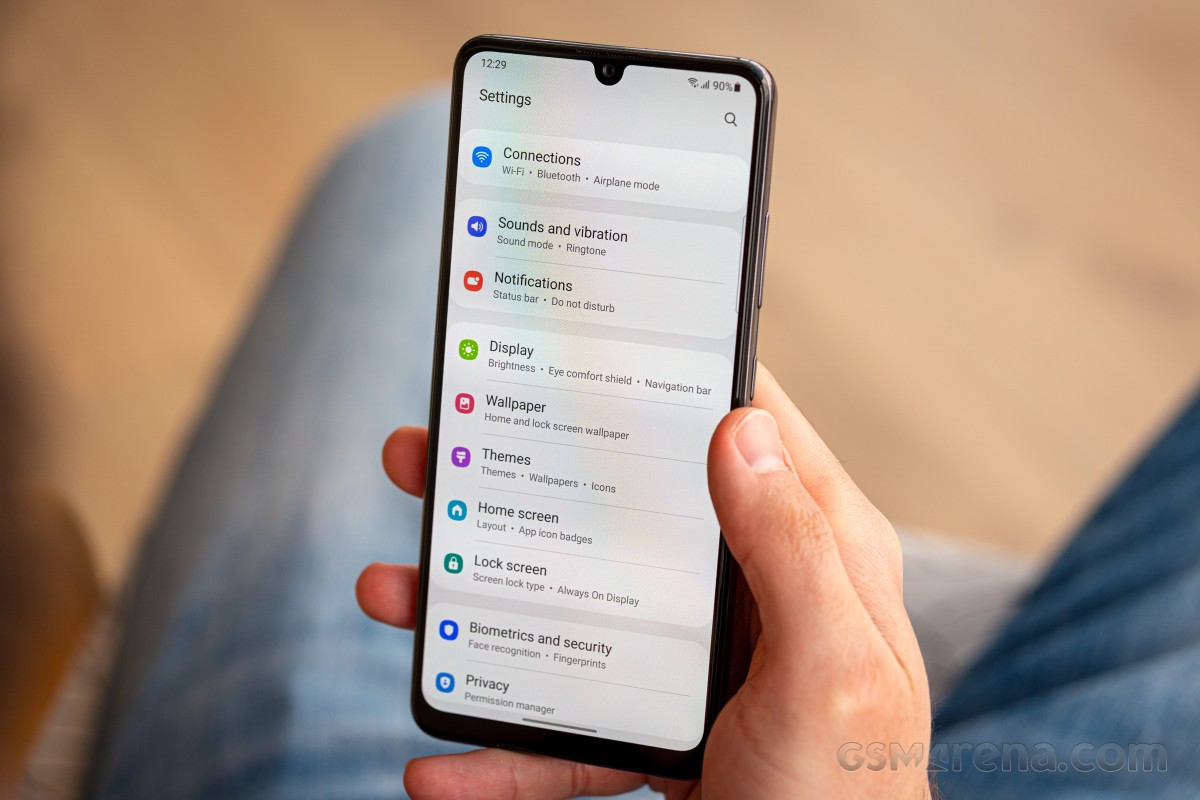 To be fair, visually, One UI 3.1 hardly represents a major leap forward compared to 3.0 and even 2.5. Still, there are some subtle differences worth going over. For example, the default lock screen shortcuts - dialer and camera, are now monochrome - they used to match the respective apps' colors. Oddly enough, if you pick different apps, they will keep their colors - it's not a first-party vs. third-party type of differentiation either.
Among the functional changes on the lock screen is the added wellbeing widget - you can now keep track of how much time you've spent on your phone without even unlocking it. Meanwhile, the always-on display settings have been simplified.
Unlocking the phone is best done using the fingerprint reader embedded in the display. The option is there if you want to use face unlock. It can be more convenient in certain situations, but it generally is less secure since it's just based on the selfie camera. Iris scanners are sadly a thing of the past now, not that an A32 would have gotten one.
Another notable change is that pulling the notification shade covers the entire screen underneath, even if there's just one notification card or none at all. Previously, the portion of the screen below the last notification would remain visible but darkened.
While we're here, the quick toggles can now be edited directly from the plus button at the end of the list instead of going into the menu.
Coming courtesy of Android 11, there is now Notification history, too. It's accessed from the Settings menu, so it's not within immediate reach, but it's there for those occasions when you dismissed a notification too quickly, and you can't seem to find what it was about. Just make sure to enable it because it's Off by default.
All of the standard layout adjustments and toggles for the quick panel and taskbar are accounted for. Android 11 has a new way of handling notifications for instant messenger apps called Bubbles, and One UI 3 adopts it, too. That's in addition to a previously available similar feature offered by Samsung by the name of Smart pop-up view. You'll find these settings under the 'Floating notifications' submenu, where you can alternatively turn both of them off and opt for the old-school cards only interface.
Bubbles is an extension of the Conversations feature, another new development. You tap on an icon in the initial incoming message notification. It turns into a conversation that you can then minimize to a bubble, or what was known as a 'chat head' - originally Facebook Messenger's default way of dealing with chats.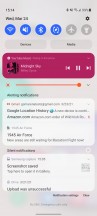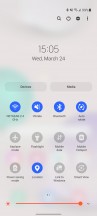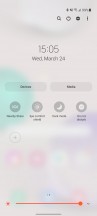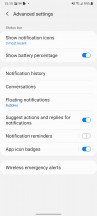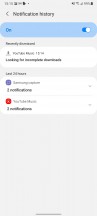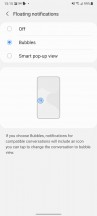 Notifications and quick toggles
Introduced with Google's latest OS version, the new media controls have been implemented in One UI as well. You get a stack of the active audio playback apps right below the quick toggles and swiping to the side switches between the apps.
The Media screen was already available on One UI 2.5 pre-Android 11, and it offers similar functionality for picking the output device or using Samsung's Music share feature. The volume control panel has gotten a makeover too, and now the four sliders are vertical instead of the horizontal ones of One UIs past.
Yet another of the native Android 11 improvements that Samsung also includes in One UI 3 is the ability to pin apps to the top of the sheet with Share options. It's one of those things that make you wonder how come it had to wait until v11 for us to get there. Things are much better now, but still, we'd like to be able to remove some of the options, too, because that list could sure use some decluttering.
One more thing that Google tweaked in this year's release is the permission handling, and Samsung's implemented it in One UI 3. With this version, you will now see a new prompt for permissions every time an app requests it, letting you deny permission, allow it only while using the app, or just for this one time. If an app requires constant access to permission, you also get a fourth option that takes you to a setting page where you can provide it. This is done to prevent the user from accidentally selecting this option while blazing through the permission dialogs.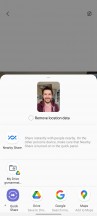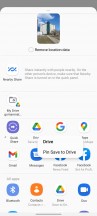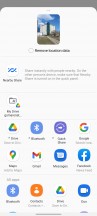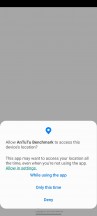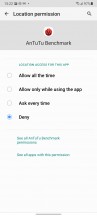 Share options pinning • Permissions handling
The settings menu has seen a subtle but meaningful makeover. Subcategories are made more legible by using a dot separator and extra intervals, while recent searches are now shown as bubbles instead of a list. Additionally, there's a newly added feature to search settings by hashtags - for conceptually related things found in different places in the menu.
The dialer comes with a bunch of cosmetic changes itself. You get to pick one of two layouts for the in-call screen. You can also set up a background image or video for that screen, though it's going to be all the same for all of your calls - you can't have a different one on a per-person basis.
There are plenty of other smaller visual changes scattered all throughout One UI 3.1. Samsung's excellent theme support and rich online selection are present, as well. The same goes for the system navigation options, with a few tweaks and layouts available for gestures, as well as old-school button controls, even the really-old original style, with the back button on the right side.
Similarly to the A52, the Galaxy A32 has a rich selection of additional Samsung software features. Things like the Edge panels interface, Bixby and full integration of the SmartThings platform. There is also Game launcher, the hub for all your games, which also provides options for limiting distraction when gaming is here to stay as well.
Samsung still elected not to include some of its more advanced features on the Galaxy A32, most notably Dex. Even in its absence, though, you can still get a lot of its functionality through the Link to Windows feature that has been implemented in cooperation with Microsoft.
Synthetic benchmarks
The Galaxy A32 has the Mediatek Helio G80 chip inside, an okay performer but one that's going to have a hard time competing with rival offerings in this price bracket. It features an octa-core CPU in a 2+6 configuration (2x2.0 GHz Cortex-A75 & 6x1.8 GHz Cortex-A55) and a Mali-G52 MC2 GPU. A number of RAM and storage options are available, ranging from 4GB/64GB all the way to 8GB/128GB. Our review unit is the 4GB/128GB variant.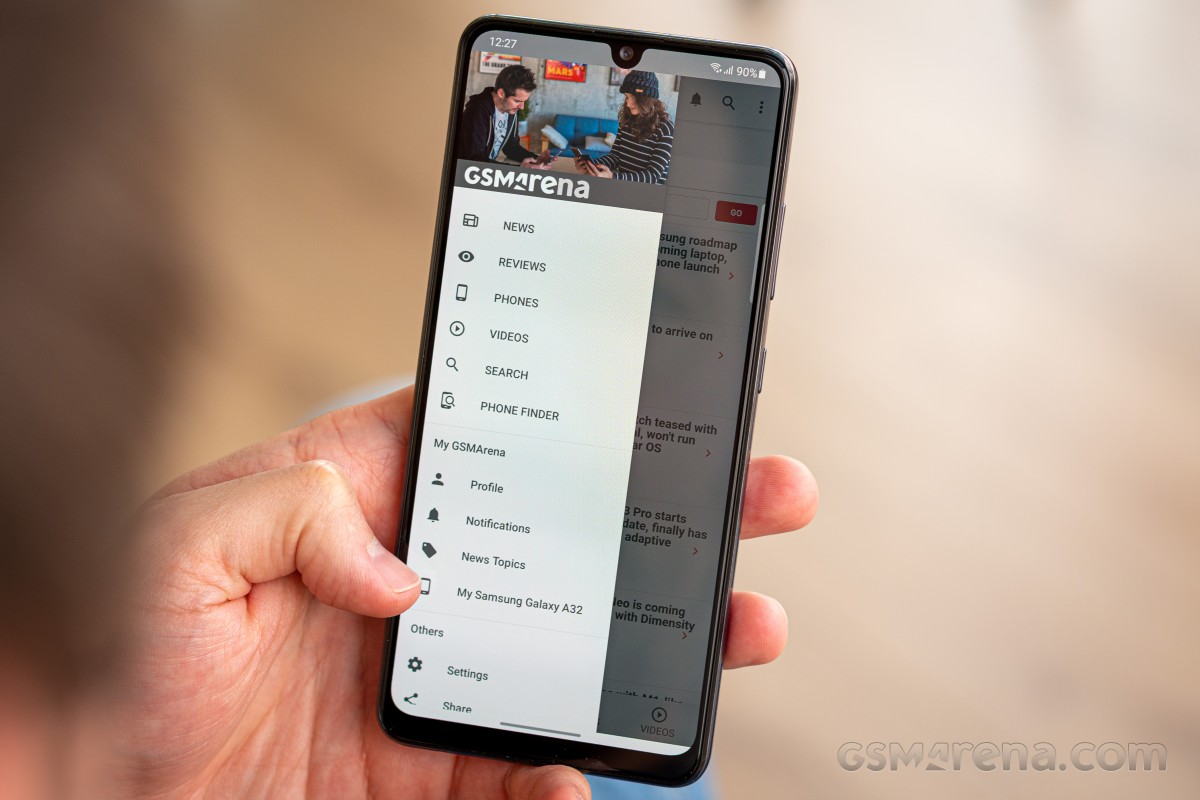 The CPU does have two Cortex-A75 cores that can put out decent numbers for more demanding operations, but most competitors use designs based on the newer A76, and they're often clocked higher than the 2.0GHz in the G80 chipset. So the Galaxy A32 results are showing it's not quite up there with rivals' results in GeekBench. It's an insignificantly small improvement over the Galaxy A31 and notably behind the A52 and most other phones you can get for the money.
GeekBench 5 (multi-core)
Higher is better
Oppo Reno4 Z 5G
2196
Xiaomi Mi 10T Lite
2009
Motorola Moto G 5G
1980
Samsung Galaxy A42 5G
1910
OnePlus Nord N10 5G
1848
Realme 7 Pro
1811
Realme 7 5G
1794
Xiaomi Redmi Note 10 Pro
1780
Poco X3 NFC
1777
Xiaomi Redmi Note 9T
1775
vivo V20
1686
Realme 7
1681
Realme Narzo 20 Pro
1666
Samsung Galaxy A52
1577
Motorola Moto G Pro
1385
Realme 6i
1349
Realme Narzo 20
1328
Samsung Galaxy A32
1277
Samsung Galaxy A31
1216
Samsung Galaxy A12
1034
GeekBench 5 (single-core)
Higher is better
Xiaomi Mi 10T Lite
661
Motorola Moto G 5G
659
Samsung Galaxy A42 5G
643
OnePlus Nord N10 5G
608
Realme 7 5G
598
Xiaomi Redmi Note 9T
595
Realme 7 Pro
576
Xiaomi Redmi Note 10 Pro
569
Poco X3 NFC
568
vivo V20
554
Realme 7
536
Samsung Galaxy A52
525
Oppo Reno4 Z 5G
522
Realme Narzo 20 Pro
517
Realme 6i
388
Realme Narzo 20
385
Samsung Galaxy A32
361
Samsung Galaxy A31
352
Motorola Moto G Pro
311
Samsung Galaxy A12
169
The Antutu results largely mirror the CPU-only GeekBench ones. The A32 is significantly more powerful than the A12, but it's no match for the Snapdragon 720s or the Dimensity 800s of this world.
AnTuTu 8
Higher is better
Samsung Galaxy A42 5G
324686
Xiaomi Mi 10T Lite
318882
Realme 7 5G
318535
Motorola Moto G 5G
312461
Oppo Reno4 Z 5G
295562
Xiaomi Redmi Note 10 Pro
295442
Realme 7
292828
Realme Narzo 20 Pro
291407
Xiaomi Redmi Note 9T
288732
Poco X3 NFC
283750
OnePlus Nord N10 5G
279579
Realme 7 Pro
278414
vivo V20
276006
Samsung Galaxy A52
261282
Realme 6i
202275
Realme Narzo 20
193912
Samsung Galaxy A32
174332
Motorola Moto G Pro
173611
Samsung Galaxy A31
151815
Samsung Galaxy A12
107189
The Galaxy A32's GPU is struggling a bit with the high-res display, as evidenced by the results in GFXBench.
GFX Manhattan ES 3.1 (offscreen 1080p)
Higher is better
Realme 7 5G
35
Realme 7
34
Realme Narzo 20 Pro
34
Motorola Moto G 5G
34
Oppo Reno4 Z 5G
34
Samsung Galaxy A42 5G
33
Poco X3 NFC
33
Xiaomi Mi 10T Lite
33
vivo V20
31
Realme 7 Pro
30
Samsung Galaxy A52
29
OnePlus Nord N10 5G
26
Realme 6i
16
Realme Narzo 20
16
Samsung Galaxy A32
15
Samsung Galaxy A31
13
Motorola Moto G Pro
13
Samsung Galaxy A12
7.7
GFX Manhattan ES 3.1 (onscreen)
Higher is better
Samsung Galaxy A42 5G
56
Realme Narzo 20
32
Realme 6i
31
Realme 7 5G
31
Motorola Moto G 5G
30
Oppo Reno4 Z 5G
29
Realme 7
28
Realme Narzo 20 Pro
28
Xiaomi Mi 10T Lite
28
Poco X3 NFC
27
vivo V20
27
Samsung Galaxy A52
26
Realme 7 Pro
25
OnePlus Nord N10 5G
23
Samsung Galaxy A32
13
Samsung Galaxy A12
13
Samsung Galaxy A31
12
Motorola Moto G Pro
12
GFX Car Chase ES 3.1 (offscreen 1080p)
Higher is better
Realme 7
20
Realme Narzo 20 Pro
20
Oppo Reno4 Z 5G
20
Realme 7 5G
20
Samsung Galaxy A42 5G
19
Xiaomi Redmi Note 10 Pro
19
Poco X3 NFC
19
Xiaomi Mi 10T Lite
19
Motorola Moto G 5G
19
Realme 7 Pro
18
vivo V20
18
Samsung Galaxy A52
17
Realme Narzo 20
16
OnePlus Nord N10 5G
14
Realme 6i
9.4
Samsung Galaxy A32
9.3
Samsung Galaxy A31
8
Motorola Moto G Pro
7.1
Samsung Galaxy A12
3.3
GFX Car Chase ES 3.1 (onscreen)
Higher is better
Samsung Galaxy A42 5G
33
Realme Narzo 20
18
Realme 6i
17
Realme 7
17
Realme Narzo 20 Pro
17
Motorola Moto G 5G
17
Realme 7 5G
17
Xiaomi Redmi Note 10 Pro
16
Poco X3 NFC
16
Xiaomi Mi 10T Lite
16
Oppo Reno4 Z 5G
16
Samsung Galaxy A52
15
vivo V20
15
Realme 7 Pro
14
OnePlus Nord N10 5G
13
Samsung Galaxy A32
8.1
Samsung Galaxy A31
7
Motorola Moto G Pro
6.6
Samsung Galaxy A12
5
The uphill battle continues in 3DMark, where the majority of competitors score 2x higher than the Galaxy A32.
3DMark SSE ES 3.1 (offscreen 1440p)
Higher is better
Oppo Reno4 Z 5G
3308
Realme 7 5G
3163
Xiaomi Redmi Note 9T
3147
Samsung Galaxy A42 5G
2819
Motorola Moto G 5G
2810
Xiaomi Mi 10T Lite
2789
Realme 7
2709
Poco X3 NFC
2689
Realme Narzo 20 Pro
2683
vivo V20
2593
Realme 7 Pro
2541
Samsung Galaxy A52
2529
OnePlus Nord N10 5G
2166
Realme Narzo 20
1400
Realme 6i
1363
Samsung Galaxy A32
1323
Samsung Galaxy A31
1150
Motorola Moto G Pro
1127
Samsung Galaxy A12
365
3DMark SSE Vulkan 1.0 (offscreen 1440p)
Higher is better
Oppo Reno4 Z 5G
3180
Realme 7 5G
3028
Xiaomi Redmi Note 9T
3003
Realme 7
2772
Realme Narzo 20 Pro
2735
Samsung Galaxy A42 5G
2609
Motorola Moto G 5G
2608
Xiaomi Mi 10T Lite
2595
Poco X3 NFC
2495
vivo V20
2451
Samsung Galaxy A52
2406
Realme 7 Pro
2358
OnePlus Nord N10 5G
2012
Realme Narzo 20
1382
Samsung Galaxy A32
1371
Realme 6i
1347
Motorola Moto G Pro
1125
Samsung Galaxy A31
894
Samsung Galaxy A12
612
The benchmark scores confirm what we already expected - the Galaxy A32's chipset isn't competitive. The phone isn't slow, strictly speaking, and the 90Hz refresh rate does make for a mostly fluid experience. However, there are occasional hiccups when shuffling through the UI, the unlocking is on the slow side of the spectrum, Night mode processing takes a while and introduces crashes more often than we'd like - overall, the phone would have benefited from a better SoC, but there's only so much you can fit in a certain budget.
Hey, you have a great collection of mobile covers that can attract anybody. The mobile covers have different pictures, like a bike photo or images of cartoon characters on them. Kids love these more than adults do because they are more appealing to t...
The SAMSUNG A32 is really a poor choice. The only reason why you will think the A32 is a great product, is because you never used a Huawai phone. I made such a big mistake to go from Huawei to Samsung
Fingerprint reader is for all practical purposes COMPLETELY USELESS. Face recognition is not much better. This means it's a mission to answer calls.