Samsung Galaxy A51 5G review
GSMArena team, 03 July 2020.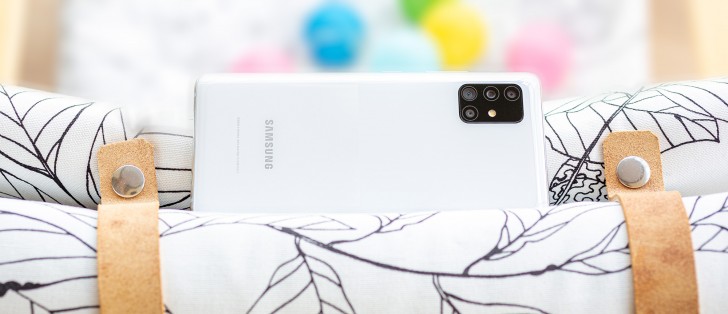 6.5-inch Infinity-O Super AMOLED
The Galaxy A51 5G, much like its 4G stablemate, uses a 6.5-inch Super AMOLED display. The resolution is 1080x2400 in a tall 20:9 aspect ratio, and the pixel density works out to 405ppi. It's what Samsung calls an Infinity-O display - meaning there's a circular cutout for the selfie cam.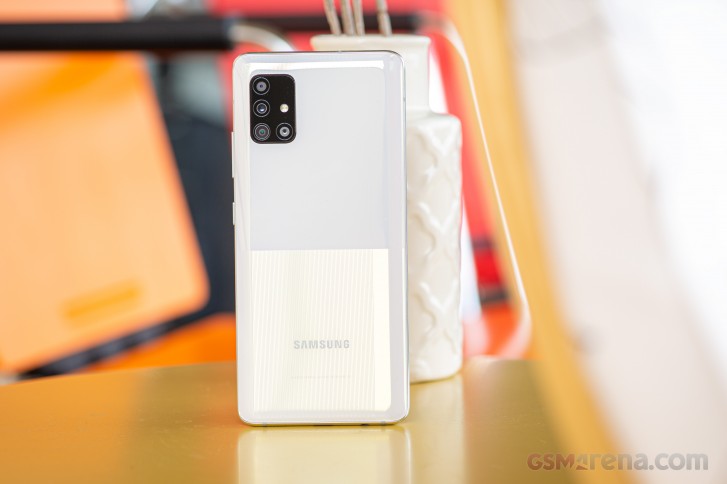 Being the same panel like the one on the A51, the display on the A51 5G posted very similar results for brightness in our testing. At 410nits when operating the slider manually, and 642nits with Adaptive mode engaged, the A51 5G is easily bright enough, though not quite up there with the true flagships, capable of going over 800nits. The more expensive LG Velvet and Motorola Edge are both in the A51 5G's ballpark, though still a few dozen nits behind in auto mode.
Display test
100% brightness
Black,cd/m2
White,cd/m2
Contrast ratio
Samsung Galaxy A51 5G
0
410
∞
Samsung Galaxy A51 5G (Max Auto)
0
642
∞
Samsung Galaxy A51
0
413
∞
Samsung Galaxy A51 (Max Auto)
0
636
∞
Samsung Galaxy A71
0
398
∞
Samsung Galaxy A71 (Max Auto)
0
515
∞
LG Velvet
0
405
∞
LG Velvet (Max Auto)
0
617
∞
Oppo Reno3 Pro 5G
0
510
∞
Oppo Reno3 Pro 5G (Max Auto)
0
544
∞
Motorola Edge
0
416
∞
Motorola Edge (Max Auto)
0
595
∞
Xiaomi Mi Note 10 Lite
0
424
∞
Xiaomi Mi Note 10 Lite (Max Auto)
0
596
∞
vivo iQOO 3 5G
0
518
∞
vivo iQOO 3 5G (Max Auto)
0
848
∞
Samsung Galaxy S10 Lite
0
400
∞
Samsung Galaxy S10 Lite (Max Auto)
0
705
∞
Xiaomi Poco F2 Pro
0
516
∞
Xiaomi Poco F2 Pro (Max Auto)
0
854
∞
There were some differences we measured in terms of color accuracy when comparing against the 4G model, but they were mostly minor. Color reproduction is handled in the Vivid/Natural way of recent Samsungs with the out-of-the-box Vivid mode returning an average dE2000 of 3.6 for our set of DCI-P3 test swatches. The slight blue shift to the whites can be decreased by pushing the white balance slider all the way to the warmest setting where you'll get a near-perfect white point and a marginally lower average dE2000 of 3.2.
Natural mode is tailored for sRGB content and we measured an average dE2000 of 2.2 for the sRGB test sequence.
The A51 5G makes no HDR compliance claims. YouTube will say it's playing back HDR videos, but we do not see the distinct shift in color reproduction and brightness that typically comes with that. There's no HDR support in Netflix on the A51 5G.
Samsung Galaxy A51 5G battery life
The Galaxy A51 5G packs a 4,500mAh battery - a 500mAh 5G increase over the 4G A51. That's middle of the road for midrange 5G-capable handsets with all sorts of numbers available in the 4,000mAh (Find X2 Lite, Reno3 Pro 5G) to 4800mAh (Redmi K30i 5G) range.
The A51 5G lasted 18:35h when having to loop videos offline, a good 4 hours more than the non-5G's result. We clocked 14:30h when browsing the web over Wi-Fi, and that too is better than the 4G model's figure, though by just an hour this time. A large inconsequential half an hour more on a 3G voice call puts the A51 5G's result at 22:15h. Standby performance was a bit worse on the 5G model than on the 4G one (both connected to a 3G network as is standard for our test), which affected the final rating somewhat. In the end, the Galaxy A51 5G scored an Endurance rating of 90 hours.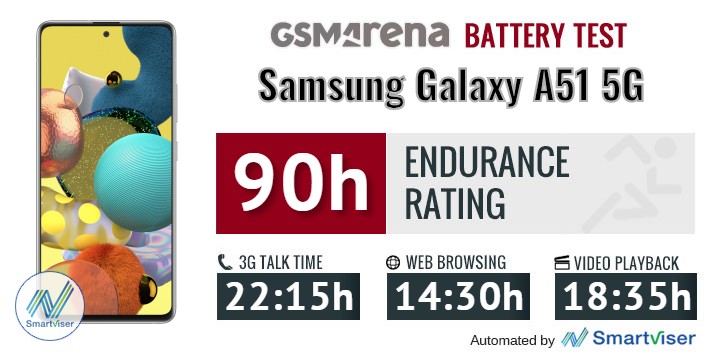 Our battery tests were automated thanks to SmartViser, using its viSer App. The endurance rating above denotes how long a single battery charge will last you if you use the Samsung Galaxy A51 5G for an hour each of telephony, web browsing, and video playback daily. We've established this usage pattern so that our battery results are comparable across devices in the most common day-to-day tasks. The battery testing procedure is described in detail in case you're interested in the nitty-gritty. You can check out our complete battery test table, where you can see how all of the smartphones we've tested will compare under your own typical use.
The Galaxy A51 5G supports Samsung's Adaptive Fast Charging standard, which is based on Qualcomm QuickCharge 2.0 and maxes out at 15W. Such an adapter comes bundled in the box and with it, the phone gets from 0 to 100% in 90 minutes while a half-hour stint from flat will leave you with a 40% charge.
Speaker test
The Galaxy A51 5G has a single speaker firing out the bottom of the phone. It's not overly loud, and it earned an 'Average' score in our test, same as the non-5G A51. The A51 5G doesn't impress with quality either - its output is muffled and lacking in both low-frequency punch and treble articulation alike.
Use the Playback controls to listen to the phone sample recordings (best use headphones). We measure the average loudness of the speakers in LUFS. A lower absolute value means a louder sound. A look at the frequency response chart will tell you how far off the ideal "0db" flat line is the reproduction of the bass, treble, and mid frequencies. You can add more phones to compare how they differ. The scores and ratings are not comparable with our older loudspeaker test. Learn more about how we test here.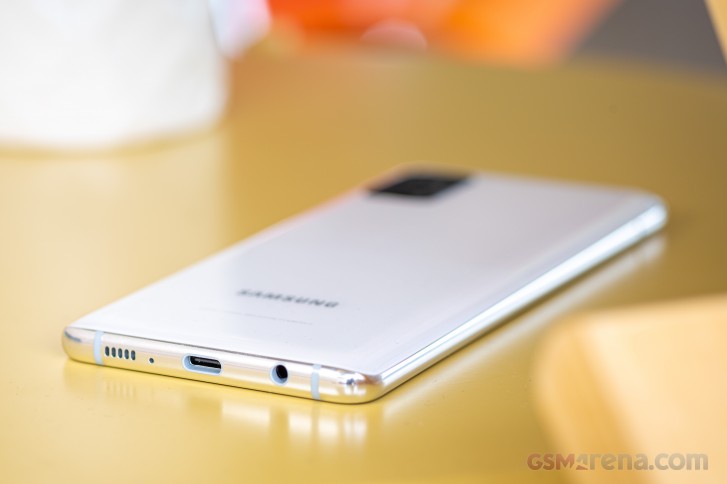 Audio output quality
We've recently discontinued our audio output quality test.
The reason for that is that most phones that arrived for testing were already excellent in this regard and whatever difference there was, it was marginal and probably indistinguishable to anything but our lab equipment.
Anonymous
18 Oct 2023
JQ1
Even Gsmarena review said that the Exynos 980 is efficient and it's at SD765G performance, you probably don't even tried this phone and think that because it has an Exynos chip it's bad
Samsung a51 does,nt has a back case
PuddinTain
26 Jan 2022
qpi
I own a Samsung A51 and it has burned my hand! Samsung won't replace it and I don't want the darn thing. It seems Samsung has no concern for the safety or health of their customers!