Samsung Galaxy Ace Plus S7500 preview: First look
GSMArena team, 31 January 2012.
TouchWiz UX 4.0 up front
The Galaxy Ace Plus is running Gingerbread and has the latest version 4.0 of Samsung's custom TouchWiz launcher. The visually rich experience and extended functionality should be no news for users following Samsung and their Galaxy line. Of course, the company's high-end phones are about to move on to Ice Cream Sandwich but the Ace Plus has nothing to be ashamed of.
Here's a demo of the TouchWiz launcher on the Samsung Galaxy Ace Plus.
The redesigned lockscreen of the Ace Plus has the usual integration of missed events but doesn't go further. There're no shortcuts to different apps on the lockscreen, as seen on recent HTC phones and the Huawei Honor, to name a few.
The homescreen accommodates plenty of widgets with lots of functionality. You can have up to 7 homescreen panes. A pinch zoom brings you to an aggregate view of all homescreen panes, which can be rearranged, deleted or added.
Widgets, shortcuts or folders are pulled onto the homescreen from a drawer that appears at the bottom of the screen once you enter edit mode (press and hold on an empty spot or do Menu > Add).
In typical TouchWiz fashion, there are four shortcuts docked at the bottom of the screen that are visible both on the homescreen and in the app launcher. The first three are user configurable (Phone, Contacts, Messaging), the fourth one being locked. It's the app drawer/home shortcut so it makes sense to always keep it in the same place.
Adding widgets, shortcuts, folders or changing wallpapers is done by a context menu that pops up on demand from the bottom of the screen. You select a widget by swiping them left or right, enjoying a smooth animation throughout. You can also swipe each of the homescreen panes, which is a nice bonus functionality of TouchWiz 4.0.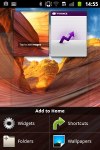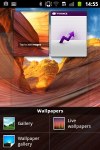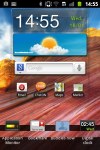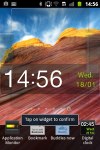 Adding elements to the homescreen
The app launcher is very similar to the homescreen - you can create folders to go with your shortcuts and you can add, remove and rearrange pages just like you would homescreens.
You can choose List view instead of the regular grid view if you prefer. There's also a preview of all your app launcher screens for quicker browsing.
The notification area has been slightly remodeled in TouchWiz 4.0, but there aren't any major changes to the functionality there.
With the Samsung Galaxy W I8150 you get a standard Android task switcher but with one modification - it has a button to launch a task manager.
The custom task manager, which Samsung have preinstalled, offers a lot of functionality. It also comes with a handy widget which shows you the number of active applications right on your homescreen.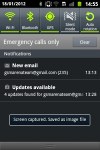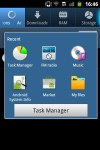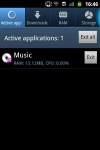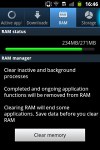 Notifications area • Task manager
Most of the time, Android does really well when it comes to managing apps by itself (in fact, some claim that using a task manager is detrimental to the performance of a phone), so you would only need the task manager to occasionally kill a buggy app.
Synthetic benchmarks
Speaking of performance it's time to put the Galaxy Ace Plus to the test. It's a step up from the original Galaxy Ace with a faster processor.
The benchmark scores reflect the fact that this smartphone is only running a single core. Not that the Galaxy Ace Plus has anything to proove - it doesn't mind looking at the multiple-core beasts from a safe distance.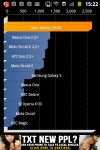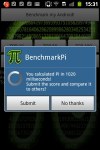 Samsung Galaxy Ace Plus benchmarks
And here is a quick compare with the Galaxy Ace, which has an 800 MHz processor as opposed to the 1 GHz one of the Ace Plus.
Overall, the Galaxy Ace Plus is a solid performer nonetheless compared to other single core devices.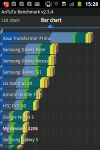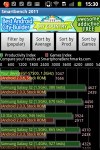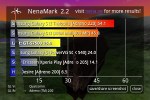 AnTuTu • Smartbench 2011 • NenaMark 2.2
The phone didn't freeze or hang, and the general feel was fluid and responsive. A single core processor will be less capable when it comes to stuff like gaming. The Ace Plus supports Flash but embedded 720p videos were a no go.
Battery life is only 1300 mah, easy to drained not reliable during emergency situation.
I own this Samsung galaxy Ace plus almost year now, at first it is comfortable to use but after a year there are some issue especially when your battery got drained and turn off of itself, it will charge but after a few minutes it will stop and you m...
nyc phone bt it doesnt have a front camera so u cant video call r take a selfie......plus i think there is something wrong with the battery .....ma phone was two months new but when i go to bed with the battery fully charged i wud wake up when its 2%...