Samsung Galaxy Alpha vs. HTC One mini 2: Metal mania
Metal mania
GSMArena team, 17 September 2014.
Introduction
The Samsung Galaxy Alpha comes forward as the next super mini but its armor will surely be tested in battle against the HTC One mini 2. The two have their distinct strengths but enough common ground to meet on - compact and metal.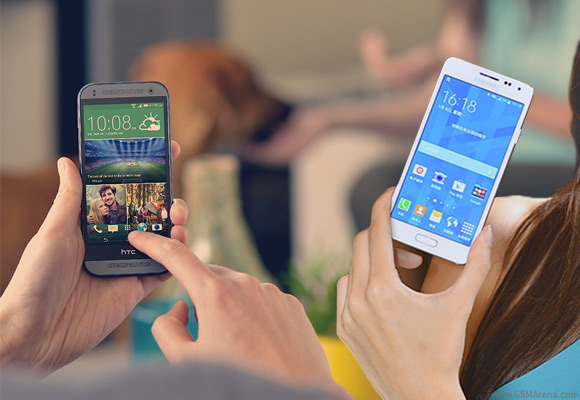 The Galaxy Alpha is lighter and much thinner but Samsung used aluminum sparingly. HTC covered all of the One mini 2 in metal. The Galaxy Alpha has processing power to spare while the One mini 2 has a midrange chipset. The HTC brings the trademark BoomSound speakers while the Samsung promises a better camera.
Before you place your bets, here's specs the rundown.
Samsung Galaxy Alpha over One mini 2
More powerful chipset with double the RAM
Slightly bigger screen - 4.7" vs. 4.5"
More compact and much thinner - 6.7mm vs. 10.6mm
16:9 camera sensor
2160p video capture
Faster LTE downlink - 300Mbps vs. 150Mbps
Fingerprint scanner
Heart rate monitor
HTC one mini 2 over Galaxy Alpha
Aluminum unibody
Front-facing stereo speakers
Expandable storage
Bigger battery - 2,110mAh (sealed) vs. 1,860mAh (removable)
Better front-facing camera - 5MP vs. 2.1MP
Costs less
It's no surprise that the Galaxy Alpha has the faster chipset and more features, Samsung loves heaping those on. What it can't get quite right is nailing down that premium feel that HTC has been nailing since the original One. Geeks are more willing to forgive plastic, while premium users care less about the performance.
There's no perfect middle ground, a phone that combines the looks of the One mini 2 and the brains of the Galaxy Alpha. Apple fans might argue that the description matches the iPhone but in the Android world there's no exact match. The Xperia Z3 Compact comes close but that calls for its own piece.





Samsung Galaxy Alpha and HTC one mini 2 at the office
The screen size explosion brought us the phablet segment, which basks in growing popularity but, unfortunately, it left midsized devices in the midrange. Now we're seeing the tide turn a bit with compact high-enders like the Samsung Galaxy Alpha and the HTC One mini 2 but that direction puts them on a collision course. Flip over to the next page for the first punches exchange.
SAMSUNG ALPHA LOVER
14 Sep 2019
vgN
Yes alpha is very good
AnonD-190138
03 Jun 2015
LC6
ACTUALLY galaxy alpha scores 49000- 50000 on atutu while power saving is OFF. powersaving actually limit gaming performances too(only high end games are affected..i guess)
yes I agree mini means mini 4 or 4.3 inch maximum, I also searching a good phone in this category.