Samsung Galaxy Alpha vs. HTC One mini 2: Metal mania
Metal mania
GSMArena team, 17 September 2014.
Video camera features
With a powerful chipset (be it Exynos or Snapdragon) the Samsung Galaxy Alpha can record 2160p@30fps videos and 1080p@60fps (which are perhaps more practical).
The HTC One mini 2 is capped at 1080p@30fps, its 60fps mode drops the resolution to 720p. Neither phone has optical image stabilization - HTC has moved away from it and Samsung is only bringing it to the Galaxy phones with the Note 4.
Anyway, for standard 1080p@30fps mode, the Galaxy Alpha uses 17Mbps bitrate while the One mini 2 goes slightly higher at 20Mbps. The Alpha raises the bitrate to 28Mbps for 1080p@60fps videos and to a storage-devouring 48Mbps for 2160p@30fps videos.
More importantly the audio capture is done at 256Kbps bitrate and 48kHz sampling rate, those are essentially the numbers used by the venerable Nokia Lumia 1020, although the Galaxy Alpha doesn't have the WDR microphones of the esteemed cameraphone. The One mini 2 is close behind with a bitrate of 200Kbps or so and 48kHz sampling rate.
There's something you need to know about the 2160p mode on the Samsung Galaxy Alpha - it limits videos to 4 minutes of length and disables features like Dual Camera, HDR, snapping photos during recording and video effects.
Video quality
Despite its bitrate advantage, the HTC One mini 2 noticeably lags behind its opponent in shooting 1080p@30fps videos. The jaggies on the diagonal line are telling enough but there's also less detail in the foliage and text.
The 2160p@30fps mode of the Galaxy Alpha beats the other two samples hands down - keep in mind that 2160p is 8.3MP, while 1080p is around 2.1MP. That's four times as many pixels, also twice as many pixels as the HTC One (M8) Ultrapixel camera has in total.
Anyway, the level of detail is unmatched (or should we say unmatchable) by any 1080p shooter. Yes, 2160p videos eat storage for breakfast, are limited in length and disable some features but they moer than make it up in terms of image quality. Especially now that UHD TVs are dropping in price (the holidays shopping this year should do wonders for UHD adoption).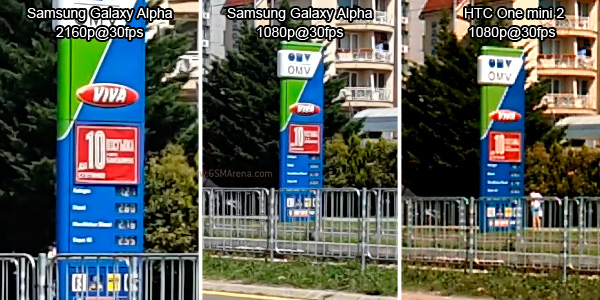 The Samsung video camera somehow oversaturates colors more than the still camera so that's a point against. However, HTC also went overboard and the colors look better-suited to a candy commercial than high-end smartphone video. The tint is still here too.
The audio quality in videos from both phones is very good, better than many phones we've tested. Of the two, the Galaxy Alpha sounds better to our ears, the sound is deeper and with more detail.
You can have a listen here, the videos below are what we used for the crops. Keep in mind that your computer might find 2160p hard to swallow.
We also tried out the high-frame rate (HFR) modes of both cameras. The Samsung Galaxy Alpha shows a small image quality drop when it goes from 30fps to 60fps. Then again, the HTC One mini 2 drops to 720p (less than half the number of pixels) so it's difficult to even compare levels of detail.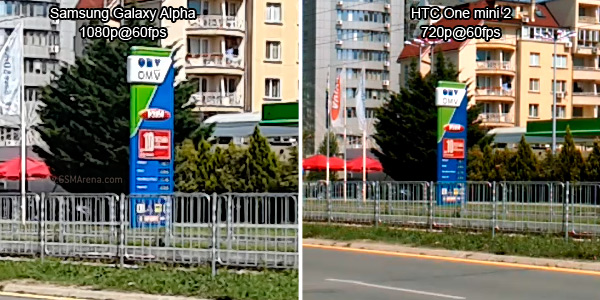 Winner: Samsung Galaxy Alpha. Even if you never use the 2160p mode, 60fps videos at 1080p trump those at 720p. The 1080p Galaxy Alpha videos were sharper at both frame rates and the phone captured better audio to boot.
The HTC One mini 2 held its own in the still camera department but its chipset just can't bear the more demanding video modes. Even in a level 1080p@30fps comparison the image quality just wasn't enough.
ACTUALLY galaxy alpha scores 49000- 50000 on atutu while power saving is OFF. powersaving actually limit gaming performances too(only high end games are affected..i guess)
yes I agree mini means mini 4 or 4.3 inch maximum, I also searching a good phone in this category.
Galaxy Alpha is very good phone