Samsung Galaxy Fold review
GSMArena team, 26 April 2019.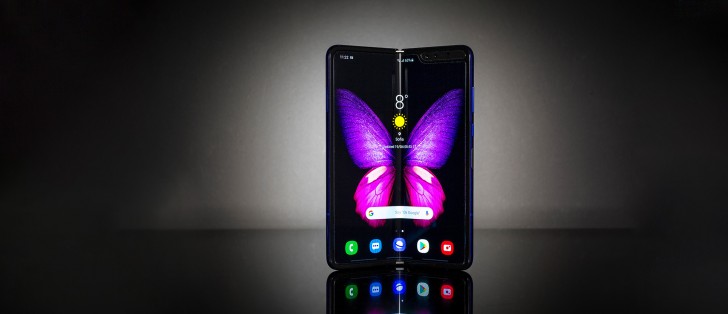 Two Super AMOLEDs but only one matters
The Galaxy Fold has two separate displays - a foldable 7.3" Dynamic Super AMOLED and an ordinary 4.6" cover (front) Super AMOLED. While the screens are very different, they have one thing in common - both are OLEDs with underlying Dimond PenTile matrices.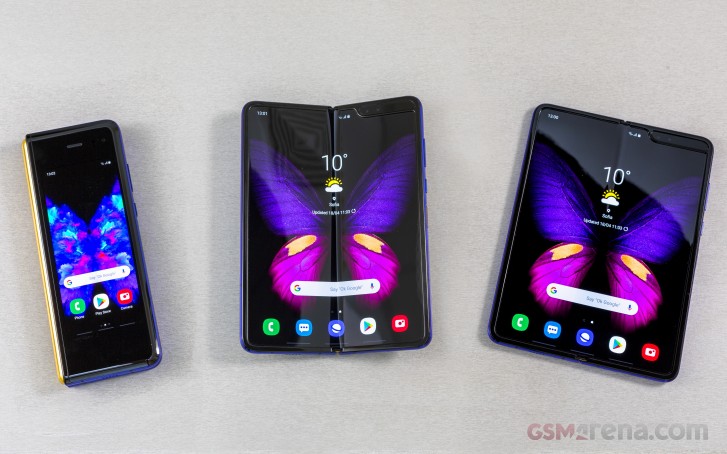 The 7.3" foldable AMOLED is of 2,152 x 1,536 pixels resolution or 362ppi. This isn't a common resolution, and neither is the aspect of 4.2:3, though once the whole top row disappears in order to hide the notch, then you get the pretty common 4:3 aspect ratio and a lot of apps support it.
The Dynamic moniker before the usual Super AMOLED branding stands for the new HDR10+ capabilities added by Samsung to its latest generation of OLEDs. The first phones to have those so-called Dynamic screens were the S10 trio and now the Fold is following suit.
We measured 370nits of maximum brightness on our Fold screen when handling the slider manually. Letting the Auto take over, the phone is capable of cranking that up to 560 nits. That's not close to the 800 nits we measured on the S10 phones, but they don't have foldable screens, do they?
The innovative screen has a special protective folio, which probably contributed to the small light leakage we measured on pitch black. Unfortunately, this layer must not be peeled off as it will be the screens undoing. Other reviewers have already tried that, and this indeed let to the destruction of the soft OLED panel underneath. If Samsung intents to keep the foldable display this way even after the changes that may or may not come after the recall, it must warn the users in an appropriate manner.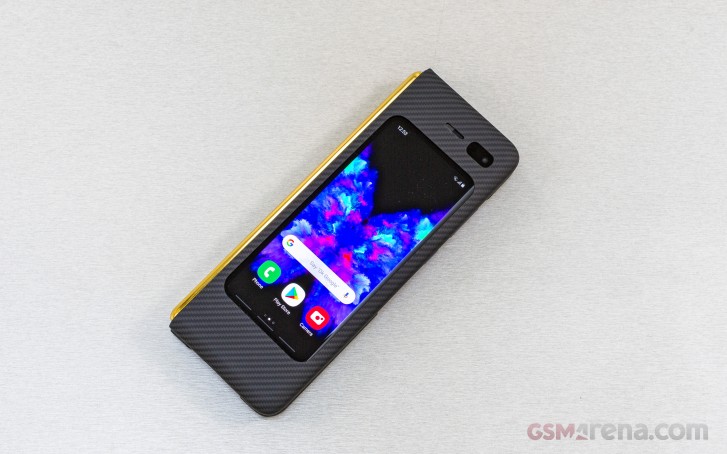 As for the cover screen, it's 4.6" in diagonal with rounded corners and of 1,680 x 720 px resolution (399ppi). It has a 21:9 aspect ratio but due to the size, it won't do much for multimedia.
The cover screen has no light leakage when displaying blacks. The maximum brightness in manual mode is 380 nits, while when it's left on Auto, it can go as far as 620 nits.
Display test
100% brightness
Black, cd/m2
White, cd/m2
Contrast ratio
Samsung Galaxy Fold
0.002
370
185000
Samsung Galaxy Fold (Max Auto)
0.006
557
92833
Samsung Galaxy Fold (cover)
0
380
∞
Samsung Galaxy Fold (cover) (Max Auto)
0
623
∞
Samsung Galaxy S10+
0
385
∞
Samsung Galaxy S10+ (Max Auto)
0
793
∞
Nokia 9 PureView
0
531
∞
Apple iPhone XS
0
660
∞
Apple iPhone XS Max
0
653
∞
Xiaomi Mi 9
0
428
∞
Xiaomi Mi 9 (Max Auto)
0
620
∞
LG G8 ThinQ
0
391
∞
LG G8 ThinQ (Max Auto)
0
655
Huawei P30 Pro
0
571
∞
Huawei P30 Pro (Max Auto)
0
605
∞
Huawei Mate 20 X
0
459
∞
Huawei Mate 20 X (Max Auto)
0
655
∞
Both screens demonstrated impressive minimum brightness levels - 1.6nits for the foldable and 1.9nits for the cover screen.
The handling of colors that's been more or less unchanged for generations of Galaxies has been overhauled. The menu now gives you two settings - Vivid and the default Natural. Natural is tuned for the sRGB color space where we measured an average DeltaE of 2.9 and a maximum of 4.3. The whites remain accurate to within a DeltaE of 2.5, which is excellent.
The Vivid mode comes with a bit punchier output which in most cases is accurate to the DCI-P3 color space with an average DeltaE of 3.9. Samsung claims when in Vivid mode the screen will display any content as accurate as possible to the content's intended color space.
When in Vivid mode, you get a slider for adjusting the color temperature in a five-step range from cool to warm, with the default in between. There is an additional set of RGB sliders under the advanced button below.
The cover screen has identical options and similar color presentation and accuracy.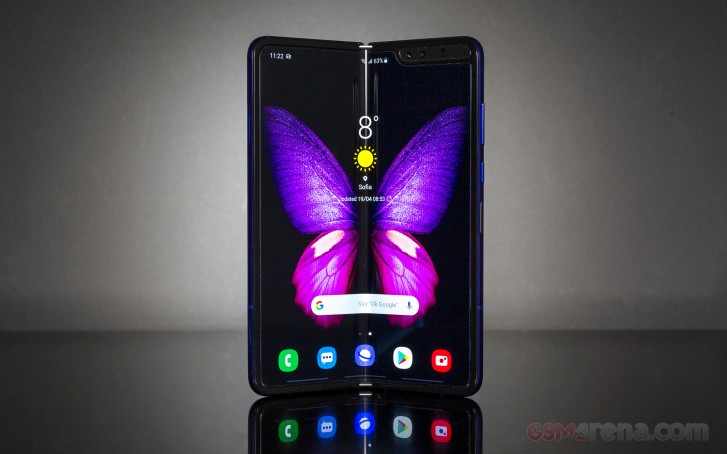 Finally, we mentioned that the foldable screen is HDR10+ capable with the "+" being the key thing here. Think of it like this - even an HDR panel may end up having a narrower dynamic range than you may want within a single movie. HDR10 content comes with static metadata that specifies how to allocate that available dynamic range from the moment you start the playback. If your display's dynamic range is 16 arbitrary units, and your movie spans 20 units, you'd lose 4 when playing back because the dynamic range was preallocated for the best average for this movie. Imagine that you could allocate on the fly the 16 units of DR based on the dynamic range needed to display each individual frame instead of setting it in the beginning. That's roughly what the '+' in HDR10+ does.
There's the tiny caveat that as of now, HDR10+ content is realistically only available on Amazon Prime Video, and devices that support it are far and few between.
Battery life
The Galaxy Fold has a 4,380mAh power pack inside, split in two and there is a piece in each half of the phone. The phone supports 15W wired and 15W wireless charging.
In our testing the Galaxy Fold clocked 10 and a half hours in Wi-Fi web browsing and 17 hours of looping videos in airplane mode. We measured 37 and a half hours of 3G voice calls too. All of that combined with a bit higher than expected standby consumption resulted in an overall Endurance rating of 90 hours.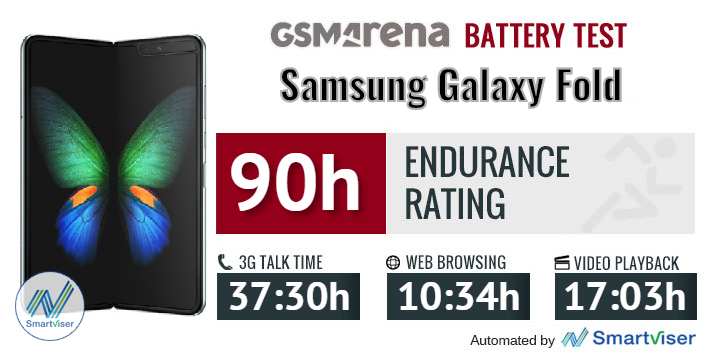 Our battery tests were automated thanks to SmartViser, using its viSer App. The endurance rating above denotes how long a single battery charge will last you if you use the Samsung Galaxy Fold for an hour each of telephony, web browsing, and video playback daily. We've established this usage pattern so that our battery results are comparable across devices in the most common day-to-day tasks. The battery testing procedure is described in detail in case you're interested in the nitty-gritty. You can check out our complete battery test table, where you can see how all of the smartphones we've tested will compare under your own typical use.
Filling up that battery once it's been depleted happens with Samsung's Adaptive Fast Charger that's been around unchanged since the Galaxy S5, imagine that. It's rated at 9V/1.67A and 5V/2A, so 15W is the maximum it'll output. It charges the Fold from flat to full in 1:50h with the battery indicator showing 37% at the half-hour mark - so not really all that bad, especially considering the big battery.
Stereo speakers
The Galaxy Fold has a stereo speaker setup and thanks to its form factor - it has the real thing - two independent and equally loud speakers on its shorter sides. When holding the phone in landscape, each speaker handles the respective channel, while in portrait they're assigned the channel they had last time they were in landscape.
In our three-pronged test, the Galaxy Fold posted an 'Excellent' score for speaker loudness. It's also a joy to listen to, though it could have benefitted from a little bit richer output within the high notes.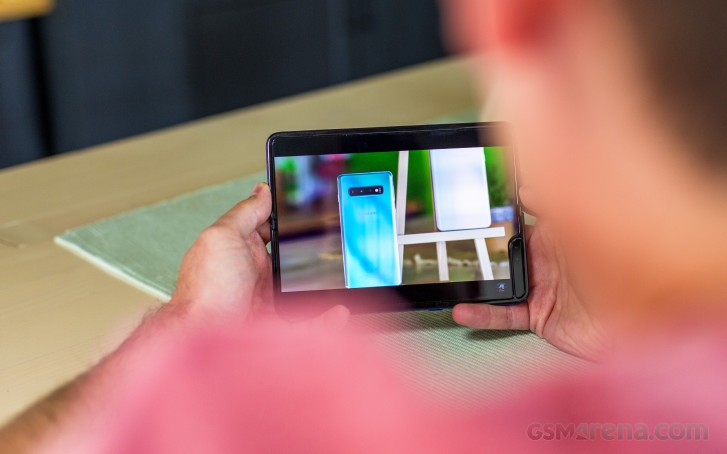 Finally, if you hold the phone in landscape and the speakers are close to your palms, you would create improvised chambers, and this will noticeably amplify the sound. We don't know if their placement was intentional for exactly this type of use, but it's brilliant, nevertheless.
| | | | | |
| --- | --- | --- | --- | --- |
| Speakerphone test | Voice, dB | Pink noise/ Music, dB | Ringing phone, dB | Overall score |
| Nokia 9 PureView | 68.9 | 71.8 | 81.1 | Very Good |
| Xiaomi Mi 9 | 70.1 | 74.2 | 81.6 | Very Good |
| Samsung Galaxy Note9 | 71.2 | 74.9 | 80.2 | Very Good |
| Apple iPhone XS Max | 70.5 | 74.0 | 84.7 | Excellent |
| Samsung Galaxy S10+ | 74.4 | 74.2 | 83.6 | Excellent |
| Samsung Galaxy Fold | 70.7 | 73.1 | 90.9 | Excellent |
| Huawei P30 Pro | 70.9 | 73.8 | 90.9 | Excellent |
| Huawei Mate 20 X | 71.4 | 73.5 | 91.1 | Excellent |
Audio quality
The Galaxy Fold is the first Samsung flagship to NOT include a 3.5mm audio port. Unfortunately, the maker isn't providing a USB-C to 3.5mm audio adapter in the retail package, which means that we were unable to perform our audio quality test. We could have used an adapter from a Huawei or Xiaomi phone, but since those adapters contain a built-in DAC, the output would be representative of the adapter rather than the new Galaxy Fold so we only do audio output testing if an adapter is provided by the manufacturer.
Active adapters such as this one do their own processing, so if you get a different adapter, you won't get the same kind of output, and our findings wouldn't be relevant to you.
Luckily, Samsung is bundling the wireless Galaxy Buds with the Fold, so we can't really complain as much.
Please include the Micro SD slot . It is necessary and will result in massively increased sales for this Samsing folfabkevinit.
When this phone will be available in India
Folded: 160.9 x 62.9 x 15.5 mm Weight 263 g (9.28 oz) That's ugly. My A8 2018 much better LOL