Samsung Galaxy Fold review
GSMArena team, 26 April 2019.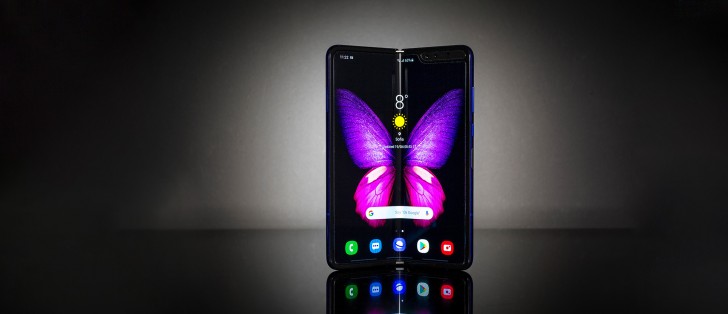 Performance and benchmarks
Unlike the S10 phones, the Samsung Galaxy Fold has only one variant and it has Qualcomm's top-shelf Snapdragon 855 chipset. It's based on the 7nm node from TSMC and incorporates an octa-core CPU that consists of eight big Kryo 485 cores that are clocked differently to optimize performance and efficiency. The most powerful core is clocked at the whopping 2.84 GHz then there are three toned-down cores clocked at 2.42 GHz and the final cluster of 4x Kryo 485 cores tick at 1.79 GHz and are used for the least demanding tasks. This unusual processor architecture makes use of ARM's DynamIQ architecture that bundles different cores with different clocks work seamlessly in a single package. The GPU is Adreno 640 and it's Qualcomm's top of the line graphics processor that can handle pretty much everything you throw at it.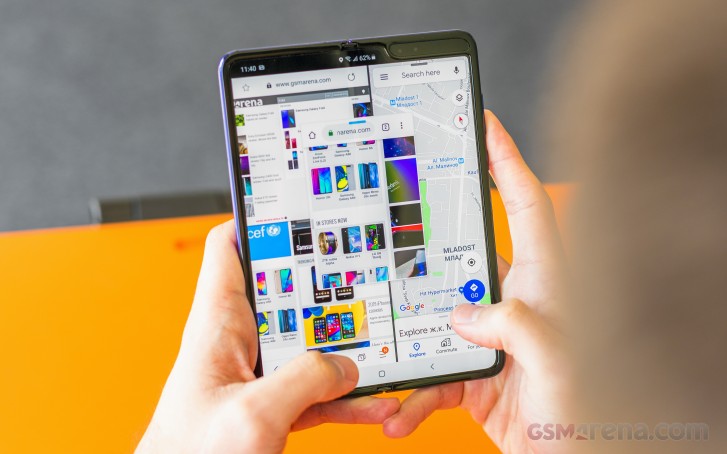 The Galaxy Fold, being expensive, unique, and again expensive, makes up for that price tag not only with screen, but RAM and storage, too. The Fold packs the whooping 12GB of RAM and 512GB of storage. There is no microSD slot on the Fold, though.
The Galaxy Fold is Samsung's first smartphone to use the latest UFS 3.0 storage - the S10 series rely on UFS 2.1 When it comes to performance, Samsung says that its 512 GB UFS 3.0 embedded flash drive features a sequential read speed of up to 2100 MB/s, a sequential write speed up to 410 MB/s, and 68,000/63,000 read/write IOPS. When compared to SATA SSDs, the 512 GB UFS 3.0 device offers four times higher sequential reads but is slightly slower as far as write and random performance numbers are concerned.
These are all theoretical numbers, of course, so we did run AndroBench to see how the Fold storage fares against the S10 one.
The Galaxy Fold posted amazing numbers in both Sequential Read and Sequential Write. In Read it did 1436 MB/s vs 789 MB/s on the S10+. In Write test the Fold did 387 MB/s vs 194 MB/s for the S10+.
Moving on to Random Read and Random Write. In read the Fold posted 155 MB/s vs 138 MB/s for the S10+. In Write mode the Fold did 31 MB/s vs 25 MB/s for the S10+.
Obviously, the nеw UFS 3.0 storage matters, and it surely adds even more value to the Galaxy Fold.
We ran our traditional benchmark routine and the Snapdragon 855 chip inside the Galaxy Fold did as expected - read on par with other S855 devices such as the LG G8.
The latest Qualcomm processor is indeed the best one available on any Android today and only Samsung's latest Exynos is a match for it.
GeekBench 4.1 (multi-core)
Higher is better
Apple iPhone XS Max
11432
Samsung Galaxy Fold
11028
LG G8 ThinQ
10735
Samsung Galaxy S10+
10387
Huawei P30 Pro (perf. mode)
10014
Samsung Galaxy Note9
9026
GeekBench 4.1 (single-core)
Higher is better
Apple iPhone XS Max
4777
Samsung Galaxy S10+
4522
Samsung Galaxy Note9
3642
Samsung Galaxy Fold
3512
LG G8 ThinQ
3419
Huawei P30 Pro (perf. mode)
3323
The Adreno 640 is e beast, too, and it performs even better than Samsung's Mali choice for the latest Exynos. Let's say the Fold is perfectly equipped to handle any available cutting-edge game at the time of writing and probably the ones to launch in the next couple of years.
GFX 3.1 Manhattan (onscreen)
Higher is better
Apple iPhone XS Max
60
Samsung Galaxy Fold
52
Huawei P30 Pro (perf. mode)
50
Samsung Galaxy S10+
37
LG G8 ThinQ
33
Samsung Galaxy Note9
25
GFX 3.1 Car scene (onscreen)
Higher is better
Apple iPhone XS Max
47
Samsung Galaxy Fold
32
Huawei P30 Pro (perf. mode)
29
Samsung Galaxy S10+
23
LG G8 ThinQ
20
Samsung Galaxy Note9
15
3DMark SSE 3.1 Unlimited
Higher is better
Samsung Galaxy Fold
6135
LG G8 ThinQ
6017
Samsung Galaxy S10+
4632
Huawei P30 Pro (perf. mode)
4315
Samsung Galaxy Note9
3501
Finally, the compound AnTuTu test just confirms the Galaxy Fold features the right hardware and for its price tag you are getting indeed the best the Android market has to offer.
AnTuTu 7
Higher is better
Samsung Galaxy Fold
363016
Apple iPhone XS Max
353210
Samsung Galaxy S10+
333736
LG G8 ThinQ
331537
Huawei P30 Pro (perf. mode)
316156
Samsung Galaxy Note9
248823
So, as far as performance is concerned, the Galaxy Fold behaves flawlessly. It packs every bleeding-edge piece of hardware there is right now - not that anyone expected anything less, of course. It may get a bit warm here and there, but nothing worrisome.
return your device to the place to got the fold
Email Samsung, this isnt GSMArenas issue.
I am using Samsung gallaxy 5g fold and it is not charging, please can rectify the problem