Samsung Galaxy Fold torn down on video
Enrique, 10 October 2019
Last month, YouTuber JerryRigEverything performed a durability test of the Samsung Galaxy Fold to see exactly how well Samsung updated the hardware with durability in mind. Today, Zack is back with a teardown of the Galaxy Fold. His goal is to find out whether he can successfully detach one side of the phone and continue to use it like normal.
He starts by heating and removing the glass panel on the back half of the phone, the one that has the triple cameras. After removing the external display from one half and the Qi wireless charging coil from the other half, the phone's two mainboards are revealed. There are also two batteries (2,100 mAh and 2,135 mAh) that power the ensemble of cameras and displays.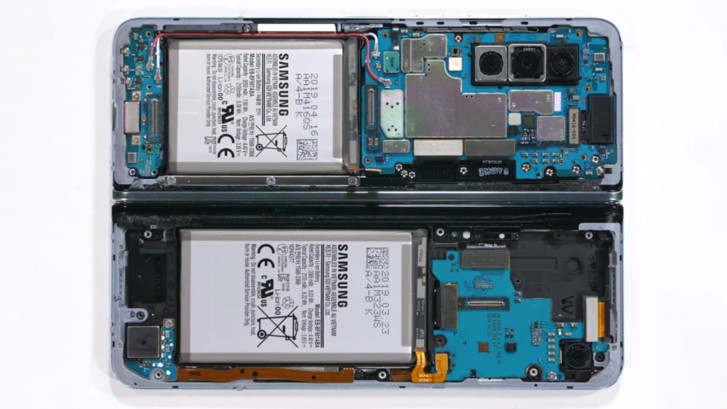 After disconnecting and removing the two mainboards and smaller sister boards, a realization occurs that the charging port is housed in the opposite half of the Fold's external display, so it would be impossible to rock just one half of the Galaxy Fold as a daily driver.
After removing the plastic bezel around the inside display, the foldable display is peeled off the phone's frame like as if it was a laminated piece of paper – you can really see how thin and fragile the Galaxy Fold's display is.
You'd think the teardown was over after this, but after removing some adhesive seals around the hinge assemble, the spinal cover can be removed and we're given a closer look at all the mechanical gears that control the motion between the closed position, and the locked open position.
Looking at the empty chassis of the Galaxy Fold is quite a sight. It really is a feat of engineering, but one whose practical applications are still being figured out.
Related
AnonD-819322
14 Oct 2019
3aW
OLED displays can be flexed. Having a flexible (scratch-resistance sacrificed) digitizer made the Fold display flexible. I wasn't hyped for the Fold, and deservedly so. Obviously this would have took some time, but people were getting gassed over thi...
Anonymous
11 Oct 2019
ptD
I didn't know iPhone X is a two piece, foldable phone.
Scratches at level 2 deeper grooves at level 3
Popular articles
Popular devices
Electric Vehicles