Samsung Galaxy Note10 review
GSMArena team, 02 Sept 2019.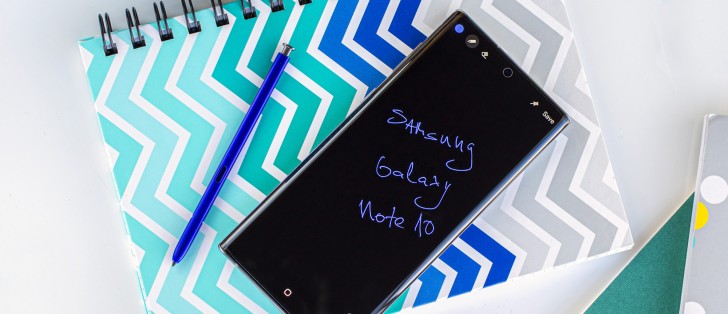 Design
Perhaps one of the most controversial aspects of the Galaxy Note10's design is size. A descendant of the original phablet, the Galaxy Note of 2011, this compact version of the 9th generation isn't universally loved. It's not a true Note, the haters say, if it's smaller than the current-gen S-series phone.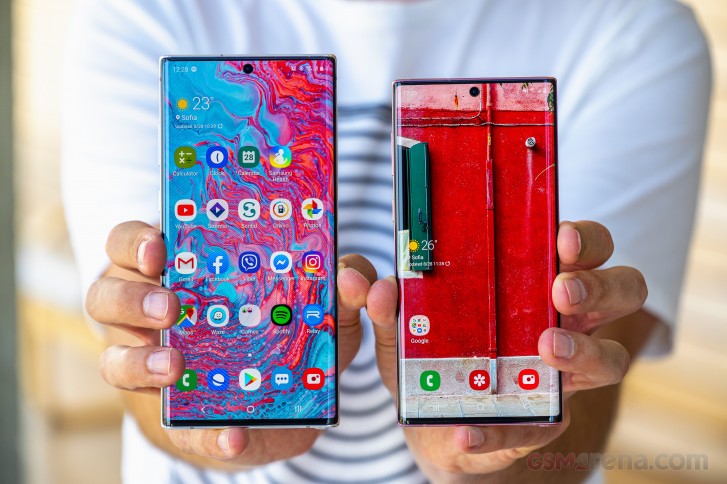 We've gone into dogmatic arguments of this sort before at the office and rarely reached a consensus - we couldn't this time around either. Team 'pure Note' insists that the Note10 shouldn't exist on grounds of not being the ultimate smartphone Samsung offers, size being a part of that. Meanwhile, the less principled folks around (maybe they like to call themselves progressive, but who are they fooling) enjoy it for what it is - a compact Note.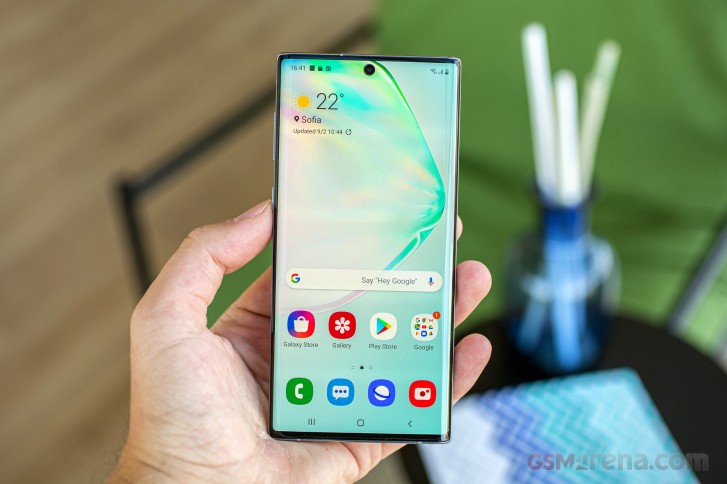 Now, we're saying compact, but it's all relative - it is in fact taller than that original from 8 years ago. Measuring 151x71.8x7.9mm, it stands 4mm above the Note N7000, but is a massive 11mm narrower and some 2mm thinner. The Note10 "Size S" is meaningfully more pocketable than the Note10+, however, and is also smaller in footprint than the S10+. It compares favorably to the S10 too at just 1.1mm taller and 1.4mm wider, while packing a larger display.
Ah, the display. A gorgeous 6.3-inch Dynamic AMOLED that spans almost the entirety of the Note10's face. Samsung's been fitting exclusively curved-edge displays on its high-end smartphones since the S8, and the Note10 is no different. With the Note10s they've shrunk the top and bottom bezel further from what we had on the S10s and there's little left to shave off in the future.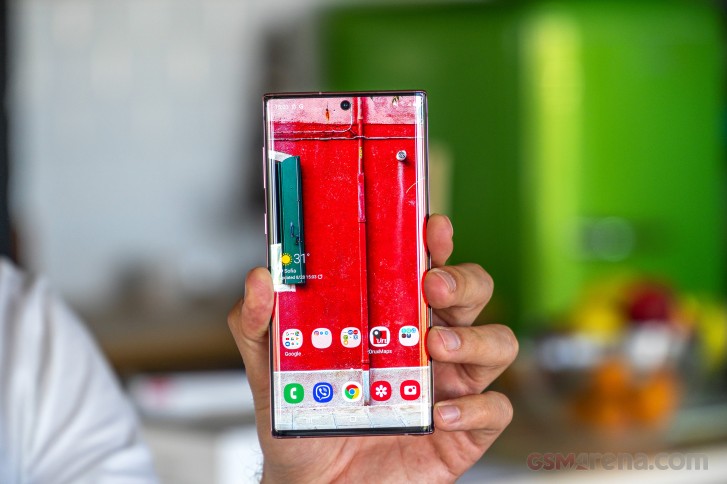 As was the case with previous generations, the Note10 is notably more squarish than the S-series phone it shares a year of release with. It makes for a more technical, this-phone-means-business look than the more fluidly shaped S10 that has a sort of a toyish look next to the Note. Both look good, they're just different.
Another key difference between the S phones and the Notes this year is the selfie camera location. Where the S10s have it (them) inside a cutout in the top right corner of the display, the Note10 goes for a central position. It's just a single cam on the Note, like the vanilla S10, and Samsung's made the punch hole smaller, so potentially less obtrusive.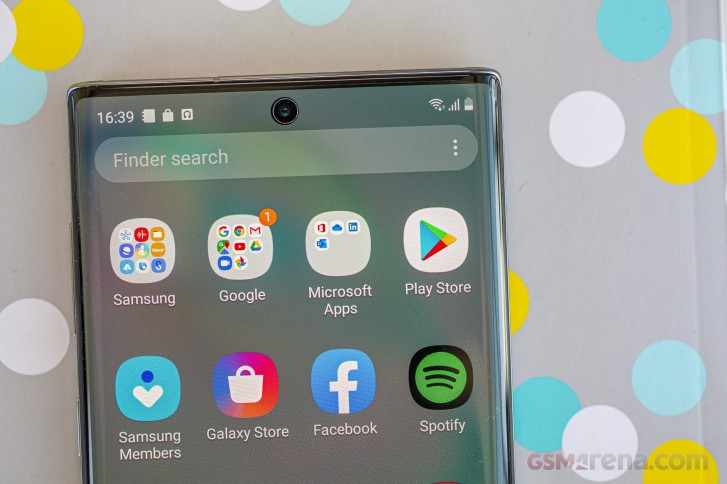 It's worth pointing out that despite the minimal top bezel, Samsung's still fitted a conventional earpiece - not the piezo solutions some other makers have been doing on their bezelless phones. It is located behind the display and directs sound through a several-hairs-thin slit where the front glass meets the aluminum frame. There's an opening on top that serves as a speaker port to let air move more freely and improve frequency response.
Since we've started on the tour of the frame, the top is also home to a secondary mic for noise canceling and stereo recording in video. The card slot is here as well, and we wouldn't be ourselves if we didn't voice a complaint that there's no option for putting in a microSD card. Regardless of whether it's a single SIM or a dual SIM Galaxy Note10, the 256GB of built-in storage is all the storage you're getting. The Note10+ is superior in this respect as it does have a card slot.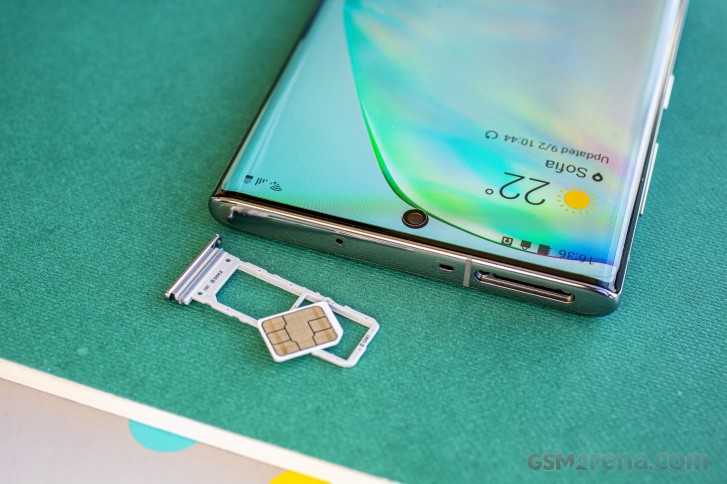 Another thing missing is the headphone jack, but at least that's common between both Note sizes, so the small one doesn't have to face the outcry alone. The bottom of the phone has the USB-C port, primary mic and speaker - in an unbelievable turn of events these are now all placed along the same axis, something that's been bugging folks with mild OCDs in the past.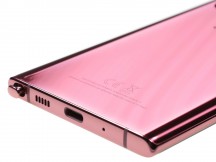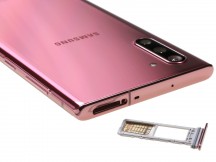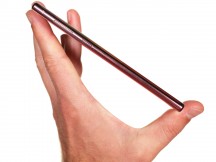 Things are lined up, for once • Card slot up top • All buttons on the left
Down here is where you click the S Pen's rear end so can pull it out its silo. The S Pen looks mostly the same, save for a slightly higher notch for the catch that keeps it inside, when compared to the Note9's. The clicky top end design was introduced way back on the Note5 and has somehow stuck - we do kinda like it.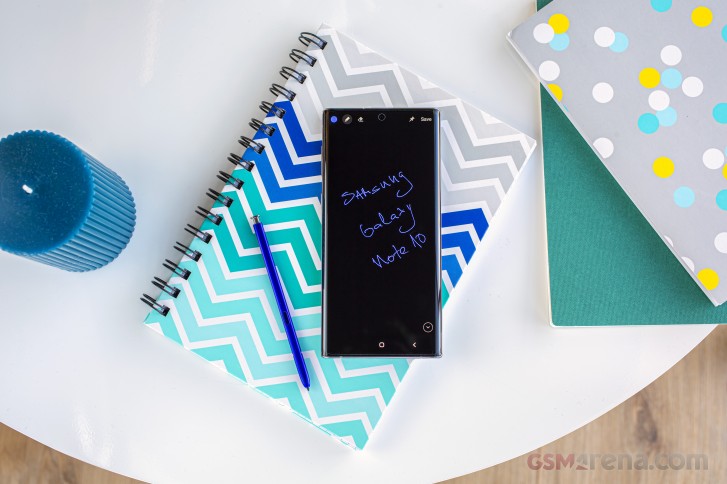 We're not so sure about the power button placement. Samsung power buttons have been on the right side since ages (also correct side), but this year there isn't one. Or, rather, what was introduced as the Bixby button on the Galaxy S8 is now called 'Side key' and serves double duty - Bixby and power. It is customizeable enough that you can get rid of the assistant entirely, which is nice.
However, if you've been using Samsungs exclusively for any number of years, you'll have a lot of muscle memory to battle before you get used to the new position. Even smartphone-lefties who should find this position superior, will require some adjustment after having gotten accustomed to waking the phone by stretching an index finder across the back.
There are new developments on the back as well. Where all previous Notes, going back to the original N7000, had their cameras centered (one way or another - don't get us started on what can only be described as a mess of a camera assembly on the Note8 and Note9 in terms of design and looks), the Note10 and Note10+ have their cameras in the top left corner. We gather that helps with internal design by not forcing the motherboard go around a bunch of cameras.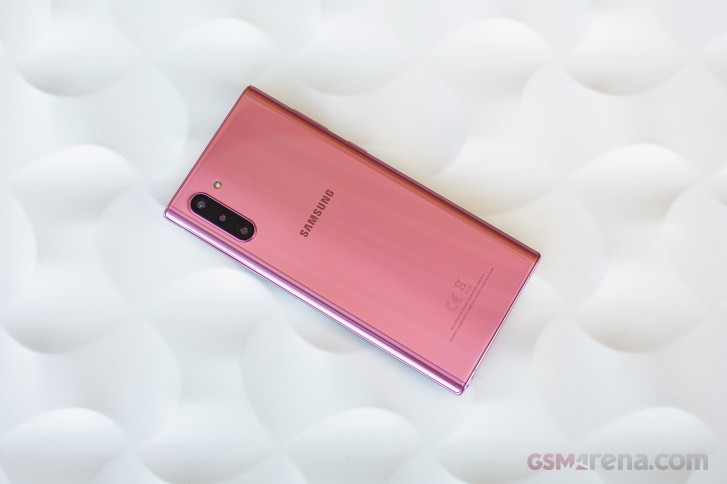 And a bunch of cameras there are - three of them. It's a fairly standard trio of a wide-ish primary cam, an ultra wide angle one, and a modest telephoto delivering 2x 'zoom' from the main unit's perspective. The three share a bump that's about a millimeter thick and yes, it does cause the dreaded wobble on a flat surface, minor as it may be. Put a case on it if bothers you so much.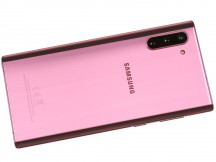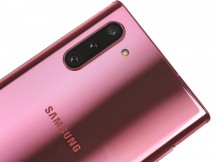 No more 'DUOS' branding • Triple cam
Mind you, a case is a good idea anyway - these glass-backed phones get covered in smudges pretty much instantly, are prone to scratches, and are fairly slippery. These plus the fact that there's barely any meat around the display to absorb the energy of a potential drop make a pretty good case (wink) for adding some extra protection.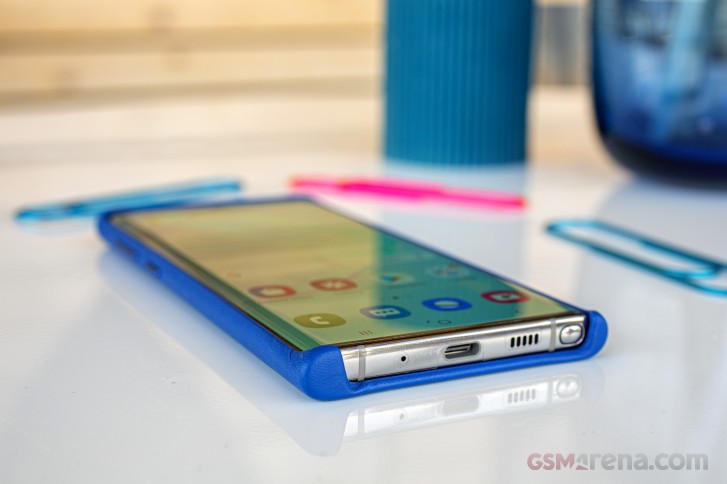 There's protection built-in of course. Both the front and the back of the Note10 are made of Gorilla Glass 6, supposedly Corning best in terms of shatter resistance, though again - glass is glass and a fall is a fall. There's a pre-applied plastic screen protector on the front, too. The phone is also IP68 rated for dust and water resistance as most recent high-end devices.
Exactly same to me you got same point as mine the battery life is what gives this phone disappointment, atleast it could be around 4000 upward
If this phone will have little bit more battery according to its size this phone will have broken Many records in Smartphone history,,this phone is amazing but just with one fault that is its low battery life this could be around 4000 or 4100 at leas...
kaleabgbermarime
27 Apr 2023
Fvt
best smart phone