Samsung Galaxy Note10 devices in the US might come with Exynos chipsets
Ricky, 02 August 2019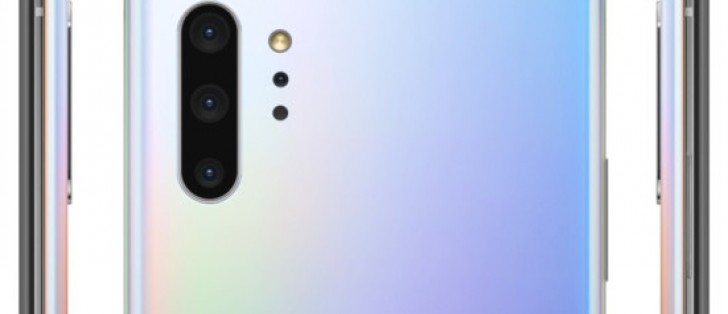 For several years now, Samsung has offered its major flagship models in two variants. Each using either the latest Qualcomm processor, or the latest Samsung-made Exynos chipset. However, this is about to change.
This update comes to us from @evleaks on Twitter. The leakster's track record is quite good in accuracy when it comes to leaks and he reports we may see Exynos chipsets on Galaxy Note10 models in the US, except for Verizon's.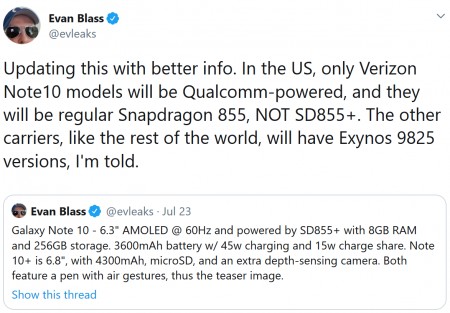 According to @evleaks, Samsung is only going to use Qualcomm chipsets on Verizon variants of the Galaxy Note10 – the Snapdragon 855 to be exact. Otherwise, we might expect to see the Exynos 9825 on all other carriers in the US and the rest of the world.
The last time Samsung offered its flagships with the Exynos processors was with the Samsung Galaxy S6. Perhaps with the mobile horizon expanded by 5G-compatible smartphones, Qualcomm and Samsung have to shuffle their distribution around.
The interesting part is that only Verizon variants would still keep the Qualcomm chipsets. While we could assume this has to do with the fact that Verizon might want the Note10 to be compatible with its legacy CDMA network, that doesn't explain why just Verizon's phones and not Sprint's? After all, we've known that some of Verizon's phones are LTE-only and don't even support its legacy 3G network.
Whatever the case may be, there is no reason for US consumers to be concerned with the Exynos variants. The two chipsets are comparable in performance and battery life.
We look forward to learning more at Samsung's Unpacked event, taking place in New York City next week on August 7.
Related
Which is why i corrected myself and said most. And i as well didn't catch that shift starting with the 9820. But i assume from that source you also realized why the single core is higher? And the decent benefits this 7nm euv can bring? Espec...
Snapdragon is more superior in gpu department, exynos better in cpu. Both chips still performane best in day to day life and nothing to worry about. Samsung is working with amd on next line gpus for exybos and mali new G series a way more superior th...
I need to correct myself here: Reading Anandtech's reviews, apparently CPU cores of Exynos 9820 onwards do NOT run at higher frequency even when there are only 1 or 2 cores are being used. The peak frequency of big cores remains the same at 2.73GHz r...
Popular articles
Popular devices