Samsung Galaxy S10e vs. Apple iPhone XR
GSMArena team, 21 April 2019.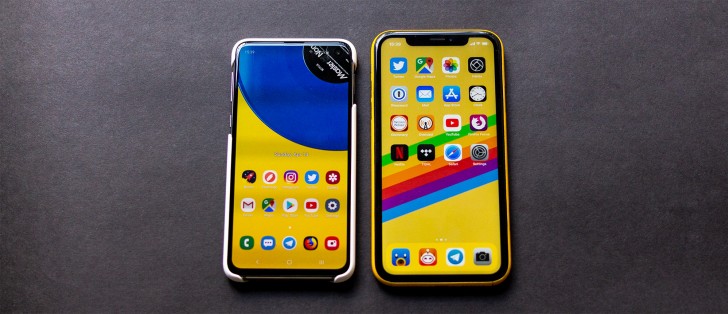 Display
The XR has a 6.1-inch LCD that Apple calls Liquid Retina. It has a resolution of 1792 x 828 and a pixel density of 326 PPI, same as many of the previous generation iPhones. The S10e has a 5.8-inch OLED display, which Samsung calls Dynamic AMOLED. It has a resolution of 2280 x 1080 and a pixel density of 438 PPI.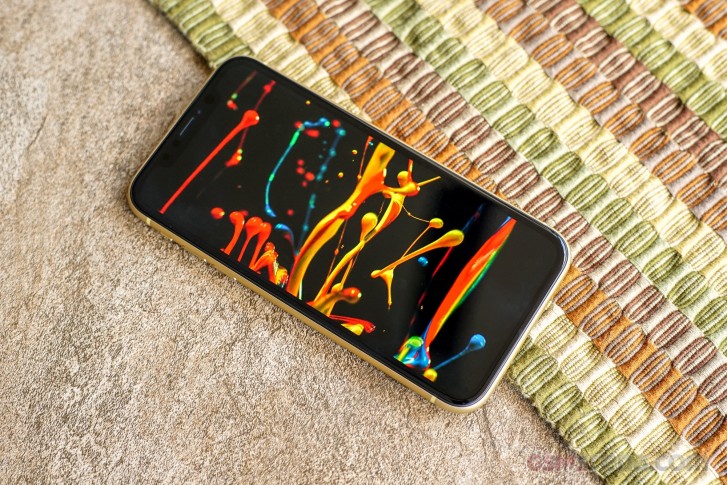 On paper, it seems that Samsung has the upper hand. The S10e display is very good, with excellent color accuracy (in the Natural mode), wide color support, high contrast and good viewing angles. It's also a flat display, unlike the curved ones on the other S10 models, which means you don't get any distortion around the edges, which is well worth the slightly thicker bezels. The display also supports HDR10+ and while Amazon Prime Video is the only service offering compatible content for now, you can still enjoy standard HDR10 content in Netflix or YouTube.
However, the display is a bit small, which isn't surprising considering the size of the phone. While this may not be a problem for people who actually want a small phone, if you only bought the S10e because of its lower price tag, then this can be a problem. It's fine for basic app usage but any sort of multimedia applications, such as photos, videos or games, aren't as enjoyable on this screen. The display also doesn't get too bright manually. It's only with auto brightness under direct sun or during HDR playback can it reach its full brightness.
Samsung has also added a couple of minor annoyances in the S10 series. While playing SDR videos, the display tends to crush the deeper blacks very aggressively to make the video look contrasty. This is on top of the already crushed blacks that is inherent to Samsung displays. This hides a lot of shadow details in videos and there's nothing you can do about it. Samsung has also added a display dimming feature that constantly adjusts brightness based on what's being displayed. If the screen becomes prominently white, it dims slightly but very suddenly and in a hard to miss manner. Again, there is no way to disable this.
The XR display may seem worse on paper but it's actually a very good display with no weird quirks or hidden "features". It has got excellent color accuracy, wide color support, great viewing angles and it also gets very bright. Apple has also included its True Tone feature, which adjusts display temperature based on ambient lighting. Unfortunately, the XR doesn't support Apple's 3D Touch feature but then again, neither does the S10e.
The display's size is also much more usable. The XR display actually straddles the line between either too small or too large quite well and seems appropriately large for almost any application. The only real downside of the display is the notch; it's not really noticeable when you're using the phone in portrait mode but turn the phone around and watch some fullscreen content such as videos or games and it cuts in way too much and becomes hard to ignore. The XR also has sizable bezels all around the screen, which you never really get used to.
Overall, both displays are perfectly fine in practice regardless of what it might seem on paper.
Software
Comparing an iPhone and an Android phone is always a challenge because for a lot of people, the software is the crucial bit that makes or breaks their purchase decision.
If you are already entrenched in the Apple ecosystem, there are good reasons to choose iOS. You get a great selection of apps and games, interoperability between Mac, iPad and Apple TV, and ability to use services like iMessage, AirDrop and iCloud Share. If you have an iPhone, you can also get the Apple Watch, arguably the best smart watch on the market and the one most likely to still be around and supported two years from now.
Over on the Android side, you do get a lot of customizability and the ability to tune the software to your exact needs. Samsung has also worked a lot on improving its UI design, which is better than it ever was. It still comes with a lot of features, many of which, unfortunately, are buried far too deep to find easily. And when you do find them you may feel there are a bit too many of them. Still, having options is never a bad thing and the S10e will certainly reward you if you want to tweak every little aspect of your phone, even those you didn't think could be tweaked.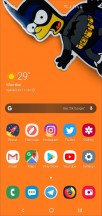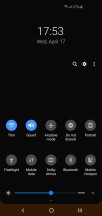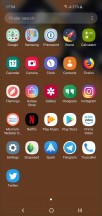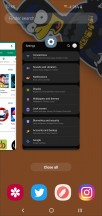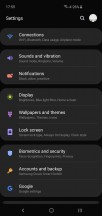 Samsung One UI on the Galaxy S10e
Still, while iOS can feel a bit restrictive at times, Android has its fair share of issues as well. The apps and games on the Play Store still don't feel as polished as the ones on the App Store. The S10e, in particular, does come with a bit of bloatware in the form of unnecessary Facebook and Microsoft apps, none of which can be uninstalled. Samsung also doesn't have the greatest track record when it comes to software updates; while you will get the occasional device specific updates, major Android updates often come far too late.
Then there's the issue of privacy and security. While iOS is an inherently a secure platform due to its many restrictions, Apple has also repeatedly shown that it will always value user privacy over its own- or third-party developers' needs. Meanwhile, the same cannot be said about Android and Google, where things are generally quite lax and the open platform means developers have a free rein to do as they see fit.
In the end, you will have to add all of these up and decide for yourself what is it that you care about most.
Ive had one since mid 2018 and its rockin' on! Battery could be better, now if you charge it when you wake up no problem. Camera is great fingerprint sensor is speedy and the customization you can do is the selling point for me. SUPER EASY TO RE...
6inches, 108Mp camera , oled, 8Gb ram, morethan 128G storage, how much you can sell. Can you product?
I have been using samsung s10e for a year now and i f happy with it. one of the best andoid for a simple minded man l ike me