Samsung Galaxy S23 Ultra review
GSMArena Team, 11 February 2023.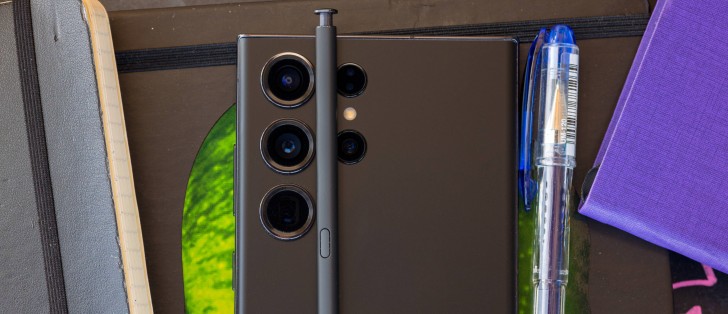 OneUI 5.1 on top of Android 13, S Pen stuff
The Galaxy S23 family launches on Android 13 with Samsung's One UI on top, v.5.1. The .1 bit is so far exclusive to the latest trio, but it will be coming to older models too in due time. As expected, 5.1 is not a whole lot different from 5.0 and we've had 5.0 updates for a number of Galaxies already.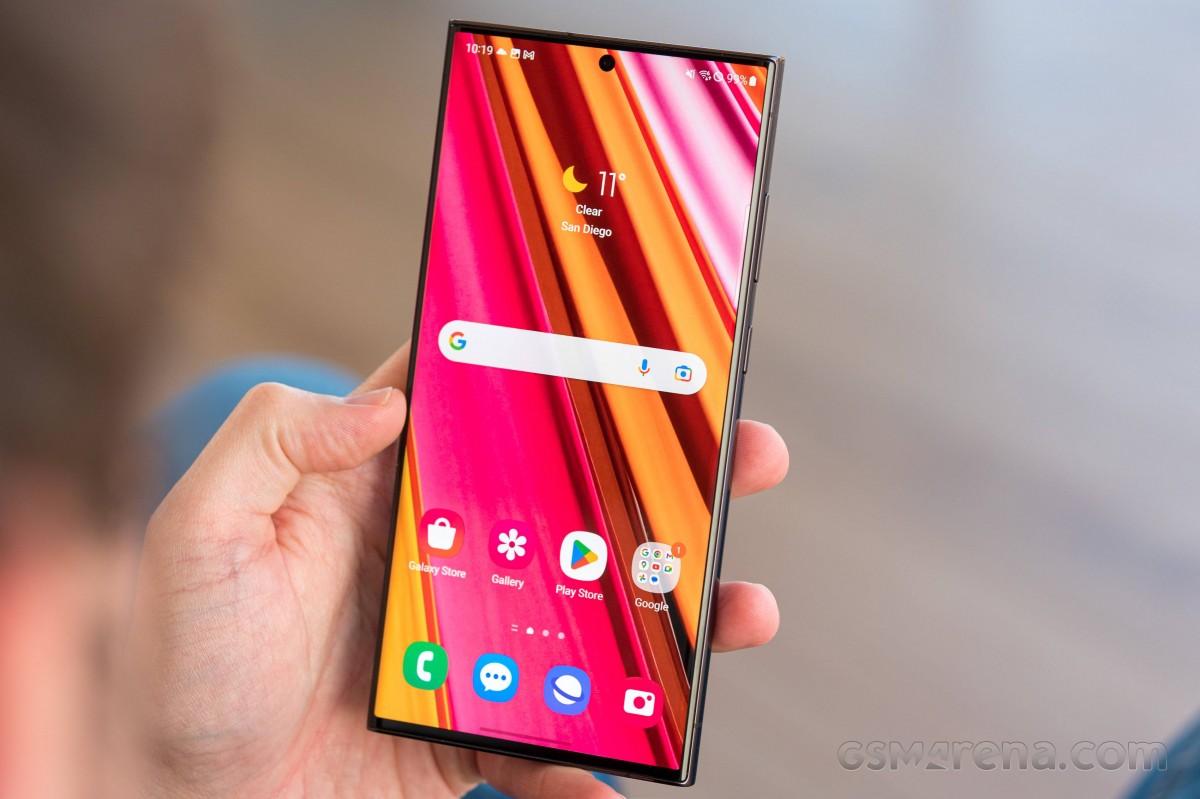 Here's how One UI 5.1 fundamentals look on the Galaxy S23 Ultra.
For a more detailed look at the generic UI stuff, we invite you to have a look at the Galaxy S23 or S23+ reviews, while here we'll just cover the S Pen related bits that set the ultimate Galaxy apart from the stylus-less models.
That shouldn't be all that difficult, in fact, because there was not a whole lot of pomp surrounding the S Pen at S23 announcement time, and little in the way of new features or functionality. Not that the S Pen has been lacking it in the past - it's just that things should all be familiar.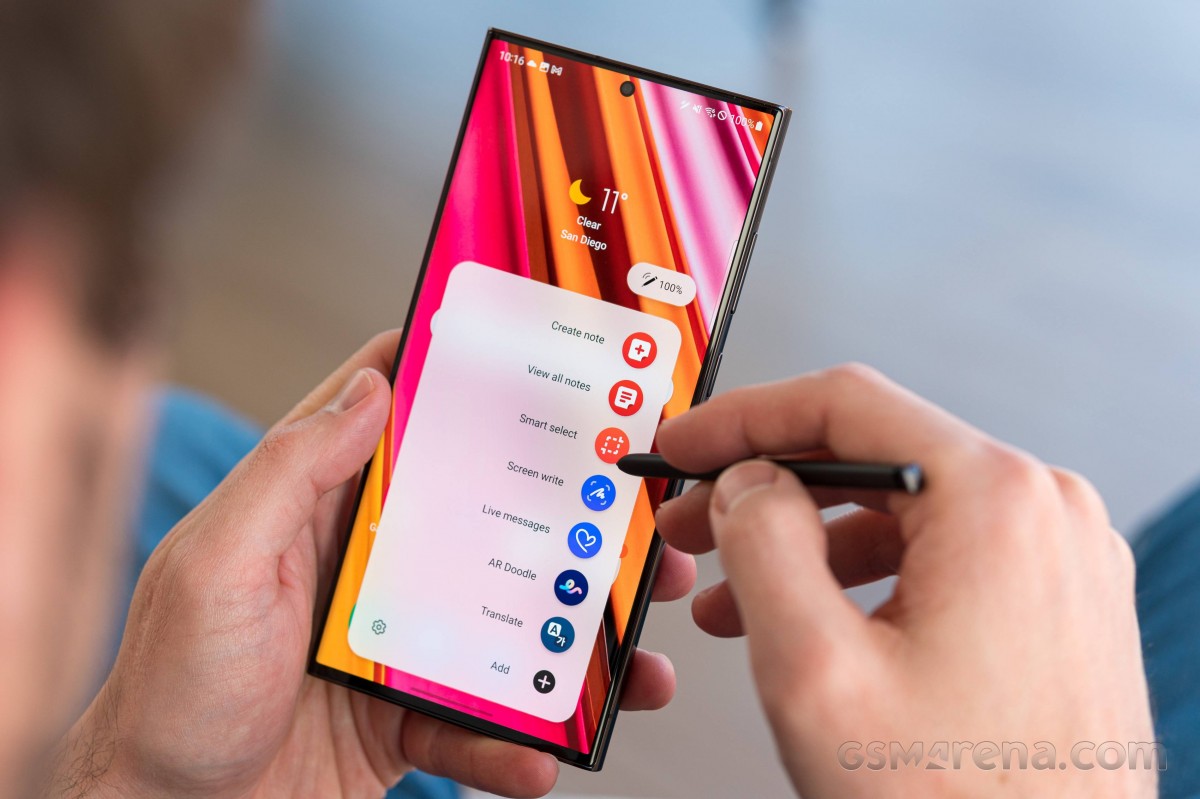 The first time you pull the S Pen out of its silo, you're greeted with a quick start guide - the broad strokes, if you will.
Quick Note was one of the big additions last year, and it's still here. It lets you add entire webpages as scrapbook items in Samsung Note, only you need to use the Samsung Internet browser - it doesn't work with third-party ones. Then there's the cookie consent popups that would show up several times in the captured note, but if you're not in Europe, you should mostly be fine.
Handwriting recognition is supported in 100 languages - or at least that's how many options there are in the menu, though some of them are, say, various nationalities of English and German. No word on latency improvements this year, so we'll assume it's the same 2.8ms in Samsung Notes thanks to the AI point prediction. Semi-related, we counted 39 languages that the Galaxy can translate from and 108 positions of languages it can translate into.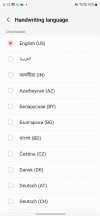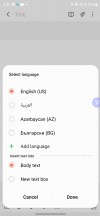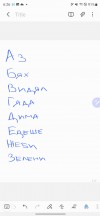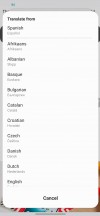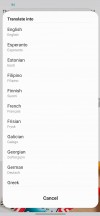 Handwriting recognition • Translation
As has been the case for several generations of S Pen-equipped Galaxies, the stylus here is an active one and it has a battery inside as well as a gyro, an accelerometer and Bluetooth connectivity for communicating with the phone without immediate proximity. This enables Air actions - a set of gestures that can be set to execute actions in various apps including the Gallery and browsers (Samsung's own, and also Chrome), but perhaps most usefully - the Camera.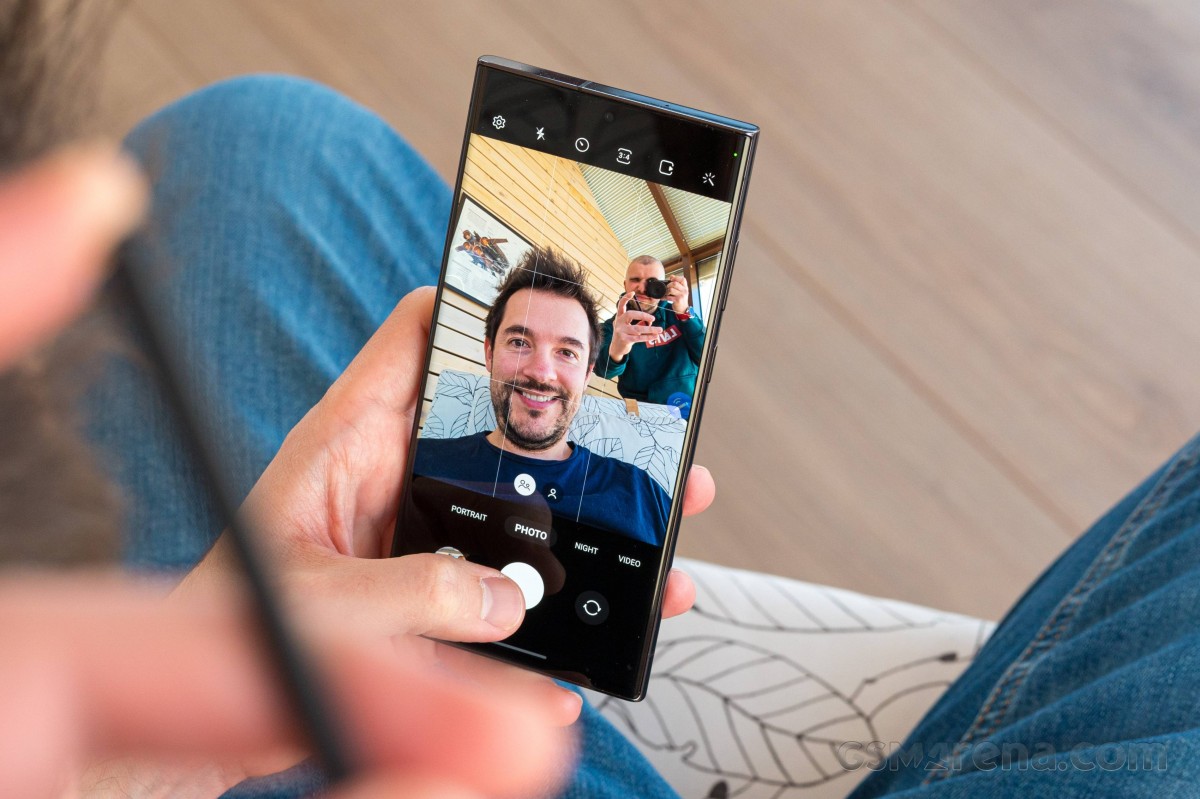 Then again, we'd say button presses are a lot easier to master than the gestures, which we reckon take some dedicated effort to learn and put to use. And that's a sentence we've been repeating for several years with none of us Note/Ultra users actually getting round to doing it. But if it works for you, it works for you.
Staples of S Pen functionality are here to stay, of course. Screen-off memo lets you just pull out the stylus when the phone is in standby and go right ahead and write a note on the black screen.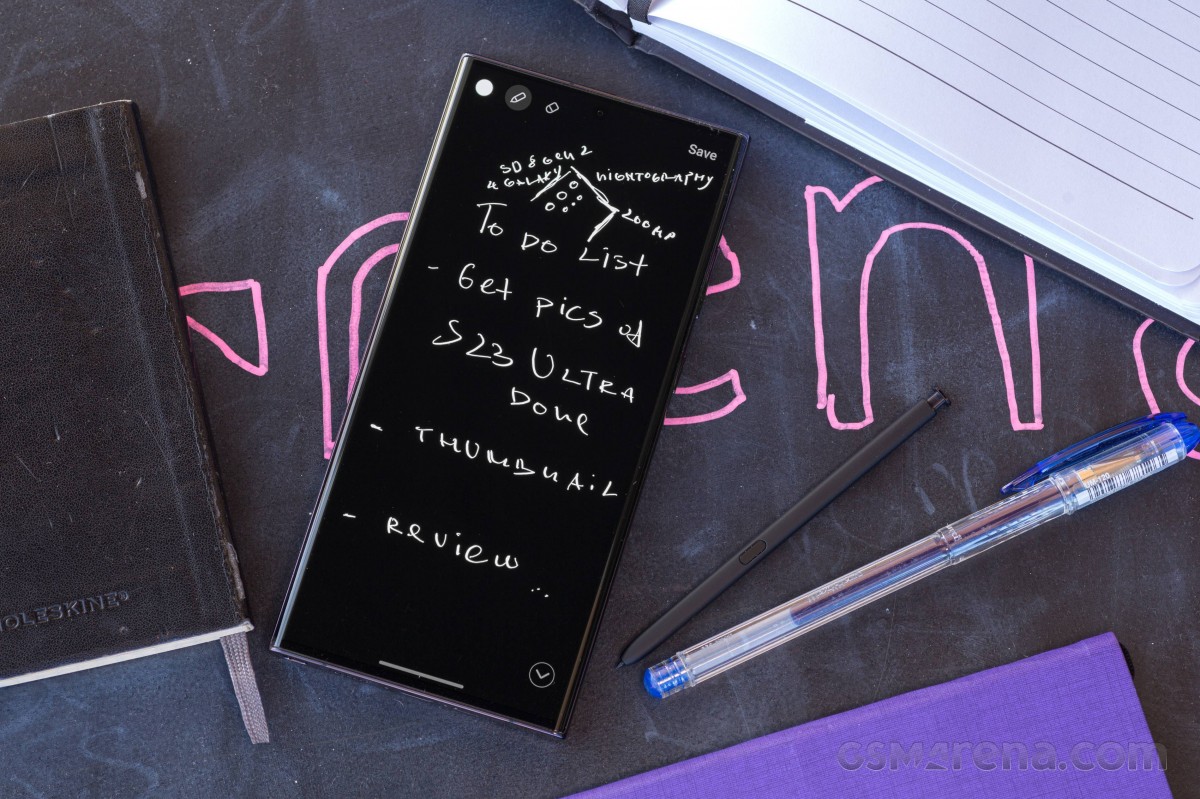 When you pull out the S Pen with the phone unlocked, the Air command menu appears (that's the default setting, you can turn it off). There are pre-set shortcuts here, which you can customize, and those can be either S Pen features or shortcuts to apps.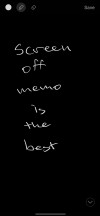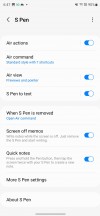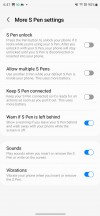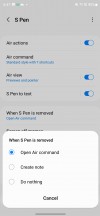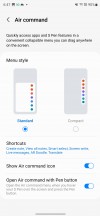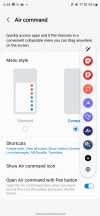 Screen off memo • S Pen settings • More settings • Behavior upon removal • Air command
Advanced screenshot capture is one of the S Pen's main use cases. Smart select allows you to take differently shaped screenshots, extract text from them, or pin them on the screen. Alternatively, you can create short GIF animations. Then there's Screen write that takes a fullscreen snap that you can write on with the full set of different pens and brushes (and then crop, if you will). Screen Translate can translate single words into a pre-selected language if you just hover over them.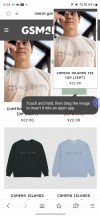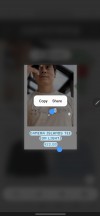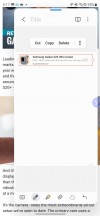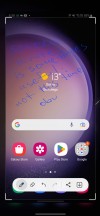 Screenshots and related functionality: Smart select • Smart select • Save link • Screen write
There are numerous other smaller use cases for the S Pen as part of the Air view set of actions. For, example, you can hover over an image in the gallery for an enlarged preview, or over a calendar entry for more details. You can also scroll up and down by hovering the S-Pen over the edge of the screen.
Perhaps loosely related to the S Pen, from a productivity standpoint, is the powerful split-screen multi-window functionality that Galaxy S23s have - all of them, but we reckon it's all the more important on large-screen Ultra. You get to pick arbitrary split-screen ratios, you can save favorite app pairs, pop-up windows are supported (and you can even change their opacity) - essentially the only thing better for multitasking than the Galaxy S23 Ultra is... the Galaxy Z Fold4.
Performance and benchmarks
The Galaxy S23 Ultra, as is the case with the rest of the family, is powered by the Snapdragon 8 Gen 2 chipset with a twist - it's a Samsung-exclusive version with an overclocked CPU and GPU compared to mainstream SD8G2. We suspect this version will become available as a Snapdragon 8+ Gen 2 later this year. Additionally, there is no more regional divide where some countries get an Exynos version - all Galaxy S23 models use the Qualcomm SoC.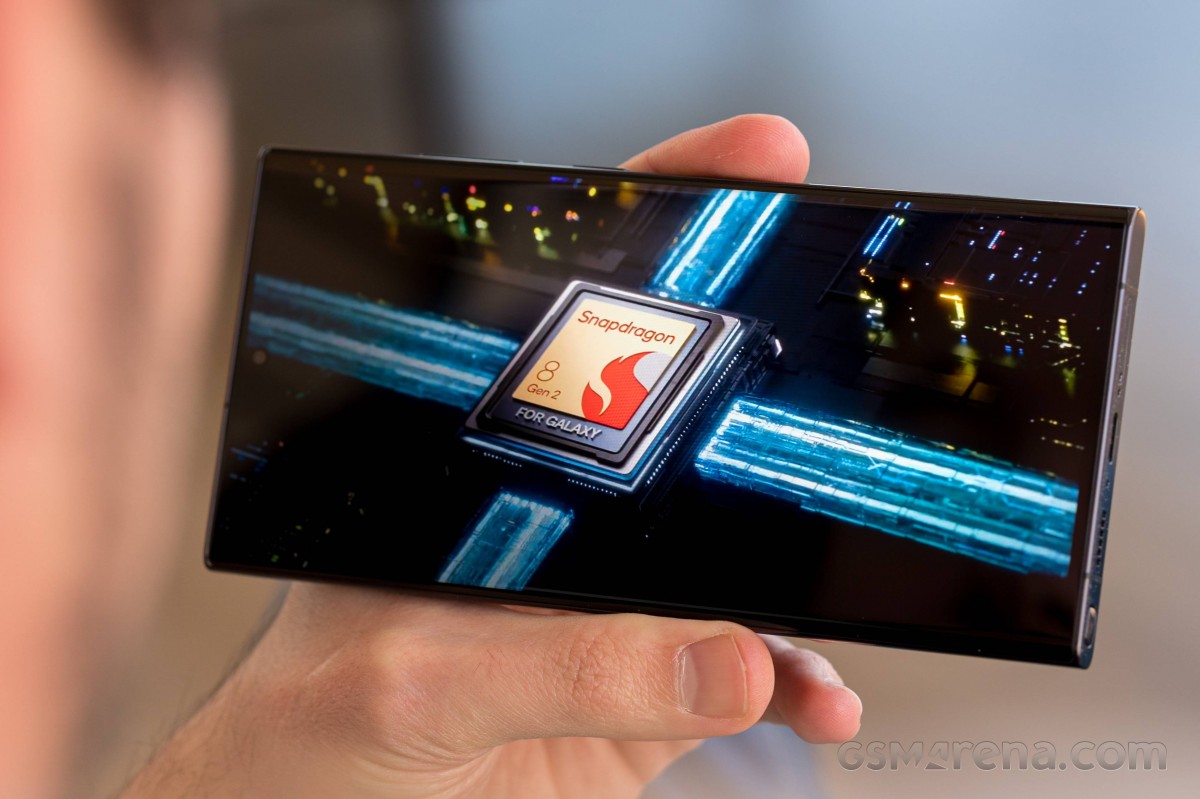 The key developments compared to the Gen 1 model are 35% higher performance and 40% improved efficiency of the CPU thanks in no small part to a reworked core configuration (1+2+2+3 in place of the 1+3+4 of before), 25% performance and 45% efficiency bumps on the GPU side, and support for new, faster memory technologies (LPDDR5X and UFS 4.0).
This Samsung-exclusive version of the chip has the X3, 2xA715, 2xA710, and 3xA510 Cortex CPU cores clocked at 3.36GHz, 2.8GHz, 2.8GHz, and 2.0GHz. It's that prime Cortex-X3 core that sets the CPU apart from the regular version of the chipset, where it is clocked at 3.2GHz (technically, 3.19GHz).
The Adreno 740 GPU, meanwhile, is clocked at 719MHz in the Galaxy S23 phones, compared to 680MHz in the rest of the SD8G2-powered models.
All Galaxy S23 phones use LPDDR5X RAM, and all but the base version of the Galaxy S23 Ultra have 12GB of it, to go with either 256GB, 512GB, or 1TB of UFS 4.0 storage. The entry-level version Ultra, if you can call it that, has 8GB of RAM and 256GB of storage. Our review unit is the 12GB/512GB spec.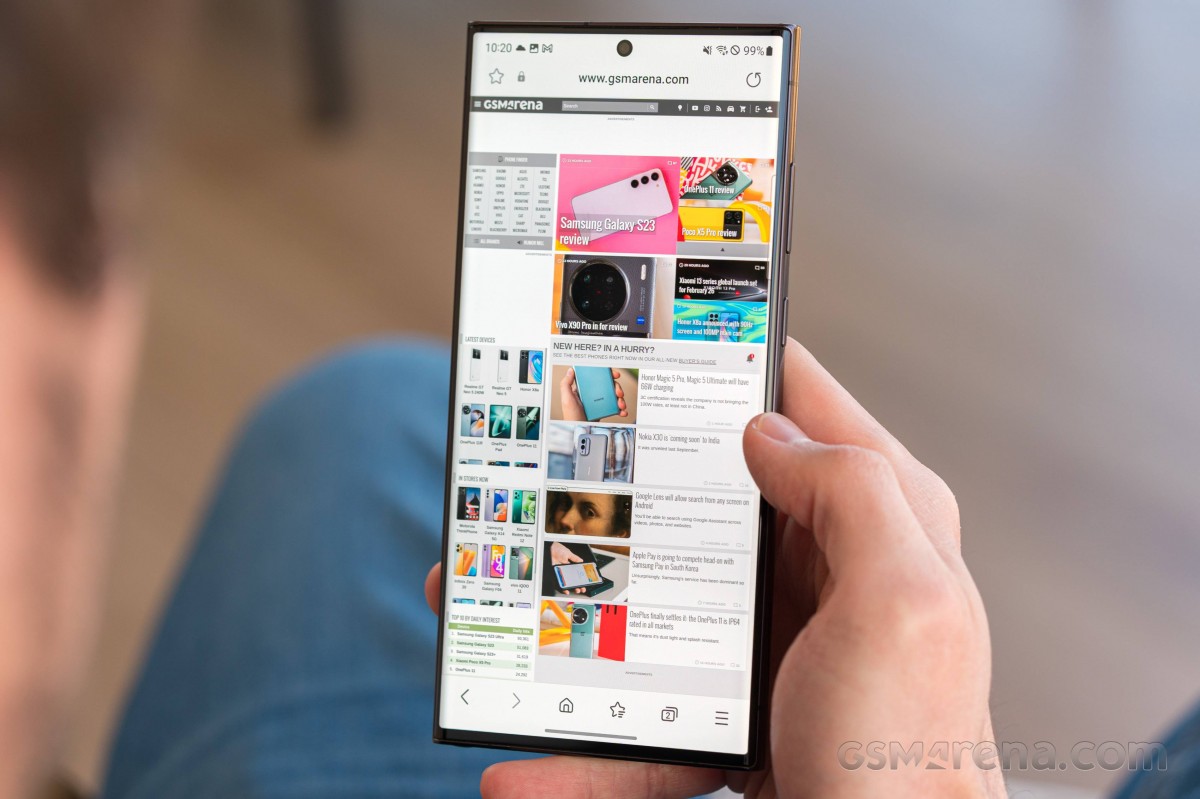 The usual benchmark suite follows below, starting with GeekBench. You can see here in the single-core result the magnitude of the advantage those extra 0.17GHz give the Galaxy over the iQOO 11 and its mainstream' Snapdragon 8 Gen 2 - it looks about right to us. The OnePlus 11 underperformed here, for one reason or another.
GeekBench 5 (single-core)
Higher is better
Galaxy S23 Ultra
1537
iQOO 11
1479
Galaxy Z Fold4
1337
Xiaomi 12S Ultra
1324
Huawei Mate 50 Pro
1277
Motorola Edge 30 Ultra
1276
Galaxy S22 Ultra (1440p)
1180
OnePlus 11
1150
Google Pixel 7 Pro
1056
ROG Phone 6D Ultimate
1001
In the multi-core test, the Galaxy's advantage against other SD8G2 handsets diminishes to being barely noticeable. A more pronounced gap remains when comparing models with this year's silicon to 2022 ones.
GeekBench 5 (multi-core)
Higher is better
Galaxy S23 Ultra
4927
OnePlus 11
4899
iQOO 11
4803
Xiaomi 12S Ultra
4300
Motorola Edge 30 Ultra
4265
Galaxy Z Fold4
3981
Huawei Mate 50 Pro
3839
Galaxy S22 Ultra (1440p)
3657
ROG Phone 6D Ultimate
3505
Google Pixel 7 Pro
3187
In Antutu, the Galaxy S23 Ultra is actually outpaced by the iQOO 11, if only barely so. It does maintain a more noticeable advantage over the OnePlus 11, for what that's worth. It's also the third benchmark in a row, by the way, where the Pixel 7 Pro and its Tensor G2 aren't remotely competitive.
AnTuTu 9
Higher is better
iQOO 11
1281665
Galaxy S23 Ultra
1241531
OnePlus 11
1140661
Motorola Edge 30 Ultra
1074722
Xiaomi 12S Ultra
1039412
Huawei Mate 50 Pro
979921
Galaxy S22 Ultra (1440p)
968359
Galaxy Z Fold4
964530
ROG Phone 6D Ultimate
931170
Google Pixel 7 Pro
796369
In offscreen graphics benchmarks, the Galaxy S23 Ultra is practically on par with the iQOO 11 and the OnePlus 11, with a difference of a frame or two per second separating them. A minor advantage of the Galaxy could be observed in 3DMark Wild Life Extreme, but again, the big gains are when comparing against 2022 models.
GFX Aztek ES 3.1 High (offscreen 1440p)
Higher is better
iQOO 11
62
OnePlus 11
61
Galaxy S23 Ultra
59
Xiaomi 12S Ultra
46
Huawei Mate 50 Pro
45
Galaxy Z Fold4
45
Motorola Edge 30 Ultra
43
ROG Phone 6D Ultimate
43
Galaxy S22 Ultra
31
Google Pixel 7 Pro
29
GFX Aztek Vulkan High (offscreen 1440p)
Higher is better
Galaxy S23 Ultra
69
iQOO 11
69
OnePlus 11
68
Xiaomi 12S Ultra
51
Huawei Mate 50 Pro
51
Galaxy Z Fold4
50
ROG Phone 6D Ultimate
44
Motorola Edge 30 Ultra
43
Galaxy S22 Ultra
35
Google Pixel 7 Pro
30
GFX Car Chase ES 3.1 (offscreen 1080p)
Higher is better
iQOO 11
128
Galaxy S23 Ultra
126
OnePlus 11
126
Xiaomi 12S Ultra
104
Galaxy Z Fold4
102
Huawei Mate 50 Pro
101
Motorola Edge 30 Ultra
93
ROG Phone 6D Ultimate
82
Galaxy S22 Ultra
76
Google Pixel 7 Pro
63
GFX Manhattan ES 3.1 (offscreen 1080p)
Higher is better
iQOO 11
222
OnePlus 11
220
Galaxy S23 Ultra
212
Xiaomi 12S Ultra
182
Huawei Mate 50 Pro
178
Galaxy Z Fold4
174
ROG Phone 6D Ultimate
137
Motorola Edge 30 Ultra
121
Galaxy S22 Ultra
109
Google Pixel 7 Pro
108
3DMark Wild Life Vulkan 1.1 (offscreen 1440p)
Higher is better
iQOO 11
12738
Galaxy S23 Ultra
12241
Xiaomi 12S Ultra
10533
Huawei Mate 50 Pro
10468
Galaxy Z Fold4
10382
Motorola Edge 30 Ultra
10248
ROG Phone 6D Ultimate
8687
Galaxy S22 Ultra
7437
Google Pixel 7 Pro
6470
3DMark Wild Life Extreme (offscreen 1440p)
Higher is better
Galaxy S23 Ultra
3790
OnePlus 11
3594
iQOO 11
3514
Huawei Mate 50 Pro
2753
ROG Phone 6D Ultimate
2599
Google Pixel 7 Pro
1835
We're looking at a relatively similar story in the onscreen tests, but with slightly different numbers. The Galaxy is on par with the iQOO at both 1080p and 1440p resolutions, while at 1440p the OnePlus is that one bit behind the two.
GFX Aztek ES 3.1 High (onscreen)
Higher is better
Galaxy S23 Ultra (1080p)
89
iQOO 11 (1080p)
89
Motorola Edge 30 Ultra
65
ROG Phone 6D Ultimate
59
Galaxy S23 Ultra (1440)
54
iQOO 11 (1440)
54
Huawei Mate 50 Pro
52
Galaxy S22 Ultra (1080p)
51
OnePlus 11
49
Galaxy Z Fold4
43
Xiaomi 12S Ultra
38
Galaxy S22 Ultra (1440p)
30
Google Pixel 7 Pro
26
GFX Aztek Vulkan High (onscreen)
Higher is better
Galaxy S23 Ultra (1080p)
97
iQOO 11 (1080p)
91
ROG Phone 6D Ultimate
63
Motorola Edge 30 Ultra
62
Galaxy S23 Ultra (1440)
60
iQOO 11 (1440)
55
Huawei Mate 50 Pro
55
OnePlus 11
53
Galaxy S22 Ultra (1080p)
46
Galaxy Z Fold4
42
Xiaomi 12S Ultra
39
Galaxy S22 Ultra (1440p)
29
Google Pixel 7 Pro
25
GFX Car Chase ES 3.1 (onscreen)
Higher is better
Galaxy S23 Ultra (1080p)
110
iQOO 11 (1080p)
110
Motorola Edge 30 Ultra
73
ROG Phone 6D Ultimate
72
Galaxy S22 Ultra (1080p)
69
Huawei Mate 50 Pro
68
Galaxy S23 Ultra (1440)
67
iQOO 11 (1440)
67
Galaxy Z Fold4
59
OnePlus 11
57
Xiaomi 12S Ultra
51
Galaxy S22 Ultra (1440p)
37
Google Pixel 7 Pro
34
GFX Manhattan ES 3.1 (onscreen)
Higher is better
ROG Phone 6D Ultimate
122
Galaxy S23 Ultra (1080p)
120
iQOO 11 (1080p)
120
Huawei Mate 50 Pro
113
Galaxy S23 Ultra (1440)
112
iQOO 11 (1440)
112
Galaxy S22 Ultra (1080p)
103
Motorola Edge 30 Ultra
97
Galaxy Z Fold4
93
Xiaomi 12S Ultra
91
OnePlus 11
60
Galaxy S22 Ultra (1440p)
58
Google Pixel 7 Pro
57
We don't normally run storage benchmarks unless it's our first time seeing a new standard. That's not entirely the case with the Galaxy S23 Ultra and its UFS 4.0 memory, since we already saw and tested it on the iQOO 11. Still, we figured we'd do a few quick runs only to find out that the Galaxy isn't quite living up to its potential, particularly when it comes to writing speeds, be it sequential or random. We're not entirely certain what the reason is for this or what to make of it.
AndroBench, Sequential Read, MB/s
Higher is better
vivo X90 Pro
3816
Xiaomi 13 Pro
3571
Galaxy S23 Ultra
3449
Galaxy S22 Ultra
1986
iQOO 11
1747
Google Pixel 7 Pro
1382
AndroBench, Sequential Write, MB/s
Higher is better
vivo X90 Pro
3940
Xiaomi 13 Pro
2717
Galaxy S23 Ultra
1640
iQOO 11
1323
Galaxy S22 Ultra
1283
Google Pixel 7 Pro
234
AndroBench, Random Read, MB/s
Higher is better
Galaxy S23 Ultra
431
vivo X90 Pro
423
Xiaomi 13 Pro
395
Galaxy S22 Ultra
334
iQOO 11
327
Google Pixel 7 Pro
158
AndroBench, Random Write, MB/s
Higher is better
vivo X90 Pro
587
Xiaomi 13 Pro
539
Galaxy S22 Ultra
293
iQOO 11
284
Google Pixel 7 Pro
206
Galaxy S23 Ultra
164
When it comes to performance under sustained load, we know not to expect miracles from the top-tier chipsets. Having said that, we've also been pleasantly surprised with our recent experience with the Snapdragon 8 Gen 2 when running the stress tests. The S23 and S23+ may not be the best examples, but they did do a respectable job, and the Ultra takes that up a notch, particularly in the CPU test.
smartguy77
29 Sep 2023
KLU
just don't buy S23 ultra, no need to write a book to convince other about your opinion, stay in your cave
Thank U guy... That's also what I want.