Samsung Galaxy S7 vs. Galaxy A5 (2016): Bargain bin
Bargain bin
GSMArena team, 03 January 2017.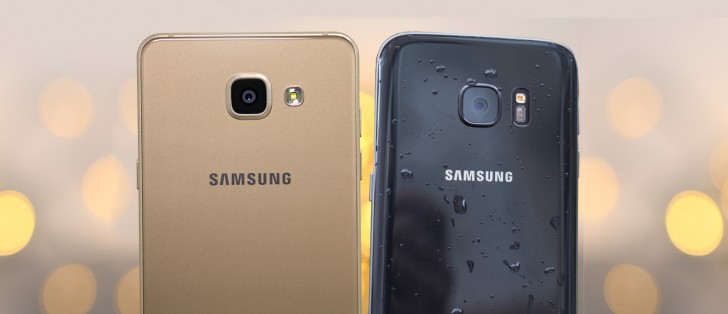 Retail package
It's easy to tell the Samsung Galaxy S7 is the more upscale model. It has a better pair of in-ear headphones packed in a nice carrying case, and you get a microUSB to full-size USB adapter if you need to plug in accessories (to transfer data or just to charge them up).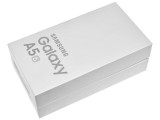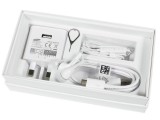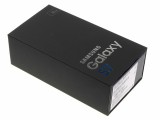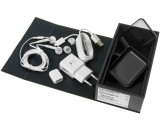 Galaxy A5 (2016) box • ... and contents • Galaxy S7's is fancier • ...and packs more
Both phones come with a standard Samsung Fast charger and a USB cable.
Cheaper, but just as good? No, not really. You may not need the better headset or the USB adapter, but when it comes to value-for-money, the more you get, the better.
Design
The Samsung Galaxy S7 has a smooth body with rounded corners and glass on the front and back. The glass gently curves into the metal frame. While looks are subjective, the S7 has the better ergonomics as A5's flat front and back don't sit as well in hand.
The Galaxy A5 (2016) weighs practically the same as the S7, but is slightly thinner - 7.3mm vs. 7.9mm - if that's something you care about. And don't worry about the battery, the difference is tiny (2,900mAh and 3,000mAh respectively).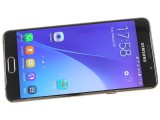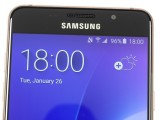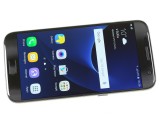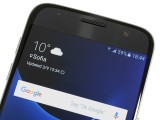 A5 (2016) has slightly sharper corners • The S7 is a bit more fluid
Both phones apparently come from the same mold, however, with their exposed metal frame, Gorilla Glass 4 on the front and back, the front adorned with a fingerprint-reading hardware Home button. Even the side buttons are positioned identically, so they are equally easy to reach on both devices.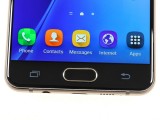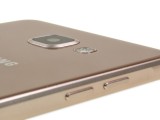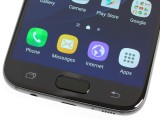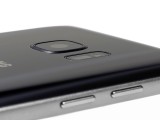 Physical Home with fingerprint reader • Volume rocker on the left • Same here, same here
Around back, the S7 has an additional sensor that the A5 lacks - a heart rate sensor - but more importantly, its camera is nearly flush with the back while the 13MP shooter of the A-series sticks out more prominently.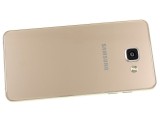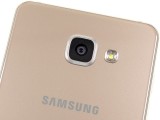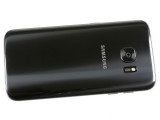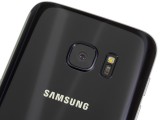 Camera and a lone LED on the A5 (2016) • The S7 adds a heart rate sensor to those
That's one of the reasons why we don't mind that the Galaxy S7 is a fraction of a millimeter thicker. Another reason is the IP68 rating, which gives it improved resistance to the elements - specifically it can survive underwater (1.5m deep or more, though you shouldn't try and find the limit).
Both phones offer microSD slots and depending on the exact sub-model it can be a dedicated slot or it can trade places with SIM2. The Galaxy A5 (2016) only comes with 16GB of built-in storage so you'll need a memory card, while you may be able to squeak by with S7's 32GB. There's a 64GB model too - games will appreciate the fast and roomy UFS 2.0 storage, multimedia files will not care.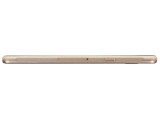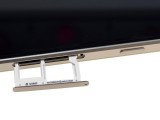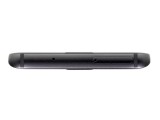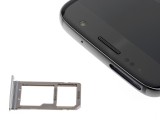 Galaxy A5 (2016) card tray on the side • ...with a hybrid slot • On top of the S7 • ...hybrid nonetheless
Cheaper, but just as good? You know what, we think we can live with the design of the Galaxy A5 (2016). The smooth curves of the Galaxy S7 are more appealing to our eyes and hands, but not enough to pay extra just for that.
Screen
"Super AMOLED" has become synonymous with the screens of flagship Galaxy phones, and these two are no exception. They are virtually the same size - the A5 slightly bigger at 5.2" vs. 5.1" - and both displays are flat (the 2.5D beveled Gorilla Glass 4 above them is not).
You'll notice that the S7 screen has QHD resolution against the 1080p of the A5. Super AMOLED does look better with some extra sharpness, but at this screen diagonal, the pixel density really only makes a difference in Virtual Reality (VR). And A5's GPU is no good for VR anyway, so if that's a consideration for you, you may as well order the S7 and a Gear VR now.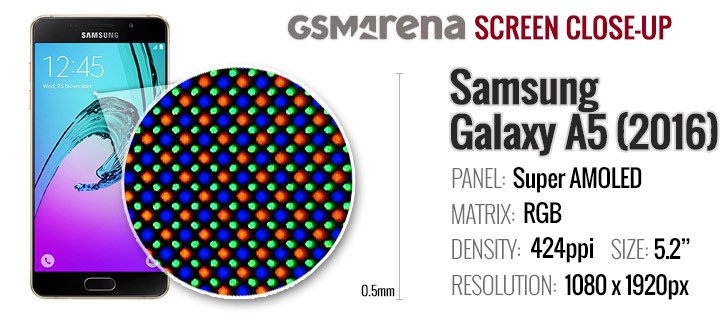 For regular usage, both screens deliver similar image quality - that is to say an amazing image quality. The rich colors, deep blacks and overall punchiness of an AMOLED screen is Samsung's forte.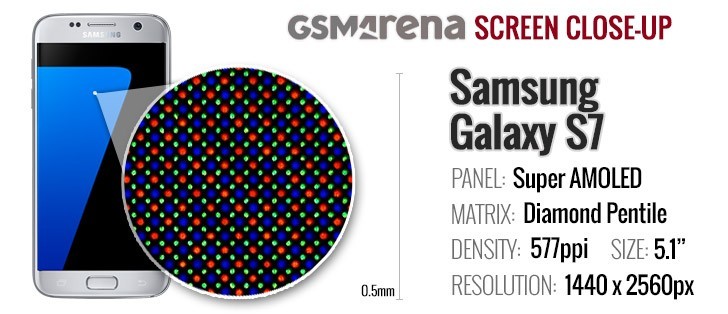 For those thinking "ugh, AMOLED colors", the Basic display mode delivers the best color accuracy in the business. Surprisingly, the Galaxy A5 (2016) comes out ahead with a lower average deltaE, 1.3 vs. 1.7, though that's nitpicking. We tend to prefer the less accurate, but punchier Adaptive mode, but accuracy is there if you need it.
Display test
100% brightness
Black, cd/m2
White, cd/m2
Contrast ratio
Samsung Galaxy A5 (2016)
0.00
421
∞
Samsung Galaxy A5 (2016) max auto
0.00
601
∞
Samsung Galaxy S7
0.00
391
∞
Samsung Galaxy S7 max auto
0.00
563
∞
The A5 screen holds its own regarding brightness too - it's brighter that the S7 screen in both manual and auto modes. However, despite this, it does slightly worse in sunlight legibility. In the dark, the Super AMOLED screens can deliver as little as 2 nits so they won't blind you.
Sunlight contrast ratio
Samsung Galaxy S6 edge+
4.615
Samsung Galaxy S7 edge
4.439
OnePlus 3
4.424
Samsung Galaxy S7
4.376
HTC One A9
4.274
Samsung Galaxy Note7
4.247
Samsung Galaxy A3
4.241
OnePlus 3T
4.232
Google Pixel XL
4.164
ZTE Axon 7
4.154
Samsung Galaxy S6 edge
4.124
Samsung Galaxy Note5
4.09
Huawei Nexus 6P
4.019
OnePlus X
3.983
Vivo Xplay5 Elite
3.983
Apple iPhone 7
3.964
Oppo R7s
3.964
Huawei P9 Plus
3.956
Samsung Galaxy A7 (2016)
3.918
Samsung Galaxy C5
3.911
Samsung Galaxy C7
3.896
Samsung Galaxy A5
3.895
Samsung Galaxy J7 outdoor
3.879
Samsung Galaxy J2 outdoor
3.873
Samsung Galaxy A8
3.859
Samsung Galaxy A9 (2016)
3.817
Motorola Moto X (2014)
3.816
Samsung Galaxy J7 (2016) outdoor mode
3.802
Xiaomi Redmi Pro
3.798
LG V20 Max auto
3.798
Sony Xperia XZ
3.795
Samsung Galaxy A5 (2016)
3.789
Apple iPhone 6s
3.783
Meizu Pro 5
3.781
Microsoft Lumia 650
3.772
Samsung Galaxy J7 (2016)
3.756
Oppo F1 Plus
3.709
Vivo X5Pro
3.706
Sony Xperia X Compact
3.694
Apple iPhone SE
3.681
Huawei Mate 9
3.68
Samsung Galaxy A7
3.679
Meizu PRO 6
3.659
BlackBerry Priv
3.645
Apple iPhone 7 Plus
3.588
Apple iPhone 6s Plus
3.53
Motorola Moto Z Play
3.526
Samsung Galaxy J3 (2016) outdoor mode
3.523
Samsung Galaxy J3 (2016)
3.523
Acer Jade Primo
3.521
Microsoft Lumia 950
3.512
Oppo R7 Plus
3.499
nubia Z11
3.466
Samsung Galaxy J7
3.422
Meizu MX5
3.416
LG V20
3.402
Oppo R9s
3.352
Oppo R7
3.32
Xiaomi Mi 5s
3.276
Samsung Galaxy J2
3.235
Sony Xperia X Performance
3.234
Xiaomi Mi Note 2
3.228
Motorola Moto X Play
3.222
Huawei P9
3.195
Lenovo Vibe Shot
3.113
Motorola Moto X Force
3.105
LG Nexus 5X
3.092
Huawei Mate S
3.073
Microsoft Lumia 640 XL
3.065
Sony Xperia X
2.989
Huawei Mate 8
2.949
Xiaomi Redmi 3S
2.913
Sony Xperia XA Ultra
2.906
LG G5
2.905
HTC One S
2.901
Xiaomi Redmi 3s Prime
2.893
Xiaomi Mi 5s Plus
2.884
Sony Xperia Z5
2.876
Microsoft Lumia 550
2.851
Xiaomi Redmi 3 Pro
2.803
Sony Xperia Z5 compact
2.784
Meizu MX6
2.751
LG V10
2.744
Xiaomi Redmi 3
2.735
Sony Xperia M5
2.69
Huawei P9 Lite
2.679
Xiaomi Redmi 4 Prime
2.679
Vivo V3Max
2.659
Xiaomi Mi Mix
2.658
Xiaomi Mi 4i
2.641
Sony Xperia XA
2.609
Motorola Moto G4 Plus (max auto)
2.582
Motorola Moto G4 Plus
2.582
Xiaomi Mi 4c
2.574
LeEco Le Max 2
2.567
Asus Zenfone 3 ZE552KL
2.563
Microsoft Lumia 640
2.563
Lenovo Moto G4
2.544
Oppo F1
2.528
Sony Xperia Z5 Premium
2.525
Huawei Honor 7 Lite / Honor 5c
2.506
Sony Xperia M4 Aqua
2.503
Oppo F1s
2.481
Motorola Moto G
2.477
Lenovo Vibe K5 Plus
2.473
Huawei G8
2.471
Huawei nova
2.467
Sony Xperia Z
2.462
Lenovo Vibe K5
2.459
Meizu m3 max
2.447
Huawei Honor 7
2.406
Sony Xperia E5
2.386
ZUK Z1 by Lenovo
2.382
HTC 10
2.378
Samsung Galaxy J5 (2016)
2.378
Meizu m1 note
2.362
Huawei nova plus
2.329
HTC One E9+
2.305
Alcatel One Touch Hero
2.272
Apple iPhone 4S
2.269
Lenovo Vibe K4 Note
2.254
Sony Xperia C5 Ultra
2.253
Xiaomi Redmi Note 3 (MediaTek)
2.249
Sony Xperia C4 Dual
2.235
Xiaomi Mi Note
2.234
Motorola Moto G (2014)
2.233
LG Nexus 5
2.228
Huawei P8
2.196
Huawei Honor 6
2.169
Xiaomi Redmi Note 2
2.166
OnePlus Two
2.165
HTC One X
2.158
LG Aka
2.145
Xiaomi Redmi Note 4
2.145
Archos 50 Diamond
2.134
Xiaomi Redmi Note
2.119
Acer Liquid X2
2.084
Huawei P8lite
2.078
Moto G 3rd gen max manual
2.026
Xiaomi Mi Max
1.996
Sony Xperia E4g
1.972
OnePlus One
1.961
Meizu m3 note
1.923
Meizu m2 note
1.892
BlackBerry Leap
1.892
ZTE Nubia Z9 mini
1.759
Sony Xperia U
1.758
Asus Zenfone Selfie
1.68
Motorola Moto E (2nd Gen)
1.675
ZTE Nubia Z9
1.659
Jolla Jolla
1.605
Motorola Moto E
1.545
Sony Xperia M
1.473
HTC Desire C
1.3
Sony Xperia C
1.283
Meizu MX
1.221
Sony Xperia E
1.215
The Samsung Galaxy S7 has a hidden ace though - its Always On Display (AOD) is great at delivering notifications and is surprisingly useful even for simple things like checking the time and date.
We're quite impressed by the caliber of the screen that the Galaxy A5 (2016) delivers, though there's a big "but" coming. Its PWM-driven, which means you may notice a flicker, which becomes more apparent as the brightness goes down. Most people are not sensitive to this and may not even notice it (the backlighting on many desktop monitors runs this way too), but if you tend to notice screen flicker, then the A5 may not be for you.
Cheaper, but just as good? We're divided. If we put aside VR (which is niche) and the Always On screen (which we think is awesome), the Galaxy A5 (2016) screen can rub shoulders with flagships. The screen flicker is a potential deal-breaker though, if possible get some hands-on time in a brick and mortar store before you commit to purchasing.
Battery
While the Samsung Galaxy A5 (2016) starts with a small disadvantage - 100mAh less in battery capacity - it turns out that one of the flagship features on the Galaxy S7 has a much more meaningful impact.
The Always On Display feature surely takes its toll on the Endurance rating. Again, we think it's a great feature that brings a lot of value. If you don't use it, this would bring the S7 to near-A5 levels of battery Endurance. We're sure that most people will still pick AOD even if it means more frequent charging. Also, note that AOD automatically turns off when you have the phone in your pocket or purse or when it's pitch dark, so it won't be that bad on your battery life as our test suggets as it assumes the feature is on 24h per day.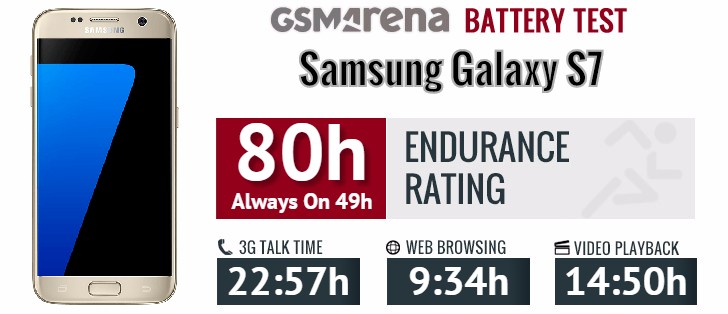 The Galaxy A5 (2016) gets a 90 hour Endurance rating - a huge improvement over the S7 with AOD and a small but decent bump over the S7 without AOD. This is all due to the more efficient standby of the A5, the results from the individual tests are essentially equal to those of the S7.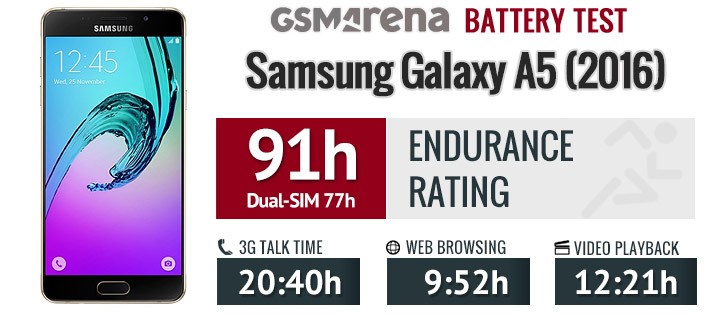 Note that these numbers are for the A5 with the Snapdragon 615 chipset and there's an Exynos 7580 version that we haven't tested.
Both phones support Fast charging and come with the needed wall charger for it on most markets. For the Galaxy S7, Samsung quotes 0% to 100% charging in 90 minutes but gives no similar numbers for the A5.
The Galaxy S7 also has wireless charging (supporting both Qi and PMA standards), and this mode can top up the battery quite quickly too (not as fast as wired charging, but faster than standard wireless charging).
Cheaper, but just as good? For the most part, yes, you might say even better. Even if you disable AOD on the S7, you can expect the A5 to last slightly longer. We think wireless charging is a convenience, but not a necessity.
About what you said you can adjust the flashlight while holding on it
s7's high battery capacity, low light camera and its good ergonomics takes it to the peak compared to the A5 (2017)
try uninstalling it and install it again