Samsung I9300 Galaxy S III preview: Second encounter
Second encounter
GSMArena team, 8 May 2012.
This article is outdated. We have already published a full review.
8 MP snapper is improved
The Samsung Galaxy S III offers the same camera resolution but actually improves on the performance. It can capture stills of up to 3264 x 2448 pixels and 1.9 MP ones with the front-facing cam.
The latest Galaxy offers geotagging, touch focus, face and smile detection and digital image stabilization. Due to the fast quad-core processor it is also able to simultaneously record HD (1080p and 720p) video and take near full-resolution pictures (those are cropped to an aspect ratio of 16:9 to match that of the videos).
The camera interface is quite similar to what the Galaxy S II has. You get two shortcut bars on each side of the viewfinder - on the right you get the still camera / camcorder switch, a virtual shutter key and the gallery shortcut (which is a thumbnail of the last photo taken).
On the left you get several controls and the good news is that you can pick any five shortcuts to put there - you can easily have all frequently used features just a tap away.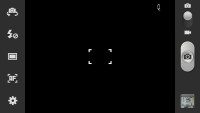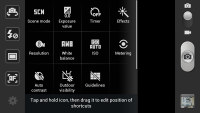 Samsung Galaxy S III camera UI
The Galaxy S III's sensor has an F/2.6 aperture as opposed to the F/2.65 of its predecessor and focal length of 3.7 mm compared to the 3.97 mm of the Galaxy S II. This results in slightly wider viewing angles on the Galaxy S III, so you'll be able to fit more in your photos.
We've prepared a quick comparison between the two below. The Galaxy S III indeed offers slightly higher resolution, but it also tends to go a bit too far with the color saturation. The images are certainly looking punchier now, but also a little less realistic.



Samsung Galaxy S III • Samsung Galaxy S II



Samsung Galaxy S III • Samsung Galaxy S II
The dynamic range of the images produced by the Samsung I9300 Galaxy S III is pretty pleasing too and, despite the high saturation, noise is kept well under control. We'll need to do some more pixel-peeping before we can tell if the Galaxy S III is the best 8 megapixel camera out there, but it's certainly in the running.




Samsung Galaxy S III camera samples
Samsung were bragging left and right about the zero shutter lag of the Galaxy S III and we are happy to report that the smartphone is able to deliver. Pictures are snapped extremely fast and there's even a burst mode available where you hold the virtual on-screen shutter and the phone will make 20 consecutive shots in just 6 seconds or so.
The good thing is that the images, produced in burst mode are in full 8 MP resolution. We were told that the S III is actually capable of capturing full res shots at 3.3fps for much longer than that, but the 20 shot limit was set to prevent users from filling their storage with hundreds of identical shots.
Video recording is top notch
The Samsung Galaxy S III is able to record FullHD 1080p and HD 720p video hassle-free. During recording you can also snap full-res 16:9 stills if need arises.
The camcorder interface is almost the same as the still camera's - you get the same customizable panel on the left for up to five shortcuts.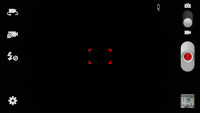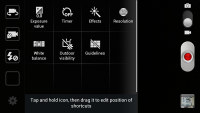 Samsung Galaxy S III camcorder UI
The videos themselves are impressively smooth and with plenty of detail. The Galaxy S II did great in terms of video capture but the S III seems to do even better, resolving even more detail and offering better color rendering. The video container used is mp4 and it creates clips with a bitrate of about 17Mbps with stereo sound.
The same goes for the 720p videos. We can't help but think that Samsung could've put some of that extra processing power to good use and implement slow motion recording at 60 fps or something of the sort. The average bitrate of the 720p videos is 12Mpbs and they too come with stereo sound. In case you were wondering, you can also record 720p video using the front-facing camera.
We've prepared an untouched 1080p@30fps video clip and 720p@30fps video clip from the Galaxy s III for you to download.
Really ... so why u came here u iCrap fun, jealous I am sure u r ! iPhone must be great coz was build by d leading electronics companies (Samsung, LG, Toshiba ...) ... but u iqless just payin for rotten apple logo ;-) Have a nice day ...