Samsung Galaxy S III vs. Note II: Sizing up
Sizing up
GSMArena team, 12 October 2012.
Introduction
The Galaxy S III and the Note II are both cut from the same cloth, but one is XL while the other is XXL. What can we say - someone at Samsung must be busy spinning and weaving.
Size matters as it always has but this isn't a choice between slim fit and loose fit. It's the Android experience and it must be the perfect fit - so another close-up look at both may be well worth it. And mind you, this isn't about which one is better - the phone or the phablet - it's about which one looks good on you.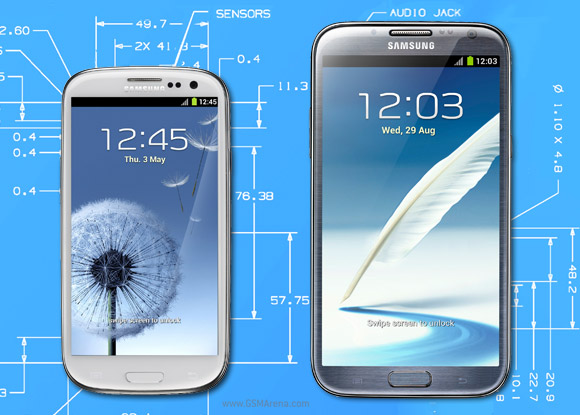 It's hard not to look at the Note II as an oversized Galaxy S III, but a few minutes with the S Pen might convince you otherwise. The bigger screen (with a new Super AMOLED matrix to boot) and overclocked chipset are pretty sweet too.
On the other hand, 4.8" is plenty for a phone and the S III is a root away from the extra clock speed if you're a power-obsessed geek. Plus, while the screen uses a PenTile Super AMOLED matrix, it does handle sunlight better. And styli went out of fashion years ago, right?
We're about to delve into the details, but if we had 10 seconds to summarize the differences between the S III and Note II, here's what we'd tell you.
Samsung Galaxy S III over Note II
More compact - 136.6 x 70.6 x 8.6 mm vs. 151.1 x 80.5 x 9.4 mm
Lighter - 133g vs. 183g
Same resolution on smaller screen, so higher pixel density - 306ppi vs. 267ppi
Better sunlight legibility
Not as expensive
Samsung Galaxy Note II over S III
Bigger screen - 5.5" vs. 4.8"
New display matrix with a full array of subpixels
Slightly brighter screen
S Pen and Wacom digitizer
Faster CPU (1.6GHz vs. 1.4GHz) and faster GPU
All models have 2GB of RAM, while the international S III has only 1GB (US and LTE versions have 2GB)
Split-screen interface, other niceties like Page Buddy
Longer battery life
While mobile devices are typically good at content consumption but not creation, Samsung is trying to break that barrier with the S Pen. The split-screen interface also promises improved productivity.
Still, the Galaxy S III is lighter on the pocket (in both the physical and monetary sense) and is pretty much the same device in terms of software and hardware (sans the S Pen).





Samsung Galaxy S III and Galaxy Note II
Here's the roadmap for this comparison - we start off with the hardware, including the screen and battery life, then we move on to software and benchmarks, compare the cameras and finish off with the audio quality. Press next to begin.
Anonymous
08 Sep 2016
rjH
My notes 2 turn data on by itself help me
your galaxies could be more valuable if they might have water resistance and dust proof. so you add that.
S3 camera 316 ppi Note 2 battery 3100mah