Samsung Galaxy Smart Tag Bluetooth tracker details surface
Victor, 12 December 2020
We've known for a while now that not unlike Apple and its AirTag, Samsung has been working on a smart object tracker, dubbed the Galaxy Start Tag. Information on the EI-T5300, as its official model goes, has been trickling-in over the past few weeks, but mostly in a fragmented manner and getting naturally buried by more-interesting news, like Galaxy S21 leaks.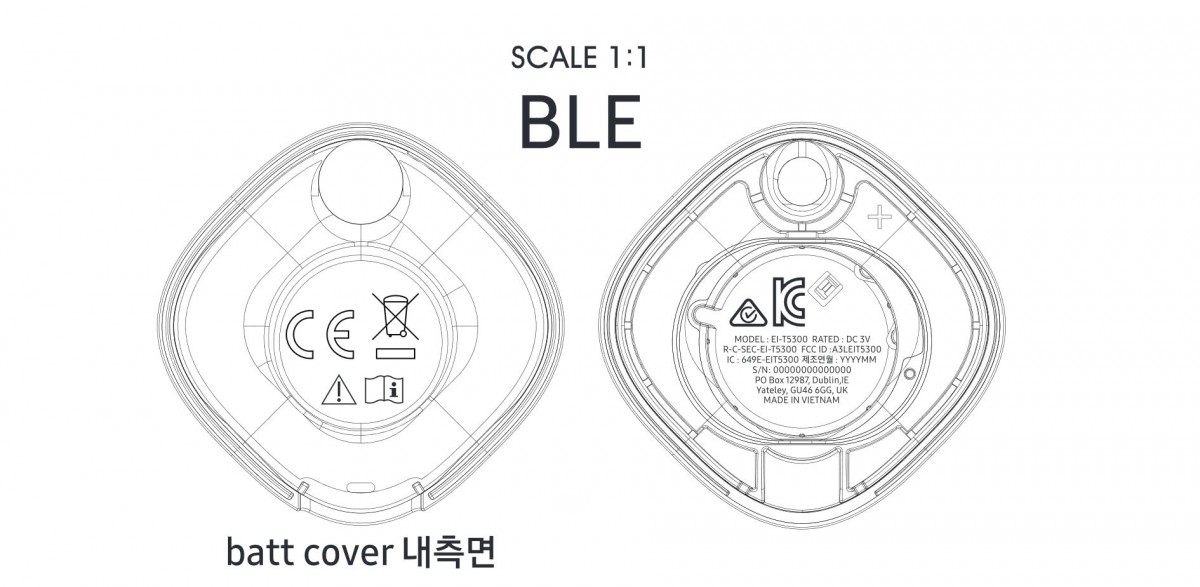 We did some digging around and managed to piece together a much more complete picture from various sources. The South Korean certification authority actually has a whole schematic of the EI-T5300, among other things. The Galaxy Smart Tag looks to be a thin device, powered by a single, replaceable 3V CR2032 button cell. As per Samsung's own description it is a: "Smart Tag which has button for find phone and loud.". Rough translation aside, that paints a very familiar "Tile"-like picture.
We are already aware that the Galaxy Smart Tag will be compatible with the company's recent SmartThings Find feature. The real question in regards to that was mostly how said tracking, positioning and reporting would be achieved. As far as we managed to gather, the EI-T5300 has only been certified as a Bluetooth LE device, meaning that some of the more-advanced features speculated earlier, like UWB, LTE, and/or GPS are unlikely to make an appearance.
That's not entirely a bad thing, though, since the Galaxy Smart Tag is certified for Bluetooth 5.1 – an update to the familiar communication technology that specifically features signal direction functionality and is meant to power indoor navigation and tracking tags. As such, it is being leveraged precisely as intended by Samsung and should be capable of delivering a distinctly "next-gen" positioning experience at up to a theoretical 400m indoors and 1000m outdoors, while also consuming minimal power.
Sone of the unearthed documents also note of two color options for the Samsung Galaxy Smart Tag – black and oatmeal. As for pricing and availability, industry sources have suggested a MSRP of around EUR 15 to 20. We currently expect the Galaxy Smart Tag to appear alongside the Galaxy S21 family of smartphones on January 14 and should land on store shelves shortly.
Related
Shut up ang give me your location
Oh that's neat. Didn't know.
They will arrive soon, as of they are already available for reservations at official distributions.
Popular articles
Popular devices
Electric Vehicles