Samsung Galaxy Tab 3 10.1 review: Third time's the charm
Third time's the charm
GSMArena team, 5 July 2013.
Gallery loaded with features
The gallery on the Galaxy Tab 3 10.1 can be sorted into albums, all photos and videos, time, location, etc. Just like in the phonebook, you can choose what kind of content should be displayed - photos and videos from the phone, Dropbox, Facebook or Picasa. You can pinch to zoom in the gallery and thus manage the size of the thumbnails.
Upon choosing an album (for instance Camera) you're taken into that album's stack of photos but a swipe to the right will list all albums. In this mode you can browse images in a dual-screen mode and easily select files from multiple folders.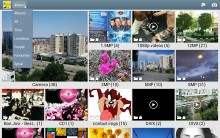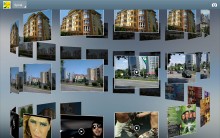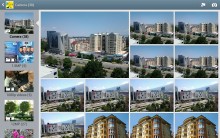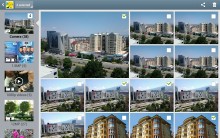 The Gallery allows multiple view modes and selections
Upon a press and hold on a picture, the gallery gives you the option to select multiple images, which you can then mass delete, share, copy or move.
The large display is great for viewing photos - the screen is as big as most photo frames and the lower resolution doesn't really show.
When viewing a single photo, you'll find several sharing shortcuts and a delete button above the photo, alongside an Allshare cast button for sharing the image over DLNA. Below the image is a line of small thumbnails of all other photos in the album, which you can tap to move to other images or simply swipe to the side.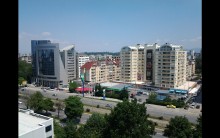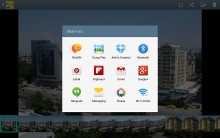 Viewing an image • sharing options
To enable photo editing in the Gallery you'll have to install the (free) Photo Editor app from the Samsung App store, a 36MB download. Once installed, you can easily retouch photos right in the Gallery itself. The photo editor gives you options like crop, rotate, color and effects. You can also make a memo on top of the picture.
The Gallery also supports highly customizable slideshows with several effects to choose from, customizable music and speed. You can also highlight specific images to be included in the slideshow.
File manager
The My Files app hasn't changed really - it's an efficient and simple to use file manager. It can move, copy, lock and rename files in bulk, even send multiple files to another phone. My files will only browse the memory card and the large internal storage (it can't access the system drive).
Music player has folder support
The TouchWiz music player on the Galaxy Tab 3 10.1 is jam-packed with features and supports a wide variety of file formats, including FLAC, Wave, etc.
Music is sorted by the usual Artist, Album, Playlist, etc. but there's also Folder support - it's quite handy as it saves you the need to sort songs into playlists like on so many other players.
Then there's Music square - it's quite similar to the SensMe feature of Sony smartphones. It automatically rates a song as exciting or calm, passionate or joyful and plots those songs on a square (hence the name).
The Samsung Galaxy Tab 3 10.1 can also search for content on third party DLNA servers like PCs or other phones on the same network.
Samsung has enabled equalizer presets (including a custom one with 7 bands) along with the sound-enhancing SoundAlive technology, which features 7.1 channel virtualization. Samsung uses SoundAlive in some of their MP3 and Android-powered media players.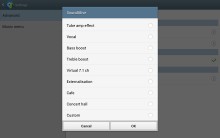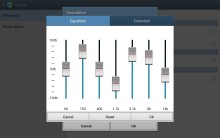 SoundAlive equalizer • Smart Sound
The Now playing screen gives you the usual options - a scrollable timeline, play/pause and skip controls, repeat and shuffle, volume control but it also adds lyrics support, an AllShare shortcut and a direct sound settings shortcut.
While listening to a song you can find music controls in the notification area, and the lockscreen as well if you have the relevant lockscreen widget added.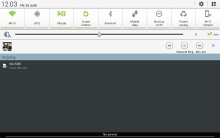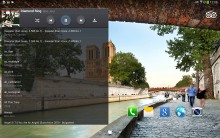 Controls in the notification area and lockscreen
Great video player with excellent codec support
The video player found on the Samsung Galaxy Tab 3 10.1 has four tabs across the top. The default one, Thumbnails, provides a thumbnail view of all the videos on your device, including the ones on an attached microSD card. Unlike on some other Galaxy smart devices, the thumbnails are not animated, likely due to the low onboard RAM.
The List view is similar to Thumbnails, except that it allows you to view more items on the screen, while Folders view allows you to easily browse your videos sorted in folders. Finally, nearby devices lets you stream videos to the Tab 3 10.1 via DLNA.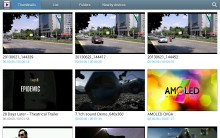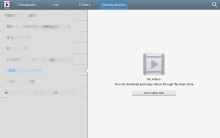 Thumbnail view • nearby devices
The video player lets you choose between three crop modes for how the video fits the screen. The video player lets you squeeze the best viewing experience out of the large screen, and some of the same SoundAlive audio-enhancing technology is available here too.
Pop up play is here too - it moves the video in a small floating window and you can use other apps on the phone while still watching the video. You can use pinch zoom to adjust the size of the video. On devices that support Multi-View, this feature becomes rather redundant, but it's a welcome addition here.
The Samsung Galaxy Tab 3 10.1 offered a list of subtitles and let us pick. It scans for all subtitles, so the file doesn't have to have the same name as the video file, and there's even support for foreign languages.
When it comes to video codec support, the Samsung Galaxy Tab 3 10.1 passed with flying colors. It played everything we threw at it, including Xvid, DivX, WMV, MP4, MKV, 1080p videos, including ones with AC3 sound tracks.
Top-notch audio output
The Samsung Galaxy Tab 3 10.1 is the second member of the Tab 3 family that we put through our audio quality testing routine and we are pleased to say that it did every bit as impressively as the Tab 3 8.0. When connected to an active external amplifier it delivers perfectly clean output with no interferences whatsoever. It's not a particularly loud device, but it's not too quiet either, so you will have more than enough oomph with just about any headphones.
When we plugged in a pair of headphones there was very little degradation to be witnessed. The stereo crosstalk goes up, but still remains very solid and the rest of the readings are barely affected. A very solid performance indeed.
Check out the table and see for yourself.
| | | | | | | |
| --- | --- | --- | --- | --- | --- | --- |
| Test | Frequency response | Noise level | Dynamic range | THD | IMD + Noise | Stereo crosstalk |
| Samsung Galaxy Tab 3 10.1 | +0.03, -0.08 | -91.5 | 91.4 | 0.015 | 0.030 | -90.5 |
| Samsung Galaxy Tab 3 10.1 (headphones attached) | +0.04, -0.04 | -91.6 | 91.5 | 0.014 | 0.047 | -61.8 |
| Samsung Galaxy Tab 3 8.0 | +0.03, -0.05 | -91.4 | 90.7 | 0.0082 | 0.015 | -91.0 |
| Samsung Galaxy Tab 3 8.0 (headphones attached) | +0.05, -0.03 | -91.4 | 91.4 | 0.010 | 0.048 | -78.5 |
| Samsung Galaxy Note 8.0 | +0.02, -0.05 | -85.2 | 85.2 | 0.0089 | 0.0019 | -83.3 |
| Samsung Galaxy Note 8.0 (headphones attached) | +0.12, -0.03 | -83.6 | 83.6 | 0.0090 | 0.092 | -69.6 |
| Samsung Galaxy Note 10.1 | +0.03, -0.04 | -90.2 | 90.2 | 0.0083 | 0.0017 | -91.3 |
| Samsung Galaxy Note 10.1 (headphones attached) | +0.10, -0.04 | -88.6 | 88.6 | 0.0072 | 0.085 | -73.6 |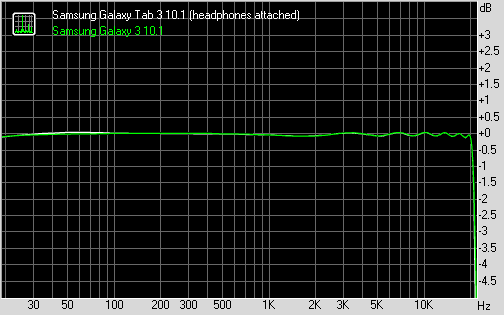 Samsung Galaxy Tab 3 10.1 frequency response
You can learn more about the whole testing process here.
Loudspeaker
The Galaxy Tab 3 10.1 earned a mark of Very Good in our loudspeaker test, which means that you should have no problem hearing the device even in the noisiest of environments.
| | | | | |
| --- | --- | --- | --- | --- |
| Speakerphone test | Voice, dB | Pink noise/ Music, dB | Ringing phone, dB | Overal score |
| Apple iPhone 5 | 66.8 | 66.1 | 67.7 | Below Average |
| HTC One S | 65.1 | 64.6 | 76.7 | Average |
| HTC One X | 65.1 | 66.0 | 75.8 | Average |
| Samsung Galaxy Note 8.0 | 66.7 | 64.8 | 74.1 | Average |
| LG Optimus 4X HD | 68.7 | 66.6 | 79.3 | Good |
| Samsung I9300 Galaxy S III | 75.1 | 66.5 | 75.0 | Good |
| Samsung Galaxy Note II | 70.0 | 66.6 | 80.5 | Good |
| Samsung Galaxy Tab 3 10.1 | 71.7 | 73.2 | 75.7 | Very Good |
| Motorola RAZR XT910 | 74.7 | 66.6 | 82.1 | Very Good |
| HTC Desire | 76.6 | 75.7 | 84.6 | Excellent |
Anonymous
21 Dec 2022
fsF
What wrong with GT-P5210 we can't update we can't install any app
My device cannot read the sim card any suggestions plizzz
Horrible tab just strats giving problem with in 2 months and warrenty never covers as they give reason of physical damage & service center fake with people