Samsung Galaxy Tab S7+ review
GSMArena team, 17 August 2020.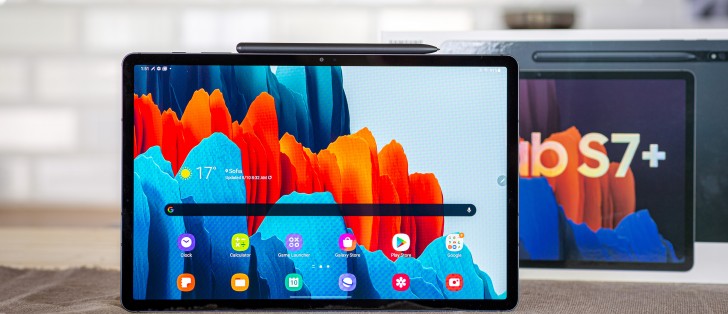 Superb 12.4" AMOLED 120Hz screen
The star of the Galaxy Tab S7+ show most definitely is the 12.4" Super AMOLED display with 16:10 aspect ratio. The panel has a resolution of 2,800 x 1752 pixels or 266ppi - among the sharpest in the tablet market. Samsung has not shared any detail on the screen glass origin, though.
The screen supports HDR10+ and 120Hz refresh rate. You get to choose between 60Hz and 120Hz from settings - there is no adaptive one. Opting for the high refresh rate will not lower the screen resolution as opposed to the most current Samsung smartphones.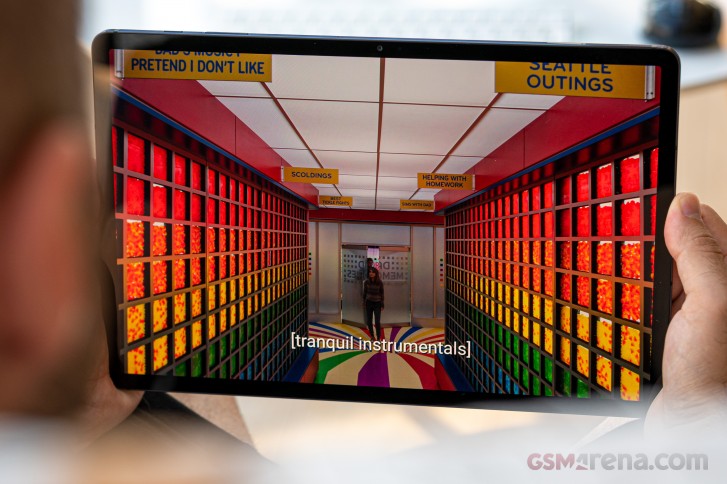 While there isn't an adaptive refresh rate at this point, the screen will simply revert to 60Hz when HRR isn't needed - for example, in games that lack support for high refresh rate, video, and streaming apps, and similar. If an app isn't optimized for 120Hz or it starts streaming video, the tablet will drop automatically to 60Hz.
We measured a very good (for an OLED) 388 nits of max brightness in our tests. The Tab S7+ has a max auto mode on top of this, which allows it to boost its brightness up to 484 nits. The screen is plenty bright no matter what, so you will have no issues even in the brightest of days.
And thanks to OLED tech, the screen's contrast ratio is amazing with blacks nice and inky.
The minimum brightness at the far left of the scrubber is just 1.9 nits - an excellent one!
Display test
100% brightness
Black,cd/m2
White,cd/m2
Contrast ratio
Samsung Galaxy Tab S7+
0
388
∞
Samsung Galaxy Tab S7+ (Max Auto)
0
484
∞
Apple iPad Pro 12.9 (2018)
0.37
610
1649:1
Apple iPad Pro 12.9 (2020)
0.47
625
1330:1
Color rendition is handled familiarly - the Natural/Vivid approach Samsung introduced in the past year or so. Natural aims to reproduce sRGB content truthfully, and we measured an incredibly good average deltaE of 2.0.
The Vivid mode offers a 5-position cool-to-warm slider. The default mid-point on the slider will get you an average deltaE of 4.0 - a great one. You can improve the whites and grays by opting for a warmer setting.
One more thing you'd be happy to learn is the presence of Widevine L1 DRM support on the Galaxy Tab S7+. This means you can watch your favorite streaming services in high definition. HDR10, HDR10+ and HLG types of HDR are natively supported.
Battery life and charging
The Galaxy Tab S7+ may be a thin tablet but it comes with a massive 10,090 mAh battery. It supports 45W fast charging, but Samsung is shipping the tablet with a puny 15W adapter. It replenishes 18% of its depleted battery in 30 mins, 90 mins will give you 50%, while a full charge takes north of 3 hours.
The Galaxy Tab S7+ clocked 7 hours and 49 minutes on our web browsing script, which is an average score for a tablet. Many of our pages have bright backgrounds though, which may have affected the test significantly given the large OLED screen that needs lighting up. Still, this is the same script we run since the battery test's inception and this is what the Tab S7+ has scored.
When it comes to video playback, the Galaxy Tab S7+ did 12 hours and 11 minutes before its battery dropped to 10% when playing looped videos in full screen. An outstanding score!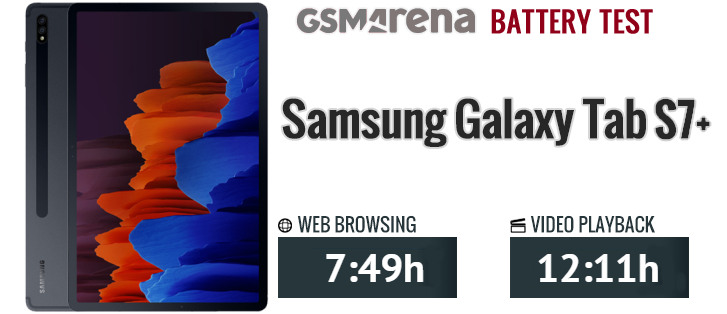 Speakers
The Galaxy Tab S7+ has four very loud speakers tuned by AKG and with support for Dolby Atmos. The slate scored a Very Good mark on our loudness test, a hair shy of the excellent. Still, the loudness is impressive, but what's even better is the audio quality - the sound is very rich from bass to highs.
Use the Playback controls to listen to the phone sample recordings (best use headphones). We measure the average loudness of the speakers in LUFS. A lower absolute value means a louder sound. A look at the frequency response chart will tell you how far off the ideal "0db" flat line is the reproduction of the bass, treble, and mid frequencies. You can add more phones to compare how they differ. The scores and ratings are not comparable with our older loudspeaker test. Learn more about how we test here.
Alphonsokurukuchu
01 Jan 2023
X@F
Your tab probably is WiFi version which doesn't have sim slot. Even if you remove that black thing sim won't work because there's nothing in the tab to read the sim or the antenna signal transmission
". The screen is plenty bright no matter what, so you will have no issues even in the brightest of days." - ahha.... so that's why i can't see it in shades..
does the s7+ insert sim if so how do i remove the black sim looking like thing from the back?