Samsung Galaxy Tab S8 disassembled, given an average repairability score
Peter, 11 March 2022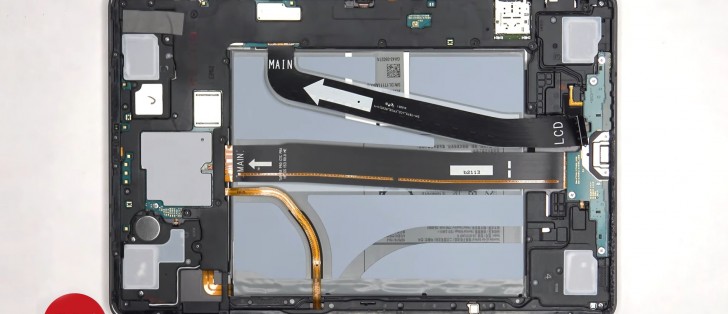 The Samsung Galaxy Tab S8 is the smallest model in the company's latest flagship line-up. How is it put together and how easy is it to repair if something breaks? PBKreviews has the answers to that in the video below.
Interestingly, the tablet in the video – a Wi-Fi only model – uses the same card slot as the 5G-enabled versions. However, the device is not configured to access 5G networks, so a free upgrade from a Wi-Fi only to a 5G slate is unlikely.
Anyway, Samsung mostly relied on standard Phillips head screws to hold the tablet together. There is adhesive used in several places, but not too much – nothing some heat and a bit of isopropyl alcohol can't handle.
The cooling system is surprisingly simple – there's thermal paste over the Snapdragon 8 Gen 1 chipset and the RAM, then several layers of copper tape and graphite film, including on the back of the screen. Of course, the large screen on tablets offers a lot of room for passive cooling, much more than phones have.
PBK gives the Galaxy Tab S8 an average repairability score of 5.5/10. Some things could have been better, the battery especially could have benefited from pull tabs to simplify removal.
Related
i am really forward to buy to legion y 700 gaming tab, do u have any idea when it will release globally , or is it better to order it from websites like giztop? the Indian market has an habit of not launching Chinese company tablets due to treat...
Half of what you said are opinions that I don't agree with and the other half is just lies. Your online presence is toxic and I bet it's similar in real life.
Anonymous
11 Mar 2022
sUS
I have a wired headset that also works wirelessly. What's wrong with the jack? Can't you use a wireless headset on something that has a jack?
Popular articles
Popular devices
Electric Vehicles