Samsung Galaxy Tab S9 Ultra review
GSMArena Team, 11 September 2023.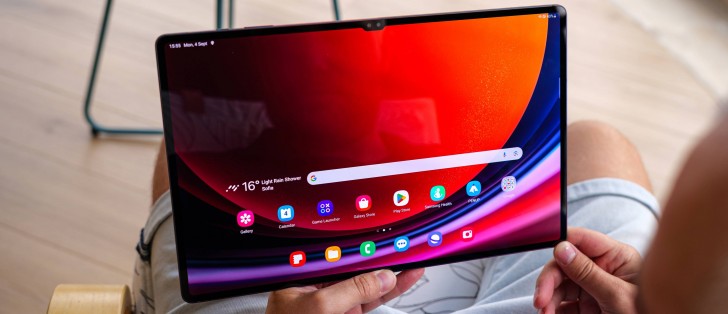 Design, build quality, handling
The Galaxy Tab S9 Ultra is a large tablet, alright, but impressively thin and well-balanced. There is little to experiment with the tablet design, understandably, so Samsung has been sticking to the basics for a while, and we do think it has found a rather timeless classic it can continue to safely use in the generations to come.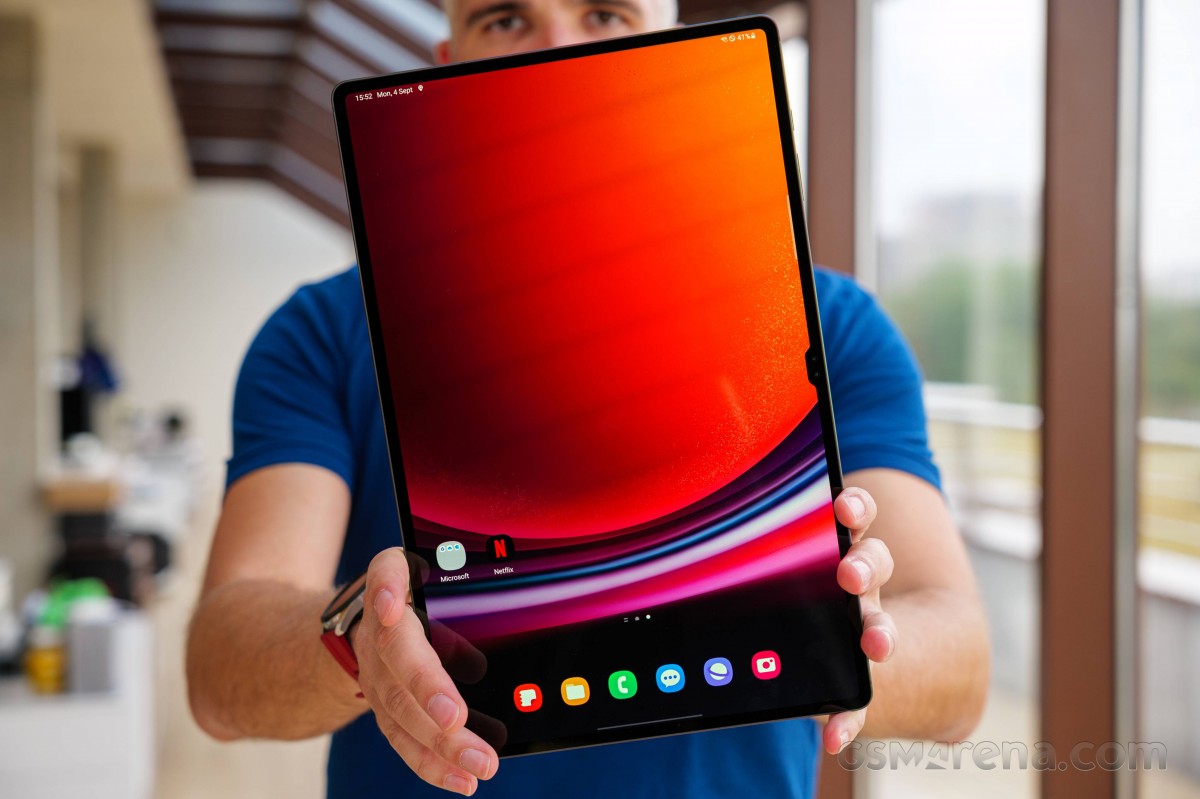 The Tab S9 Ultra uses an aluminum unibody with rounded corners and flat sides. The huge 14.6-inch AMOLED is covered with a Gorilla Glass sheet, while everything else is metal with a matte surface.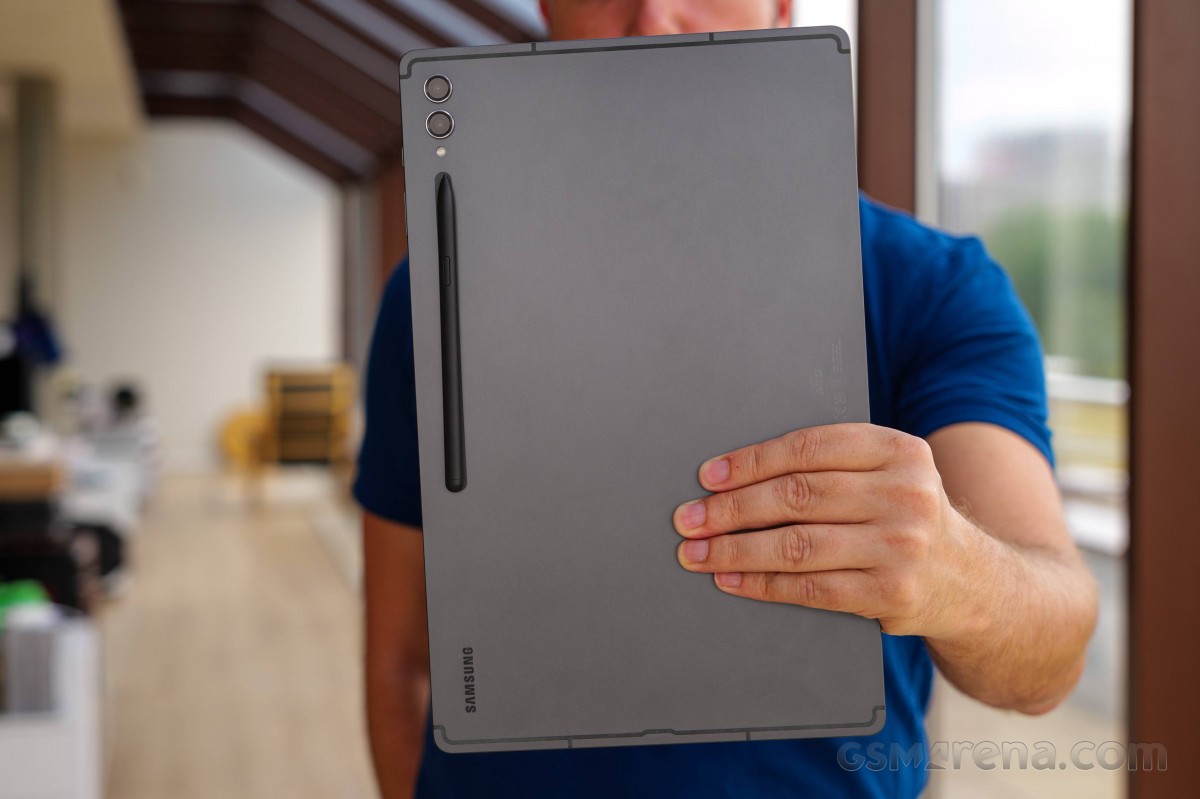 The frame, which is a part of the unibody, is also flat and incredibly thin - it's 5.5mm only! Its rather sharp edges do help for a comfortable and secure grip no matter the tablet's orientation.
The Tab S9 Ultra is IP68-rated for dust and water resistance, which is not expected from a tablet but is always nice to have. You can work, read, browse, game, watch or listen to multimedia in the tub or by the pool worry-free.
The S-Pen that comes bundled with the tablet has a dedicated charging bed on the back, with strong enough magnets to properly hold it there. You can also stick the Pen to either of the long sides, but it cannot charge there.
By the way, Samsung has improved the S-Pen, and it is now IP68-rated for dust and water resistance. It is an active one and supports low-latency input (2.8ms).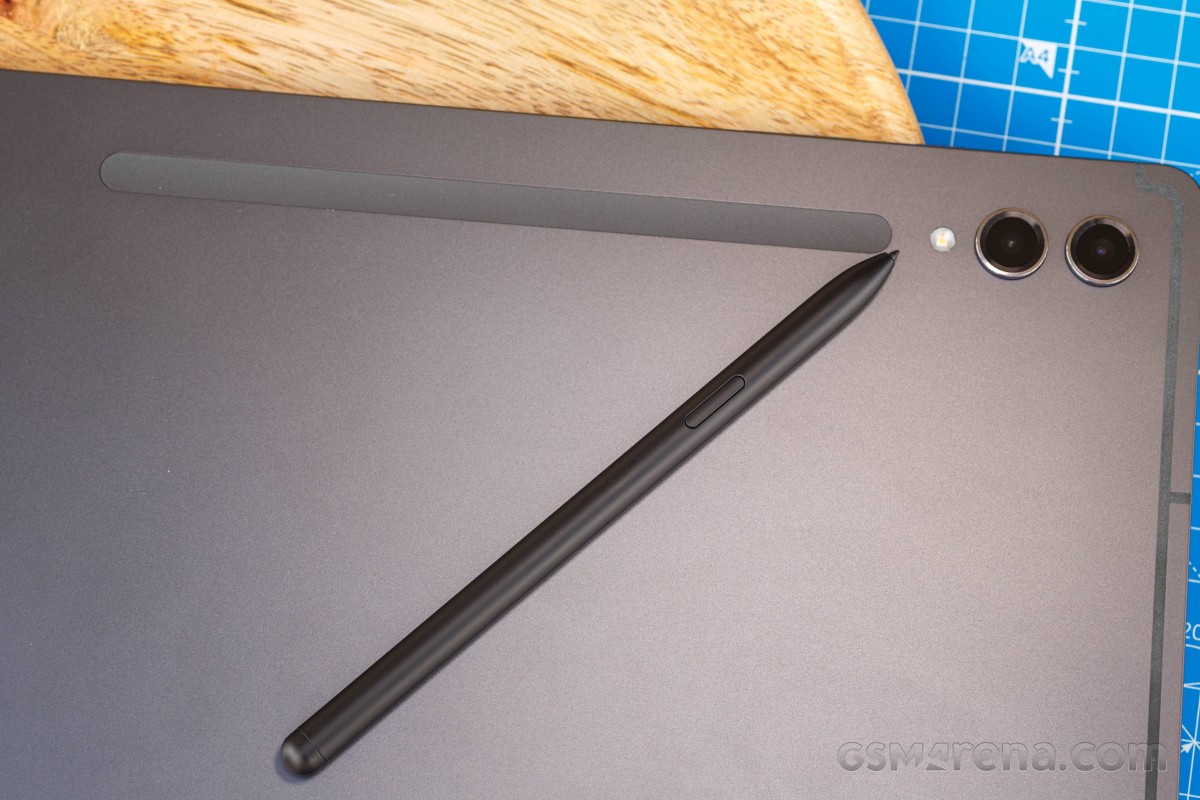 And now, a quick tour around the Galaxy Tab S9 Ultra.
The front has the 14.6-inch AMOLED screen with high resolution, 120Hz refresh rate, and HDR10+ support. Unlike the other Tab S9 models, it features a small notch on one of its longer sides. Here are the two front 12MP cameras with a wide- and an ultrawide-angle lenses. We can argue that this was entirely unnecessary, but it is what it is.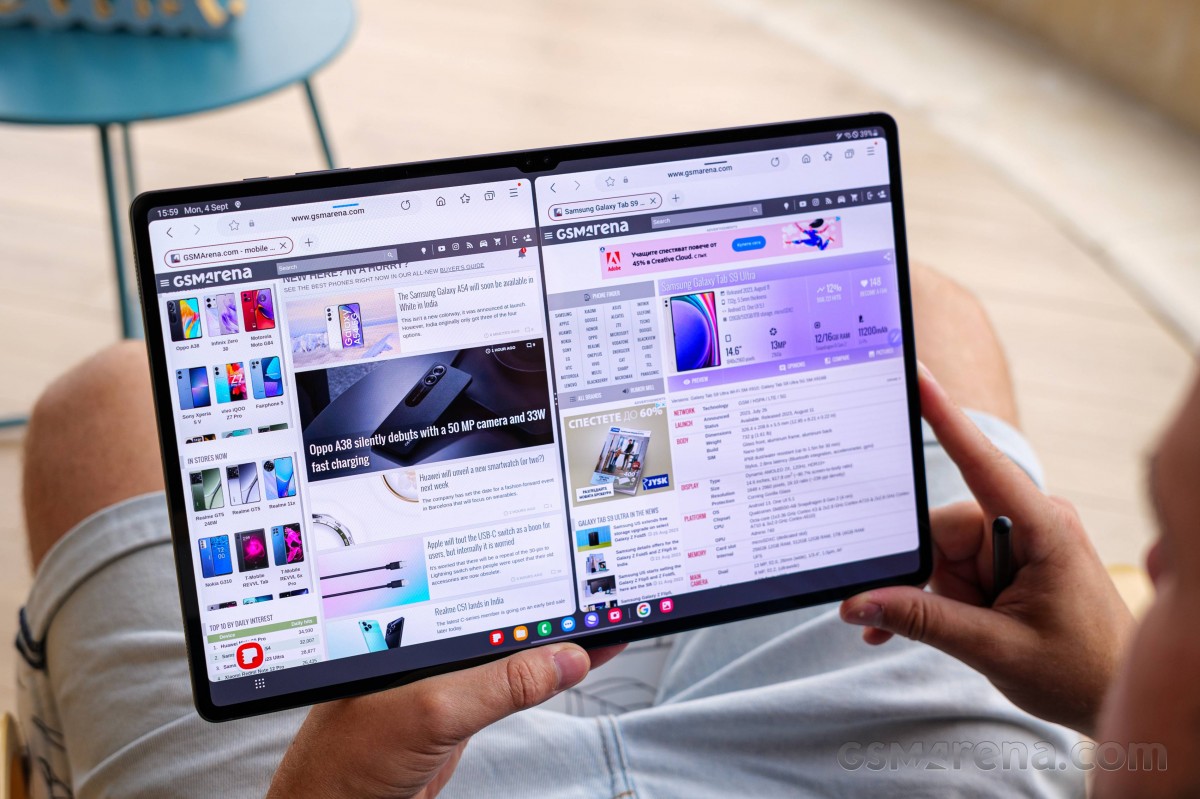 There is also an under-display fingerprint scanner near the bottom if you are holding the tablet in portrait orientation, near the USB-C port. Most tablets these days lack a fingerprint scanner.
The Tab S9 Ultra has four speakers, two on each of the short sides. Also, on the short sides - one has the USB-C port, and the other one has a microphone.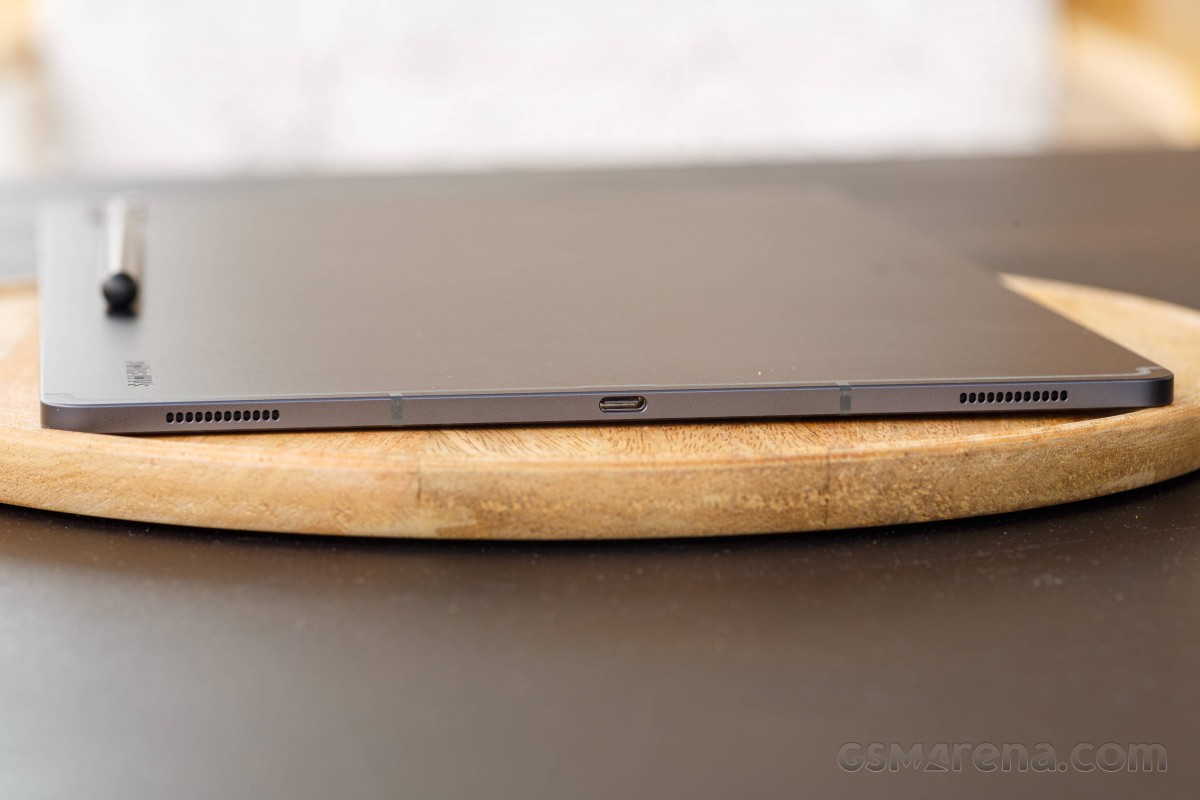 The power/lock key, the volume control, the SIM and microSD bed, and two microphones are on the long side that serves as a top if the Tab S9 Ultra is in landscape orientation.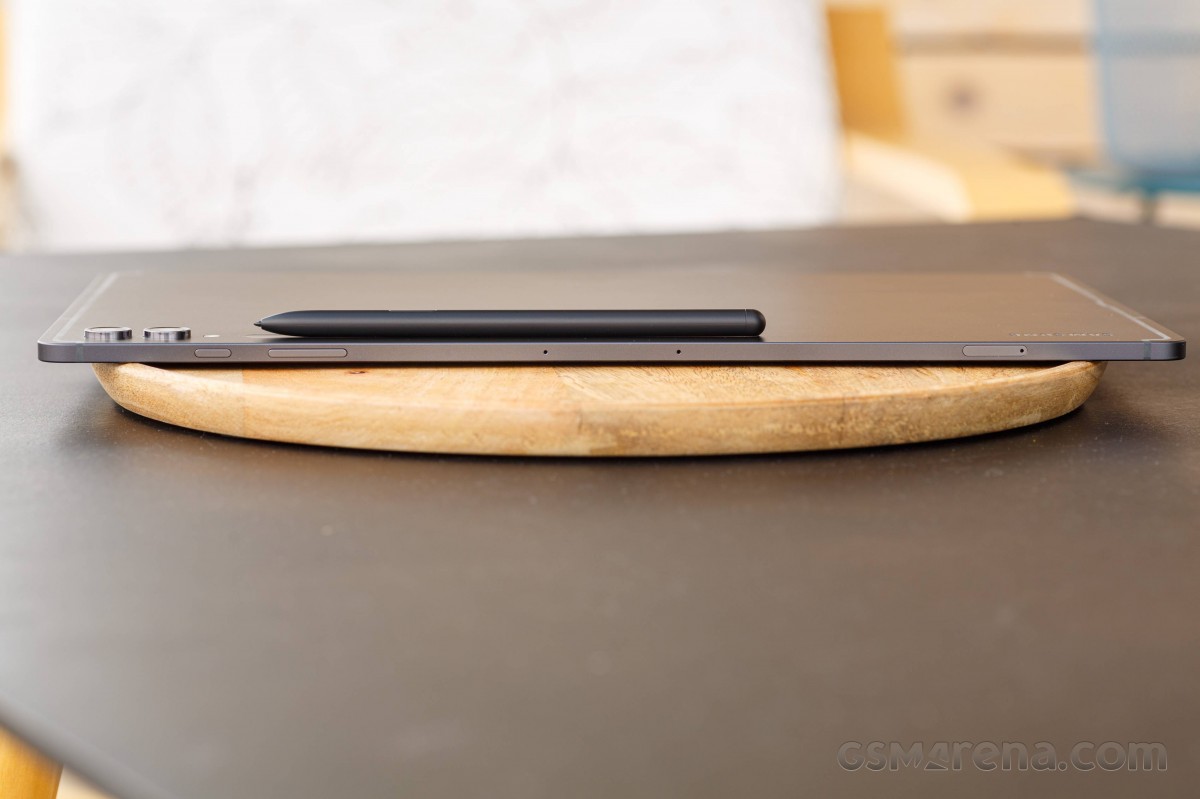 Keeping this orientation in mind, the keyboard dock connector is at the bottom / the other long side.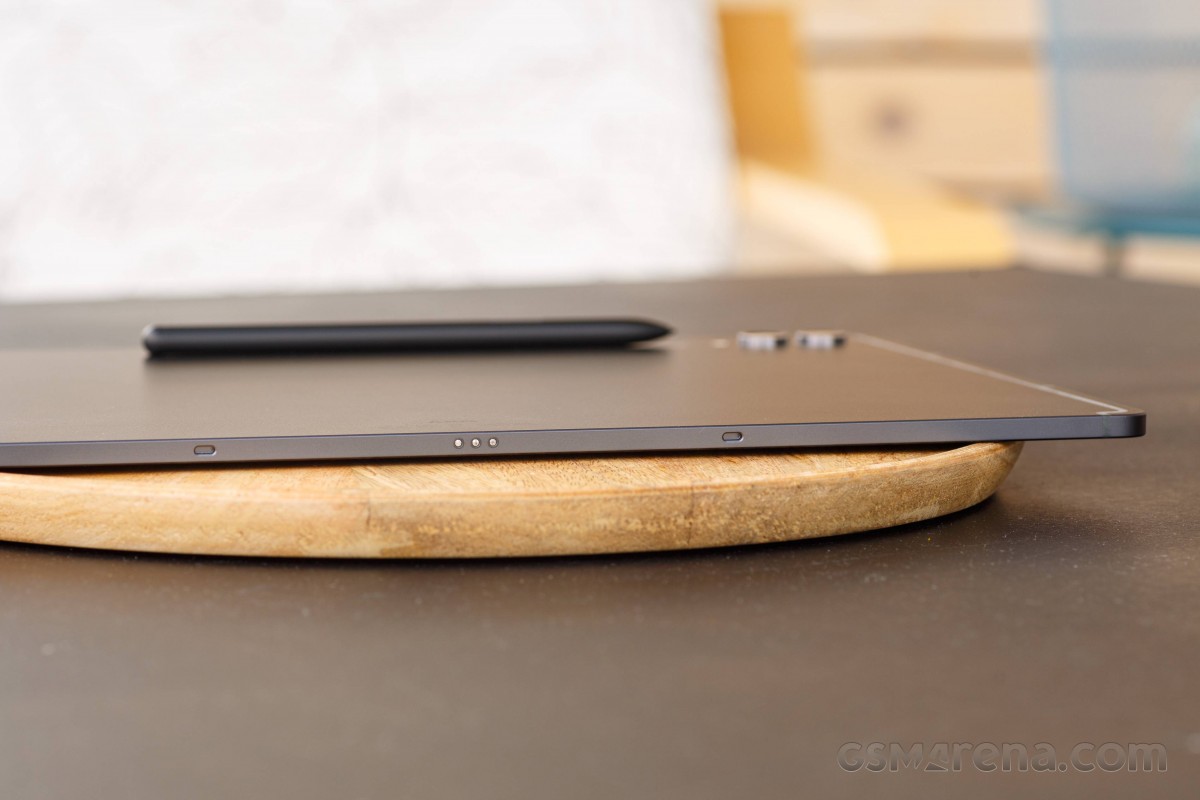 Remember that both long sides have hidden magnets to hold the S-Pen.
Finally, the back is flat, with a visible spot for the S-Pen's charging bed. The two rear cameras are around with jutting out metal rings. There is also a single LED flash.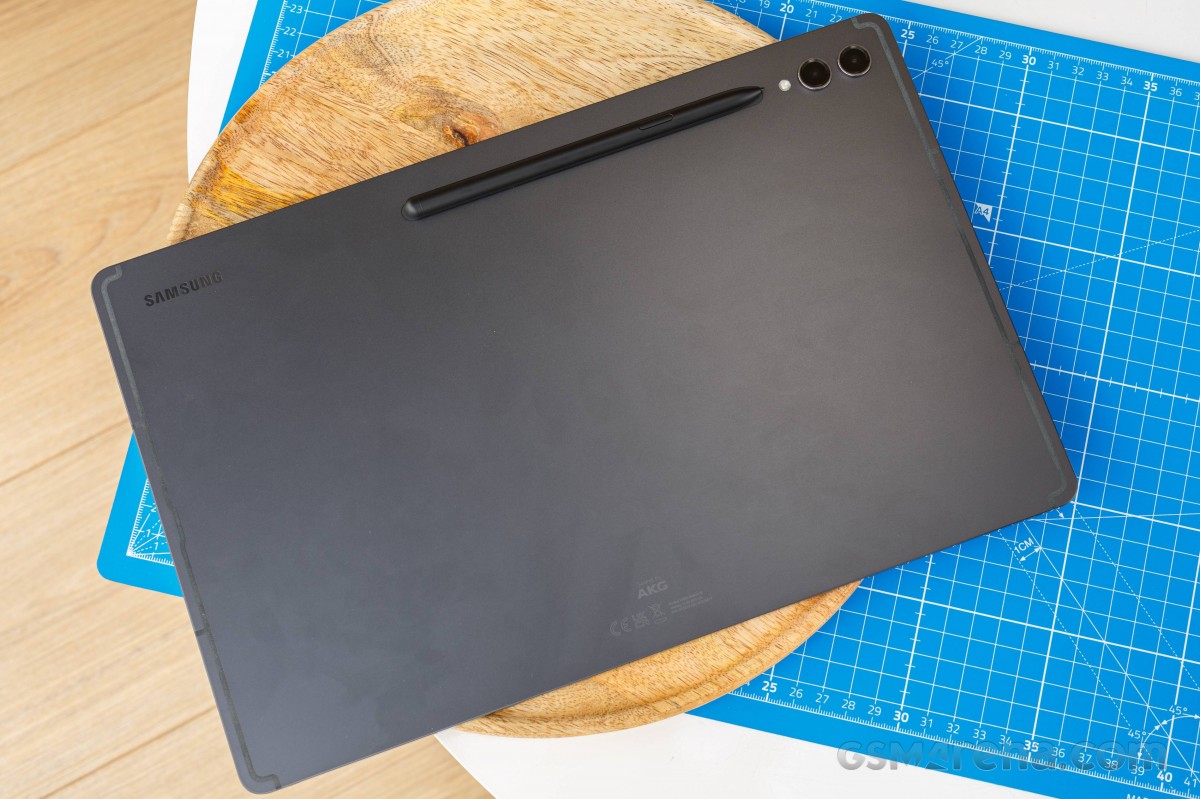 The Ultra supports 5G connectivity, among all sorts of other connections, so you can clearly see its antenna around its body.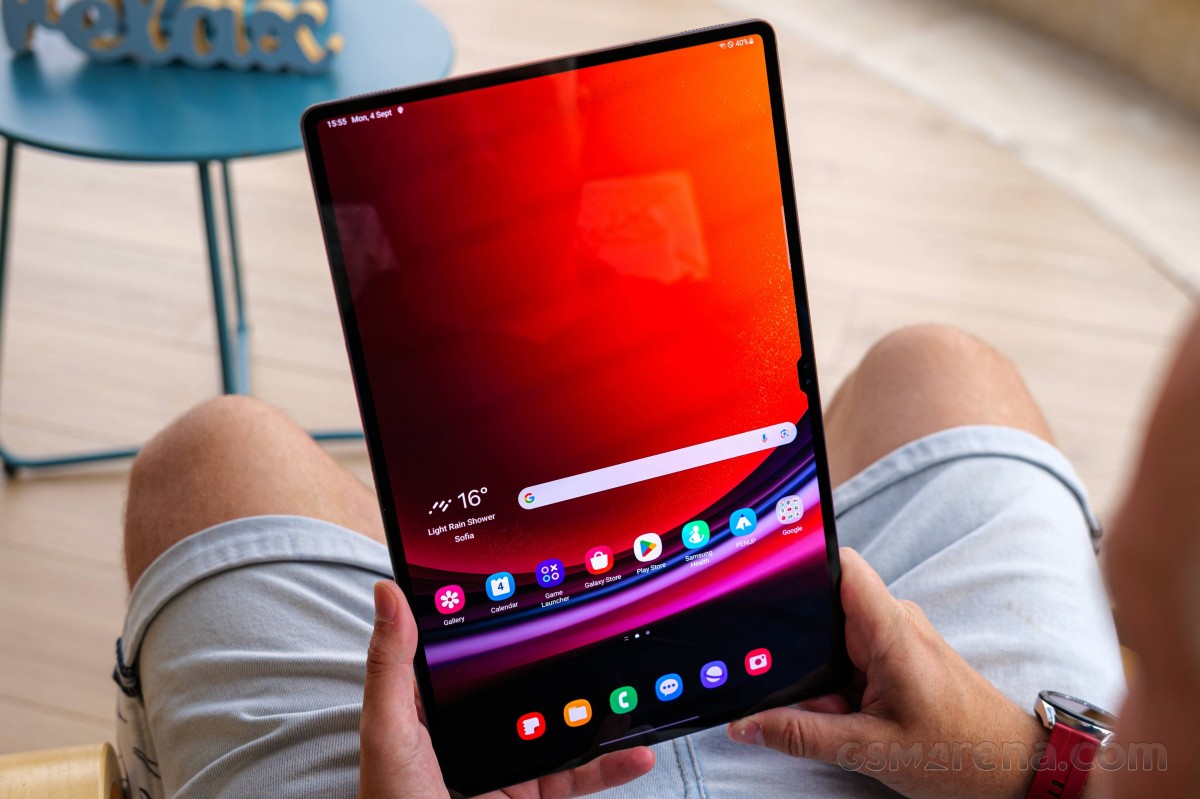 The Galaxy Tab S9 Ultra is a massive device, no two ways about it. It's wonderful for movies and browsing, great for working with a wireless keyboard, too. It is not that easy to handle and operate even with two hands, but if you must have that size - you will eventually get used to it, just like we did after a couple of days.
Anonymous
19 Nov 2023
nSV
"the Galaxy Tab S9 Ultra is a great option at a starting price of about €1,100 for the 256GB Wi-Fi model." What do you mean by that? It starts at 1449€.
Great tab cameras I'm not a fan I hardy take pics so not an issue I watch movies on this and the pic quality is great and the sound is excellent crisp clear great bass I like to draw but not great with sketchbook yet so only messing around with ...