Samsung Galaxy Tab S: leaked pictures and features
06 June, 2014

We've been hearing news about the upcoming Samsung Galaxy Tab S for a while now, but now we have images of the tablet along with some of its features, ahead of its scheduled June 12th official announcement.
First off, the Galaxy Tab S is going to be one skinny slate: it measures in at 6.6mm thin with a weight of 465 grams. Looks wise, it resembles the Galaxy S5, with the same patterned texture of Samsung's flagship phone, with a golden-coppery finish emblazoning the sides of the device.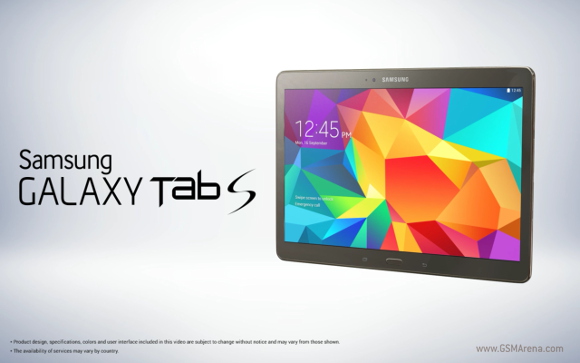 The new leaked features reveal that the Samsung Galaxy Tab S will come pre-installed with the remote PC application (which does exactly what the name implies: allows you to remotely access your PC through the tablet's WiFi or data connection), and the Tab S also lets you sync it with your Samsung Galaxy S phone to allow you to take calls directly on your tablet. A little window will pop up on the Tab S that will display the caller information, so you can talk and play around on your Samsung slate simultaneously.
The AMOLED screen of the Tab S will sport a 2560x1600 resolution, and it is powered by an octa-core Exynos 5420 processor, 3GB RAM, 8MP primary camera, and a 2.1 selfie unit. The tablet offers 32GB of storage with a microSD card slot, Android 4.4.2 KitKat out of the box. Expect the Tab S to be available for purchase by the end of this month.








Related
How is something less than 2 lbs heavy?
Doesn't hurt, but insults the intelligence of the smartphone community. Except the Samsung fanboys of course, they're the ones this kind of thing works on lol.