Galaxy W vs. Xperia Neo V: Vice Wersa
Vice Wersa
GSMArena team, 14 February 2012.
Introduction
Single-core droids will only be getting cheaper and there's plenty to choose from. But if you want to get the best out of a tight budget, making the right choice can prove to be a challenge. We're looking at two phones that launched at the same time and have very similar specs and price points. The Samsung Galaxy W and the Sony Ericsson Xperia Neo V are middle of the Android pack. There're many above them in the ranks but few are as easy to afford.
The Galaxy W currently costs slightly more, so we'll try and answer whether you get extra value or whether the Xperia Neo V is a real steal instead.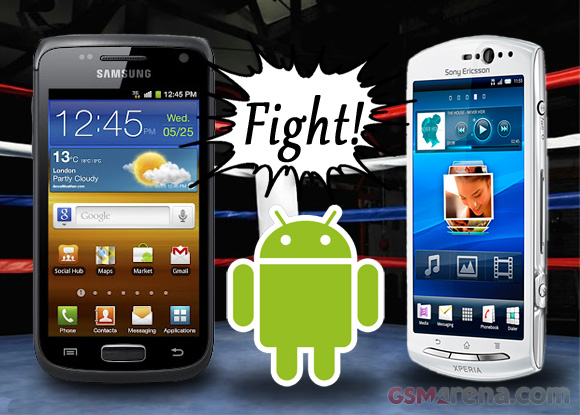 Before we put both phones through our battery of tests, we let them throw a few warm-up punches:
Samsung Galaxy W I8150 over Xperia Neo V
Thinner (11.5mm vs. 13mm) and 11g lighter
Faster processor: 1.4GHz over 1GHz
DNSe sound enhancement technology
Document editor over doc viewer
Sony Ericsson Xperia Neo V over Samsung Galaxy W
Promised update to Android 4 Ice Cream Sandwich
microHDMI port over no TV-Out
Slightly higher-res screen: FWVGA (480x854) vs. WVGA (480x800)
Scratch-resistant glass
Currently cheaper
It seems the Xperia Neo V has a couple of advantages that catch the eye, the ICS update and HDMI port being most notable. That's a great start for the cheaper phone.
However, the Galaxy W hasn't given up trying to justify the extra cost. It's got a faster processor packed in a thinner body and dedicated sound-enhancing technology to boot.





Samsung Galaxy W I8150 • Sony Ericsson Xperia Neo V
It's hard to tell which way image quality and screen performance will swing. A few terse specs (WVGA, 720p) don't tell the whole story. So, without further ado, let's run the tests and see which phone comes out on top.
Anonymous
02 Feb 2014
vQ%
Never buy this phone, it is most bullshit phone in world. Buy phone with more RAM and more internal memory.
AnonD-61144
26 Nov 2012
KiX
You can say that because you're blind sony fanboy. Respect the other who choose different things!
It is rude to say that just because people are choosing the opposite of your choice, you call them stupid. People have different needs, preferences and priorities. If they do not agree to your opinion, still you have to respect them.