Samsung I9505G Galaxy S4 Google Play Edition review: Purified
Purified
GSMArena team, 14 July 2013.
Introduction
We've got something special at HQ today. The perfect Nexus phone has arrived and it looks like a Galaxy S4. This shameless poser embodies everything worth admiring from both worlds - timely updates, the unblemished stock Android experience, the highest-grade hardware money can buy and expandable storage. The Samsung Galaxy S4 Google Play Edition makes the LG-made Google Nexus 4 look like it should be in the minor league.
With one swift blow Samsung managed to create a mouth-watering Nexus smartphone, featuring some really hot hardware coupled with the latest software bundle.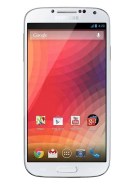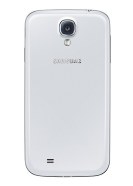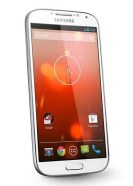 The Samsung Galaxy S4 Google Play Edition
But it makes you wonder, why did the South Koreans bother? With over 10 million Galaxy S4s shipped already, it's unlikely that the Google Play Edition S4 will make an impact, especially when you consider the high price tag and limited availability (USA-only, no subsidies). Was the idea to make good with Google or developers? Or was it just a blatant demonstration of power.
In any case we're happy to just let this one slide and enjoy the fruits of the holy Samsung-Google alliance, which has brought a FullHD Super AMOLED and expandable storage to the sanctity of stock Android.
Check out what else you get from the Galaxy S4 Google Play Edition.
Key features
Stock Android Jelly Bean 4.2.2
5" 1080 x 1920 Super AMOLED with around 441 ppi, Gorilla Glass 3
Gorilla Glass 3
16 GB built-in storage, microSD card slot
13 MP camera with autofocus, single LED flash, 1080p video recording
2 MP front-facing camera with 1080p video recording
Quad-core Qualcomm APQ8064T Snapdragon 600 with four 1.9 GHz Krait 300 cores, 2 GB of RAM, Adreno 320 GPU
LTE support
Wi-Fi a/b/g/n/ac with DLNA and Wi-Fi Direct, Bluetooth 4.0
GPS with A-GPS and GLONASS support
2600 mAh removable battery
Main disadvantages
None of the TouchWiz software enhancements are present
Camera app offers only basic settings
No display modes as in TouchWiz
Steeply priced at $649 with no subsidies and currently only available Stateside
Not available in 32 GB and 64 GB versions, sole White Frost color option
The Galaxy S4 Google Play Edition is not for everyone. It will be the device of choice for users that need the stock software, the way Google intends it to be, but want the absolute best hardware you can get - that's a pretty exclusive group to develop a device solely for.
The majority of users will likely miss the TouchWiz advancements Samsung has implemented in its software package - the everything-but-the-kitchen-sink camera app, the 50 gigs from Dropbox, the smart gestures, Adapt sound, Air View, Direct Call, the list goes on and on into eternity.
But perhaps there's a silver lining - getting both sides of the fence in a single purchase. If you're willing to root your I9505 Snapdragon-powered Galaxy S4 you could simply install the stable stock Android ROM and still have the option to return to TouchWiz at a later time. It's a route only advanced users will take but it gets you everything for less - the subsidized Galaxy S4 is widely available.
The hallmark of the Google Play Edition Galaxy S4 is the stock Android operating system. Sure, you could always get the same experience on a Nexus 4, but you'd be losing the huge and beautiful screen, the expandable storage, the immensely-better camera and the potent chipset - and that's a lot.
It's a rare enough thing to see a product which doesn't make sense but makes you want to churn out an illogical amount of cash to get your hands on. It shoots a strong bolt of electricity through our inner geeks and makes us eager to test it, get a better feel for it, and even place it side-by-side with the Nexus 4 and start pointing bragging fingers in its direction.



The Samsung Galaxy S4 Google Play Edition at HQ
A whole heap of unanswered questions begs for resolution. Does the more conventional physical-button design work well with stock Android? Will the camera kick ass just as it did on the TouchWiz Galaxy S4? Will the device be as fast, will the battery retain its high standards? Does the cleaner look and feel outweigh the perks up the TouchWiz version's sleeve? These and many other pressing questions deserve a thorough investigation and thankfully we've got the right men for the job. Read on for the hardware digest.
goodchild
30 Apr 2017
Nv$
samsung phones have the worst batteries ever
AnonD-531821
30 Apr 2016
t7X
I'm using galaxy s4 and this phone rocks. There are many phone coming out now like s7, but the bottomline the functionality where almost the same, there just only updates and enhancement happen. Best phone ive been using with.
Anonymous
21 Aug 2013
nFY
Bought mine from the States using ebay! Noticeably faster and smoother than the touchwiz'd S4.