Samsung M3200 Beat s review: Never miss a beat
Never miss a beat
GSMArena team, 24 September 2008.
Samsung M3200 Beat s may lack the Serenata sophistication or the feature set of i450 but it walks and talks music. And the dedicated music keys up front are just a bit of a taster. Inside the M3200 Beat s there's turn-to-mute, Samsung-style shake control and a full-blown music player. FM radio with RDS and audio recording, a brand new music recognition application and mood-based track sorting: Samsung just won't settle for less than the competition. The must-have 3.5 mm audio jack and a set of stereo speakers put the final touch, so it's music all the way or bust.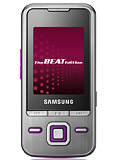 Samsung M3200 Beat s official image
Key features:
Quad-band GSM/GPRS/EDGE
Nice metallic design
2-inch 256K-color TFT display of QVGA resolution
2 megapixel camera
72 MB inbuilt memory, microSD expansion, up to 8 GB
3 accelerometer-based applications
Music features:
Dedicated music keys under the display
Mood track sorting, Auto EQ, Motion play, Turn-to-mute features
Music recognition application by Shazam
Bang&Olufsen ICEPower amplifier
DNSe (Digital Natural Sound engine)
Powerful stereo loudspeakers
Standard 3.5 mm audio jack
Stereo Bluetooth (A2DP)
FM radio with RDS, broadcast recording
Main disadvantages:
No 3G support

2-inch display seems a bit small

Only 2 MP camera with neither autofocus, nor flash

QCIF video at 15fps

Only 500 entries in the Phonebook

Slippery back cover

Memory card slot under the battery

No FM transmitter (we're just nitpicking)
Samsung's ear for music has never been in doubt. But somehow music phones have never been at the forefront of their portfolio. Music was eclipsed by Symbian in the smart dual-slide i450 and by the outlandish design in the eccentric Samsung Serenata. Well, the Beat edition by Samsung is here to say enough is enough. Samsung's consistent track record of good audio in mobile phones and the ongoing teamwork with Bang & Olufsen may as well give the Beat a flying start.
The Beat edition gives the Samsung portfolio some structure and puts a name to all those musicphone faces. There's quite a bunch of them going way back to the D810 and spanning over a load of F-line handsets. The most important thing the Beat brings to Samsung is a straight-talking music handset with classic design and competitive price. Samsung Serenata is nowhere near this description and neither is the Symbian-powered bulky dual-slide Samsung i450.
The Samsung Beat is landing right in the middle of the Walkman-XpressMusic brawl. It's tempting to assume the M3200 Beat slider and its bar-shaped partner M3510 Beat b are just feelers. The low-profile music-only (or all-music, if you prefer) handsets might be setting the scene for a raid of heavier Beat troops. Even at this stage, both the devices offer high-end music features that can match almost any Sony Ericsson Walkman out there.
That way or another, let's not keep our sonic slider waiting. Join us after the break for more on Samsung M3200 Beat s.
Need help changing the phones connectivity, screens broken and I need to get phone numbers off. The software suite wont let me link up becuase it says its in mass storage mode and that I need to change that. Can someone please tell me what to do cos ...
well i am thinking of buyin this phn ........... just want to kno that wts the actually size of screen .......? plz guys let me kno ..
misspellt
18 Jun 2009
M@T
you actually CAN play movies in fullscreen or landscape mode. while playing a video press * or # (one of the two) and it rotates and plays fullscreen.