Samsung M3200 Beat s review: Never miss a beat
Never miss a beat
GSMArena team, 24 September 2008.
Telephony
Voice quality and coverage have never been an issue with recent Samsung handsets we've tested. The quad-band M3200 Beat s won't let you down with call clarity, ringing is quite powerful and crisp, so you certainly won't miss an incoming call even in noisy surroundings. A music-centered handset should deliver on that count almost by default.
Samsung M3200 Beat s is among the loudest handsets to have passed our loudspeaker test. Here is how the M3200 Beat s ranks along some of the other phones we've measured. More info on our test and all current results can be found here.
| | | | | |
| --- | --- | --- | --- | --- |
| Speakerphone test | Voice, dB | Pink noise/ Music, dB | Ringing phone, dB | Overal score |
| Apple iPhone 3G | 66.1 | 62.1 | 71.7 | Below Average |
| Nokia 5310 | 64.8 | 62.0 | 75.9 | Average |
| O2 Cocoon | 65.1 | 65.7 | 75.7 | Good |
| Sony Ericsson R306 Radio | 71.3 | 68.9 | 80.3 | Very Good |
| Sony Ericsson W910 | 77.5 | 70.7 | 82.7 | Excellent |
| Samsung M3200 Beat s | 76.1 | 78.3 | 84.7 | Excellent |
The latest user interface
Samsung M3200 Beat s uses the latest non-smartphone user interface, which we last saw in the S7330 and the B2700 toughie. Both are midrange handsets, so no interface marvels were to be expected. By the same token, the M3200 Beat is putting music first in what's otherwise quite a modest package.
The main menu displays as a 3 x 4 grid of icons with corresponding alphanumeric key shortcuts. Deeper level submenus also have keypad shortcuts besides being navigated with the D-pad. Visuals are adequate and the user interface is generally fast and responsive.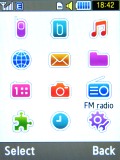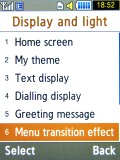 Typical Samsung feature phone menu
The home screen is quite minimalist. The basic status readings are at the top taskbar, such as signal strength, service provider, time, battery status. Additional icons also get displayed to indicate Bluetooth on, missed events, silent/vibrate mode, alarm on, etc. There a few wallpaper types to choose from: living world, image, from theme and photo slider.
Customization options as usual
The usual assortment of dialing customizations is of course at hand. There are six dialing animations to choose from, the last two of which vary a little according to the active theme or your location.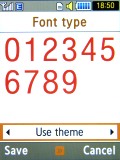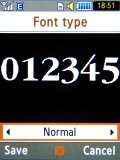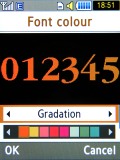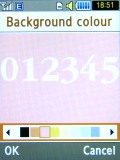 Some of the available dialing styles, font types, colors and backgrounds
Users can choose among three different preinstalled themes, each well known across a wide range of feature phones of the company. The M3200 Beat has a default Samsung theme, as well as the Spotlight and Elegance Noire. If you want more, you have the option of creating your own theme in two modes - Easy and Expert.
Need help changing the phones connectivity, screens broken and I need to get phone numbers off. The software suite wont let me link up becuase it says its in mass storage mode and that I need to change that. Can someone please tell me what to do cos ...
well i am thinking of buyin this phn ........... just want to kno that wts the actually size of screen .......? plz guys let me kno ..
misspellt
18 Jun 2009
M@T
you actually CAN play movies in fullscreen or landscape mode. while playing a video press * or # (one of the two) and it rotates and plays fullscreen.