Samsung Movies launches with movies preencoded for mobiles
20 March, 2009
Samsung are obviously getting into the online content business - movies in particular. They launched a new website called Samsung Movies site in the UK and Germany and it already offers 500 titles with another 1000 expected by the end of June 2009. Samsung Movies will be available in other European markets later on this year.
Samsung Movie caters to both home viewing and viewing on the go - when you rent or purchase a movie you get both a computer and a mobile version. The computer version comes in DVD resolution with an average file size of 1.5 GB and the mobile version is about 500 MB for a two-hour movie.
The image aspect ratio is 16:9 and the sound is stereo though there are plans to bring 5.1-channel sound soon. So far, only the Samsung S8300 UltraTOUCH is supported for uploading mobile content, but more devices should be added. The OmniaHD will probably be among them - 16:9 screen and the HD video playback would be put to good use.
Other likely suspects are other multimedia oriented phones from Samsung with players that support WMV. As for the desktop version - you don't need a Samsung device, just Windows Media Player 11.
Prices range from 2.49 to 3.99 GBP for rentals and 7.99 to 13.99 GBP for purchases. There are exceptions however - The Dark Knight is 16.99 GBP. Most movies are available for either rent or purchase, though not all.
The movies are from big Hollywood studios like Warner Bros., Paramount, Universal and Momentum Pictures. This means you can get The Dark Knight, Iron Man, No Country For Old Men or Harry Potter, to mention a few blockbusters.
Shows like Friends and ER are also going to be in the store as NBC is part of NBC Universal. These shows do not come up in the search yet, which is an annoying side effect of the beta status of the service.
The site itself can be browsed by genre or you can stick with the recommendations on the front page that are separated in five categories like Top Movies and New Releases or Cult Movies, Critic's Choice and Classics. These offer good variety - the Cult Movies category for example has Dirty Harry right next to Zoolander.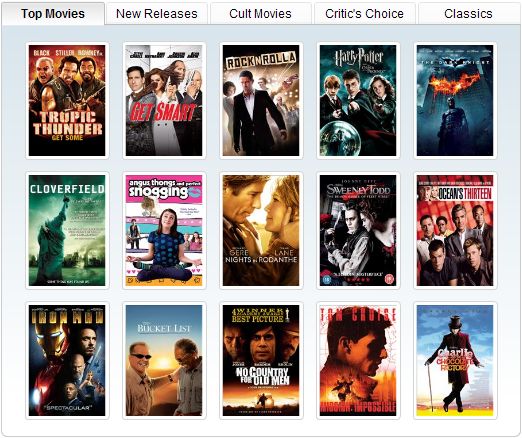 Each movie has its own page offering a synopsis, info on the cast and more importantly a trailer.
Check out the site at www.samsungmovies.com.
Related
I like so much this movile, I waant it !!!!!!
its is very beautiful...yes yes yes beautiful...
Anonymous
25 Mar 2009
PGj
yes LULLA u r right LULLA may be they r not the best but this is realy a good job i must say........
Popular articles
Popular devices
Electric Vehicles