Samsung Pay will work on the Gear S3 even if you don't have a Samsung phone
Vlad, 18 November 2016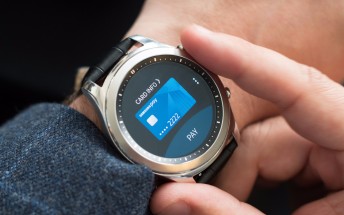 Now that Samsung's Gear S3 (in both classic and frontier versions) is finally starting to become available across the world, some more details about it are trickling in. An intriguing fact has to do with Samsung Pay, and how it's supported on the Gear S3.
According to Samsung, you're able to use Samsung Pay on the Gear S3 even if you don't have a Samsung phone paired to the smartwatch (if the one that you do have runs Android 4.4 KitKat or newer). That's certainly surprising, given that so far the Samsung Pay app has been limited to Samsung devices. Then again, the company's latest wearables do work with any other Android handsets, so this makes some sense.
Unfortunately we don't yet know exactly how this will work. Will you have to enter your credit card details on the watch? Will there be a special app that you'll be able to install on your non-Samsung phone to make this work? Will Samsung allow installation of its Samsung Pay app on devices that it hasn't manufactured? Are both NFC and MST payments going to be supported on the Gear S3 if it's paired to a non-Samsung smartphone? There's currently no definitive answer to any of these questions. What's clear is that this doesn't mean you'll be able to make purchases through Samsung Pay on a non-Samsung handset - it will just work on the watch, regardless of what device it's connected to.
Related
I am trying to use samsung pay on Gear3 paired with MiA1. But it is not working. Don't know why?
The canadian frontier on best buy doesnt come with nfc, mst, or lte. Thanks samsung.
Popular articles
Popular devices