Samsung points out key features of the Galaxy TabPro S in an infographic
08 January, 2016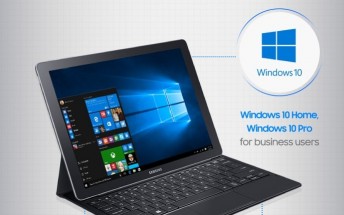 Samsung wants to make sure you know full well that the TabPro S is a Windows 10 tablet despite the Galaxy moniker, so far reserved for the company's Android lineup. In this latest infographic Windows is only mentioned some 8 times, but other key selling points of the TabPro S have been highlighted as well.
It's the best of Galaxy tablets, thanks in no small part to its "long battery". The full-size keyboard and touchpad are prominent features as well, making productivity more than a buzzword. The multi-port adapter is not the best thing to advertise, but we figure fitting full size USB and HDMI ports on a 6.3mm-thin tablet might have been on the impossible side of being an engineering challenge.




Samsung Galaxy TabPro S infographic
There's the obligatory tribute to the 12-inch AMOLED screen, with "more than 94% true color reproduction" - a first in the Windows realm, Samsung claims. Fastest network, fast charging and not as fast Intel Core M processor also get a mention.
Related