Samsung prepping loads of high-end touch phones in 2009
18 March, 2009
Thirteen new Samsung touchscreen phones have been spotted at a dealer's event held by the company in Amsterdam. The two most exciting new phones include a new version of the Omnia HD running on Windows Mobile 6.5 plus their first Android phone.
At this time, there are very few details available coming mostly from a blurry shot taken at the event. It's not really clear how the new version Omnia HD upgrades the currently announced one, except for the fact that it will run on Winodws Mobile (if that can be counted as an upgrade that is).
The first Samsung Android phone reportedly bears a resemblance to the Samsung Blue Earth phone, at least in looks. It is expected to have a 5 megapixel camera.
The thirteen phones populate all the four categories of the Samsunbg portfolio - S for style, I for infotainment, M for multimedia and B for business. The Android device falls under the premium multimedia category whit the new Omnia HD positioned just above it.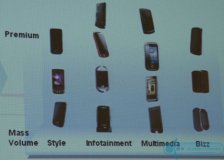 Additions to Samsungs touch line up
The other eleven phones are touchscreen handsets with various, yet unknown features including two with slide-out QWERTY keyboards. All of these phones are yet to be announced officially and we'll have more details when that happens.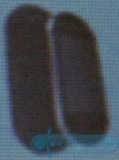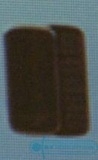 Two QWERTY business-minded phones
Unfortunately, the source article that we used for this news seems to have gone missing now.
Related
Anonymous
22 Mar 2009
0h%
"Even if i have to wait up to 20 sec before i can take the next photo." That's because the Omnia brings you next to a review screen of the picture that you have just shot. You then have to go back out to take another picture. The T929 Memo...
Would like to know when Samsung will bring phones with the Skipe as Nokia is promissing on the N97 It is Time that the eletronic manufacturer start to give cards instead the operators! Need a revolution in the comunications Sheaper and without ...
Spyros/Cesar.s.c.
22 Mar 2009
MZu
Yes... Im sure that its your 3 Omnia because the other were replaced because of problems. No not... I think that its your 5th or the 6th Omnia. You are very unlucky or you are a big liar.
Popular articles
Popular devices
Electric Vehicles