Samsung makes 8 of the top 10 most used Android devices
10 February, 2013

It's no secret that Samsung is dominating the Android market, but the margin of its lead might be a bit surprising to some. According to a report from mobile analytics firm Localytics, the Koreans account for eight of the top 10 Android devices in use.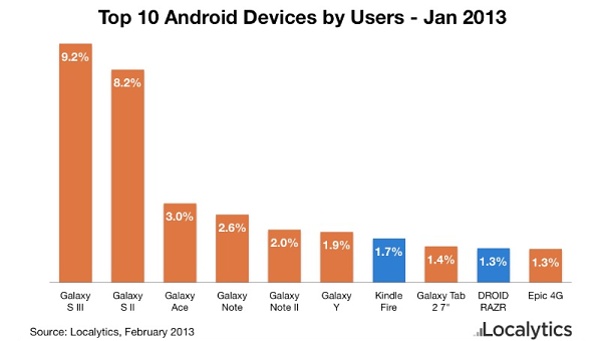 As one can expect, Samsung's latest flagship Galaxy S III and its predecessor Galaxy S II are the top guns, holding a combined share of 17.4%. The mid-range Galaxy Ace is a distant third spot with 3% of the Android market, followed by the Note and the Note II phablets with 2.6% and 2% respectively.
Amazon's Kindle Fire sneaks in the list with 1.7% of the Android users. The tablet is followed by the Galaxy Tab 2 7.0 with 1.4% of the Android devices. The other smartphones in the list are Galaxy Y, Droid RAZR and Epic 4G.
According to the report, Samsung controls whopping 47% of the total Android market share.
Related