Samsung S8300 UltraTOUCH review: Touch, slide, shoot
Touch, slide, shoot
GSMArena team, 28 April 2009.
Dialer as usual, Photo Contacts are cool
There's not much to say about the dialer. You dial just like you would on any slider or touch phone depending on whether the keypad is opened or closed. It's not very well thought out however. There's a virtual button for making a voice call, but in order to make a video call you need to press 'More' and video call is the only option there, besides 'Add to Phonebook'. This is strange as there's a physical call button just a centimeter under the virtual one, so they could have easily replaced the virtual call one with a video call button.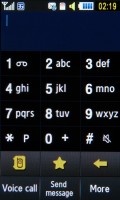 A virtual keypad when the phone is closed
New events like missed calls or a new message show up on the homescreen as a widget. It has three tabs each notifying you about a different type of event. It also displays the number and time of the missed call or SMS.
While the dialer itself is not very interesting, there's a flashier way to dial. Swiping your finger to the right on the homescreen brings you to the Photo Contacts shown as a stack of pictures.
Each face in each photo is tagged, and if it's linked to a contact in the phonebook clicking the tag (a white rectangle around the face), it brings up a menu with options to start a voice or video call or send a message.
It is perhaps not the fastest way to search through your contacts but it's quite impressive. It even helps keep things organized to some extend - add a photo of a group of people and you can call any one of them quite easily. This feature also makes it quite easy to decide who to call on a lonely Friday night.
When adding a photo, faces are detected automatically but tagging is manual, even if you've already tagged that contact. Linking a photo to a contact also replaces the contact pic with the new pic, which is a bit awkward when tagging groups of people.
Telephony and speaker performance
The Samsung S8300 is very good at its main job - making calls. If you turn the earpiece volume all the way up the sound gets a little distorted but it's not a problem at lower levels.
When using the built-in speakerphone you have to take care to point the mic towards you (it is on the bottom so it's a little awkward) or the other party will have trouble hearing you.
As for the loudspeaker performance, here is how the S8300 ranks alongside some of the other devices we have tested. You can find more details about the test itself as well as the full list of tested devices here.
| | | | | |
| --- | --- | --- | --- | --- |
| Speakerphone test | Voice, dB | Pink noise/ Music, dB | Ringing phone, dB | Overall score |
| Apple iPhone 3G | 66.1 | 62.1 | 71.7 | Below Average |
| Nokia 5800 XpressMusic | 75.7 | 66.5 | 68.5 | Good |
| Samsung S8300 UltraTOUCH | 70.1 | 66.7 | 75.8 | Good |
| LG KM900 Arena | 70.9 | 68.2 | 78.3 | Good |
| LG KF700 | 72.8 | 71.7 | 79.2 | Very Good |
| LG KF900 Prada | 77.1 | 75.7 | 82.0 | Excellent |
Messaging is QWERTY-less
As you might have expected, Samsung S8300 handles all common message types. The handset has a shared editor for SMS, EMS, MMS and a separate one for emails. A rich T9 dictionary is at the user's disposal too.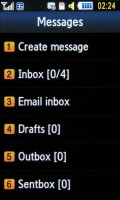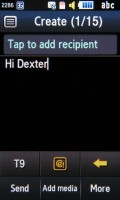 Messages menu • composing an SMS
What was present in the beta version we previewed but is strangely lacking here is the on-screen QWERTY keyboard. It was a handy option to have but now you're stuck with the 12-key keypad, be it the virtual or real one.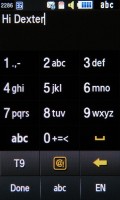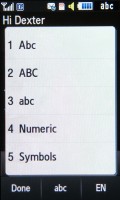 Writing using the virtual keypad
There's some limited Gmail integration but that boils down to a shortcut to gmail.com, which is loaded in the browser. There things are a little tiny, which make it hard to use with your fingers.
Of course, you can always use the generic email client instead. It didn't detect the settings for Gmail automatically so we had to enter them manually, but once that's done, managing emails is a breeze.
The sending email attachment limit is up to 5MB, enough for sending most types of files. If you receive an office document as an attachment, you will be able to view it as well.
File browser
The Samsung S8300 file browser can display the files and folders from the phone memory or the memory card, and even both at the same time.
There are folders for different types of files (images, video, sounds) and this allows the handset to sort the memory contents. However, you are not forced to follow this structure - you can place your files wherever you want and the phone will have no problems handling them.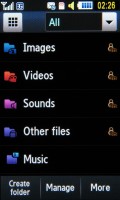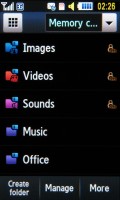 The file browser is quite good
You can copy or move files - both one by one or in bulk, and you can create and delete new folders (except the predefined folders, like Images, Sounds and so on).
When deleting multiple files you can choose to delete protected images, contact photos and so on. By default those options are off so you won't accidentally delete a contact photo or a ringtone.
Files can also be sent via Bluetooth, again one by one or in bulk. Throughout the whole file manager, you can pick files you would like to lock to prevent accidental deletion. Listing the thumbnails of pictures stored in the respective folder on the memory card now happens very quickly.
Unfortunately, dealing with memory cards is not among the Samsung S8300 strengths, as their initial recognition can take quite some time (typical Samsung). What is more, operating with the files on the memory card once it's initialized is still slow as well.
i need whatsapp for my samsung-gt-s8300xbie1
how can i reset its paswrd as i have f