Samsung S8530 Wave II review: Riding the wave
Riding the wave
GSMArena team, 19 November 2010.
Simple yet useful gallery
The gallery or Media Browser, as Samsung call it, is basic - all images and clips are displayed all at once as small thumbs. When you select a file you can see it in either portrait or landscape mode.
The gallery supports finger scrolling or panning so you can skip images without having to return to the default view. Just swipe to the left or right when viewing a photo in fullscreen mode and the previous/next image will appear.
The pinch zooming is also available here thanks to the Samsung S8530 Wave II multi-touch support but you can also double tap on the screen to zoom in and out.
Still the best video player up to date
Multimedia is certainly a S8530 Wave II forte. The large Super Clear LCD screen is great for watching videos. The interface of the video player follows the logic of whole UI. Settings and options are a tap away, otherwise hidden when not needed.
The Wave II supports DivX/XviD files out of the box. And what is even more impressive, subtitles are welcome as well.
You can search for a specific scene using the "Mosaic search" feature. It breaks the clip down to parts and displays the first frame of each to help you find the scene you're looking for. Strangely, this feature won't work with all videos.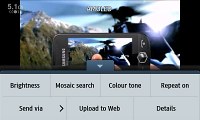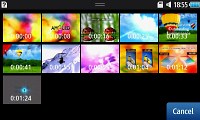 Video player context options • mosaic search
Performance with higher-res videos is great – it played 720p videos like a champ. Not a big surprise considering it can record 720p videos, but still impressive for a mobile phone. We threw everything we had at it – DivX, XviD, MP4 and even MKV files - all in 720p resolution. The Samsung Wave II handled them smoothly and hassle-free.
Music player is great
The music player is fine as well. Tracks are sorted by albums, artists, genres, composers, etc. You can hide some of those sorting options if you don't use them. At the end only those that you've marked will be displayed on top of the screen (as tabs) while the ones you have unmarked will be gone.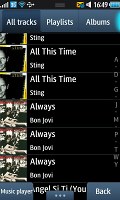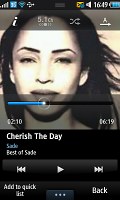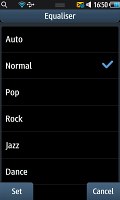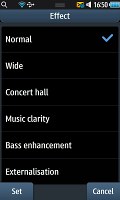 Eye-catching music player • sound enchantments
The user interface starts looking even better when you use the music player in landscape mode. Comparison to iPhone's Cover flow is inevitable with some important differences. Browsing albums or tracks is pretty standard in portrait mode: you get a list of all songs or albums, each with a small thumb. The list is smoothly scrollable with impressive kinetic effect.
If you're browsing in landscape mode you'll be getting an album art arch of virtual CDs. Tapping on a CD will expand it to show all the tracks within the given album.
Alternatively, sweeping down across the screen (from the arrow above the central CD) will display a virtual dial to let you search the albums or tracks alphabetically.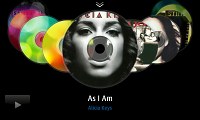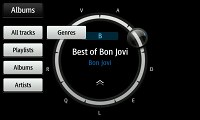 The landscape mode looks great
Equalizer presets and sound effects are also available. The Samsung S8530 Wave II comes with Samsung's proprietary DNSe sound enhancement technology that lets you pick among Wide, Concert Hall, Music clarity, Bass enhancement and Externalisation.
Part of the music player is also the traditional Samsung music recognition feature that lets you record a few seconds of a currently playing track and it gets back to you with the name of the track and artist.
A good FM Radio
The Samsung S8530 Wave II is equipped with an FM radio with RDS too. The interface is simple – there's a tuning dial and you can save as many as 6 stations as favorites that are accessible straight from the main screen. The rest of the available radio stations is still a click away.
You can also listen to the FM radio on the loudspeaker, but the headset is still needed as it serves as an antenna.
FM audio recording is also available. The recorded files are stored in decent MP3 format in your music folder.
Pretty good audio quality
Samsung S8500 Wave was one of the best performing devices in terms of audio quality and we are glad that its successor, the Wave II, doesn't disappoint either.
It's especially impressive when used with an active external amplifier. In such situations the Samsung S8530 Wave II is an amazing performer with no weak points whatsoever. With wide dynamic range, perfect frequency response, no distortion and excellent noise levels the Wave II is just perfect. Oh, and the thing is pretty loud too.
Unfortunately, when you plug in the headphones there is a significant drop in the audio output quality. Frequency response got worse, stereo crosstalk increased quite a lot and intermodulation distortion got bad too. Not to mention that volume levels took quite a significant plunge too. The starting point was so high that the overall output is still decent but it's nowhere nearly as impressive as without resistance applied to the line out.
And here come the full results so you can see for yourselves:
| | | | | | | |
| --- | --- | --- | --- | --- | --- | --- |
| Test | Frequency response | Noise level | Dynamic range | THD | IMD + Noise | Stereo crosstalk |
| Samsung S8530 Wave II | +0.02 -0.04 | -90.9 | 90.9 | 0.017 | 0.026 | -92.3 |
| Samsung S8530 Wave II (headphones attached) | +1.21 -0.27 | -90.7 | 90.5 | 0.021 | 0.701 | -49.7 |
| Nokia C6-01 | +0.07 -0.37 | -88.2 | 88.1 | 0.0073 | 0.017 | -89.4 |
| Nokia C6-01 (headphones attached) | +0.48 -0.25 | -88.1 | 87.8 | 0.016 | 0.362 | -71.7 |
| Nokia C7 | +0.06 -0.33 | -88.1 | 88.0 | 0.0069 | 0.017 | -88.9 |
| Nokia C7 (headphones attached) | +0.46 -0.21 | -88.1 | 88.1 | 0.017 | 0.362 | -66.2 |
| Samsung I9000 Galaxy S | +0.03 -0.04 | -90.7 | 90.6 | 0.014 | 0.019 | -90.6 |
| Samsung I9000 Galaxy S (headphones attached) | +0.40 -0.12 | -90.7 | 90.6 | 0.018 | 0.329 | -43.3 |
| HTC Aria | +0.12, -0.58 | -84.5 | 86.9 | 0.022 | 0.172 | -85.4 |
| HTC Aria (headphones attached) | +0.37, -0.15 | -87.0 | 90.4 | 0.026 | 0.400 | -52.3 |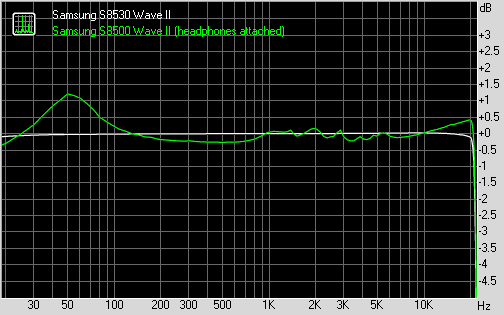 Samsung S8530 Wave II frequency response
You can learn more about the whole testing process here.
Anonymous
15 May 2018
fpX
is it possible to install playstore in it,
loverstone05
06 May 2016
t7X
I well look the prices all the samsung phone?