Samsung starts mass producing GDDR6 chips for next-gen graphics cards
18 January 2018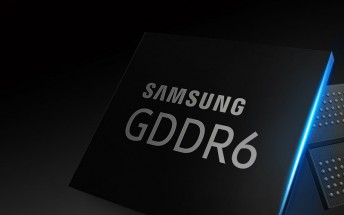 Samsung has started mass production of GDDR6 memory chips. They are bound for next-generation graphics cards, consoles, servers and other applications where a high bandwidth is required.
These chips are built on a 10nm process and have a capacity of 16 gigabits – a major improvement over Samsung's 20nm 8 gigabit GDDR5 chips (which went into mass production 3 years ago). Also, a 35% reduction in power use is achieved since the new chips operate on 1.35V instead of 1.55V.
A system with a 384-bit memory bus can achieve 864 GB/s bandwidth, beating HBM2 memory used in some current high-end GPUs. A cheaper (and lower power) 256-bit bus can do 576 GB/s, which puts it slightly ahead of a 384-bit system using the older GDDR5 chips.

It's not yet clear when the first GDDR6-based products will hit the shelves, but Samsung believes they will be quickly adopted for virtual reality, artificial intelligence, 8K video processing and other demanding tasks.
Related