Samsung U600 review: Slim is sweet
Slim is sweet
GSMArena team, 03 October 2007.
It seems Samsung really takes making sleek looking and ultra thin mobile phones to heart. It's no wonder that the Samsung Ultra lineup has become a significant part of the company's mobile portfolio. We got hold of another Ultra Series II member, the Samsung U600, and we'll be more than happy to check if it hits the spot for you. Also known as Samsung Ultra 10.9, it perfectly fits the Ultra series bill and, what's more, looks all set to become its most successful member. Stylish and comfortable to hold are the two things that best describe the first impression the slim handset makes, but we are now to see if it performs as well as it looks.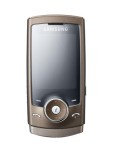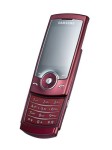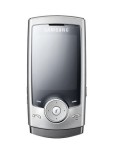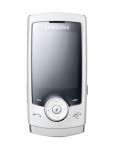 Samsung U600 official photos - several of the color versions of the handset
Key features:
Great looking and very well built
Navigation combining touch-sensitive and standard keys
Camera with 3.2 megapixel resolution and autofocus
EDGE
Large display with great image quality
microSD memory card slot
Seamless PC connectivity and synchronization
FM radio
Smart search
Nice image editor
Main disadvantages:
Weak sunlight legibility
No 3G
User interface is on the slow side
Confirm key starts the web browser in stand-by
Keys within the same row have no distinguishable borders and typos are likely
Battery life is not among the best
Samsung U600 is considered to be the runner-up for leadership in the Ultra line II, behind Samsung U700, but that is not completely true. Actually the two phones come from two different research and development centers of Samsung and we would prefer to consider them as distinct products, rather than think of one being an upgrade of the other. Samsung U600 is a bit slimmer than U700 and stands at only 10.9 mm thickness. Actually that makes it the world's slimmest slider. Other U600 niceties that U700 lacks are the FM radio and TV out functionality, so that should be enough to prove that they differ in purpose more than they do in ideology and, therefore, class affiliation.
Samsung user
06 Feb 2017
M%j
My Samsung U600 do not want to accept year 2017 in time settings. It ends at 31.12.2016. it is pitty - device is still working perfectly and looks like a phone used for 2-3 months. Battery still lasts 3 days. The only drawback is that it uses another...
jhonjie roncesvalles
12 Jul 2010
PSk
u600 is shutdown system, how to repair
a correction: it can play mp3 in the background, but only if you set it to "music player overrides other sounds: ON". then, when you press back, it continues playing. the side buttons now control the music volume, thank god.