Samsung U600 review: Slim is sweet
Slim is sweet
GSMArena team, 03 October 2007.
Messaging
Samsung U600 can create four types of messages: SMS, EMS, MMS, and emails. The first three share the same editor. You can covert your SMS to MMS by simply inserting an image, or to EMS by applying formatting or font colors. Naturally, a T9 dictionary is present and it does its job quickly and intuitively. If message sending fails, the message is automatically saved to the outbox, so it can be resent later. There is room for 1000 SMS in the phone's memory (Samsung D900, for example could only store 200). Incoming messages, like calls, can also be blocked based on a user-defined black list.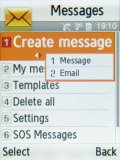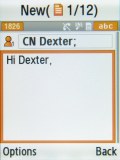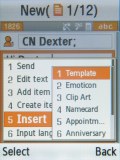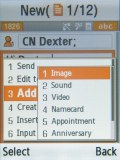 The message editor is one of Samsung U600's strong points
The email client is relatively good. It can manage up to five accounts - POP or IMAP; download is user-defined, opting between headers only and entire messages. Not only any files from the phone memory, but also business cards, calendar events, tasks or notes can be emailed as attachments. The client can be set up to check mail at a chosen interval (options vary from 1 to 12 hours)
The SOS message function, which allows you to quickly send an SOS message to user-defined numbers, is present here too. It is available in most Samsung phones and is able to send a custom message to one or more pre-defined numbers. After setting up the feature, all you need in case of an emergency is to press the volume rocker 4 times with the keypad locked to send your cries for help.
When it comes to security, this Samsung handset is also equipped with the uTrack function or the so called Mobile Tracker. When you set it up and your phone gets stolen, once somebody puts a SIM card other than yours in the handset, the U600 will start sending secret tracking messages to user-defined numbers. We are not quite sure if that will help you find your phone but that's the way people at Samsung see it.
File management: the Samsung way
The Samsung U600 file browser is pretty much standard for Samsung handsets. The phone memory and the memory card are separated but they have similar folder structures. There are folders for different types of files - images, video, music, sounds, which allow the handset to sort the memory contents. Functionality of the file browser is one of the best among non-smartphones. You can copy or move files - both one by one or in bulk, and you can create and delete new folders (save for the root ones).
Files can also be sent via Bluetooth one by one or in bulk. Throughout the whole file manager, you can pick files you would like to lock to prevent deleting them by accident. The downside we found in some Samsung handsets - the really slow reading speed from the memory card - is somewhat fixed here. Not that Samsung U600 is incredibly fast but it's fast enough not to bother us. Listing thumbnails of the pictures stored in the respective folder on the memory card now takes shorter time than with Samsung E590 for example.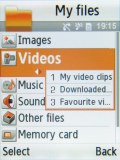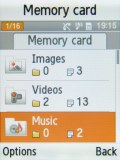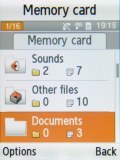 File manager: as with most Samsung phones, the memory card and the phone memory have the same folder structure.
The Samsung U600 picture gallery is an inherent part of the file manager and not a separate application. Accessing it is as simple as opening the Images folder. You can copy or move images but only to the Images folder on the memory card and vice versa. Much like with Samsung D900, you can view the pictures as a plain list or as a list with thumbnails. And again, you can sort files by date, type, name, and size. Once you open a picture to view it, you can scroll sideways to see the next images without having to return to the image list. You can view the picture in portrait mode only and the only way the phone to display it fullscreen is by zooming in. This way however, parts of the picture get cropped.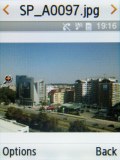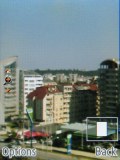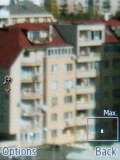 Gallery is an inseparable part of the file manager • Samsung U600 is unable to show a picture fullscreen unless it is zoomed • Zooming in on a picture allows displaying great detail
| | |
| --- | --- |
| The great audio quality of the device sticks out a mile. A lot has been speculated on the integration of the Bang & Olufsen ICEPower amplifier into the latest Samsung handsets such as U600. Some say that it's been giving Samsung handsets an edge in terms of sound quality. | <#AdRectangle#> |
Image editing in its full shine
If you wish you can also edit your pictures using the integrated Scalado Image Editor - it's the same as the one in Samsung U700 and is much richer than the image editor we saw in Samsung D900 and Samsung E950. The Image Editor here allows you to apply a whole bunch of effects and adjustments. Transformations and crops, as well as insertion of various items are also available. All in all, Scalado offers you virtually all of the most popular editing capabilities you could possibly use on a cell phone. However, we doubt that anyone takes image editing with their mobiles seriously.
You can also use the Image stamp application to combine two pictures by using one of them as a watermark for the other.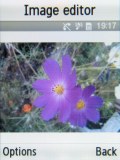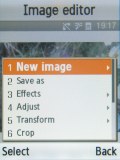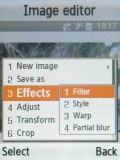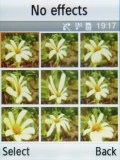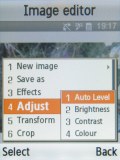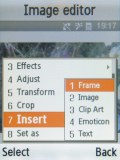 Scalado - a great image editor, offering a huge number of modifications
Great music player
Armed with 60MB of internal memory and a microSD card slot, the Samsung U600 has every premise to act as a portable music player. The Music player application allows filtering tracks by author, album, genre or you can choose to play either the tracks you've recently listened to, or the ones that you've played the most. If that doesn't seem enough, you can create your own custom playlist. The music player can naturally be minimized to play in the background. The player in U600 has undergone several changes in terms of looks compared to D900 but its functionality remains the same. It has three equalizer presets plus a normal mode, but unluckily you still cannot create one of your own. The 3D sound effect is also an option. Track ratings and marking as favorites are also available.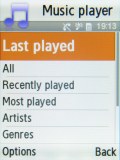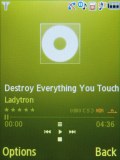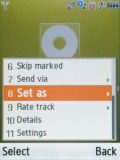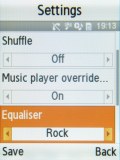 The music player has new looks but keeps the same functionality • Equalizers are doing a decent job
Audio quality of another level
We now come to testing the audio quality of Samsung U600. The great audio quality of the device sticks out a mile. A lot has been speculated on the integration of the Bang & Olufsen ICEPower amplifier into the latest Samsung handsets such as U600. Some say that it's been giving Samsung handsets an edge in terms of sound quality. Well, this speculation is completely denied by our audio lab tests. It is obvious that what ICEPower gives Samsung is reduced power consumption, not better audio quality. In fact, our tests revealed that Samsung U600 performs exactly the same as Samsung D900, when it comes to audio quality, while the latter doesn't have an ICEPower module. It must also be noted that Samsung handsets easily surpass all competition, although they are not meant as music-oriented devices. Enough talking already, here are the test results so you can see for yourselves.
| | | | |
| --- | --- | --- | --- |
| Test | Samsung U600 | Samsung D900 | Sony Ericsson K770 |
| Frequency response (40Hz to 15kHz), dB | +0.41, -1.12 | +0.41, -1.12 | +0.21, -1.04 |
| Noise level, dB (A): | -89.2 | -91.0 | -85.7 |
| Dynamic range, dB (A): | 86.5 | 86.6 | 88.8 |
| THD, %: | 0.040 | 0.067 | 0.0014 |
| IMD + Noise, %: | 0.019 | 0.026 | 0.030 |
| Stereo crosstalk, dB: | -86.9 | -89.9 | -84.8 |
Frequency response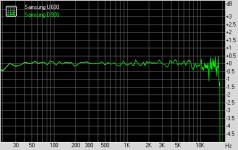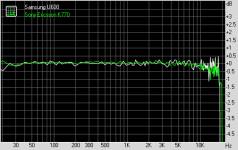 Samsung U600 and Samsung D900 frequency response graphs match perfectly • Samsung U600 vs Sony Ericsson K770
As with most Samsung handsets, the retail box will supply you with a wired headset that comes with a microphone and a remote control. It can be replaced only with another Samsung-branded headset due to the fact that Samsung U600 lacks a standard 3.5mm or even a 2.5mm jack. However you can use a Bluetooth headset for listening to music - both a mono and a stereo one will do the job, as Samsung U600 supports the Bluetooth A2DP profile. Furthermore, it can even play music on two Bluetooth stereo headsets simultaneously.
The Samsung U600 comes complete with an FM radio, which is once again doing quite well in terms of user interface. It has a self-tune option that finds all stations of clear reception at the moment. There is also RDS support that can be switched on and off depending on your taste.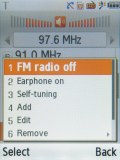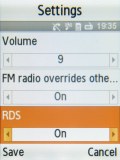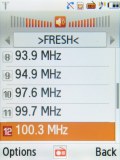 FM radio features RDS, which can be switched of you like
Video player does little but does it well
Both the Music player and the FM radio have a similar interface; the same holds true for the video player interface, too. It doesn't have many features but all the essentials are covered - it can play video files in fullscreen landscape mode and you can fast-forward and rewind videos. As the camera records video in MPEG-4 format, you can rest assured that the player has full support for those - you can easily convert your videos to watch them on the go. Plus, the video player makes full use of the great quality of the display and plays the videos in their full shine.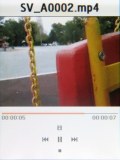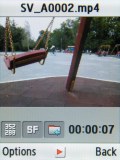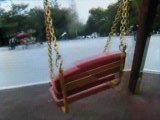 Video player may not have the most features of all but has great picture quality
Samsung user
06 Feb 2017
M%j
My Samsung U600 do not want to accept year 2017 in time settings. It ends at 31.12.2016. it is pitty - device is still working perfectly and looks like a phone used for 2-3 months. Battery still lasts 3 days. The only drawback is that it uses another...
jhonjie roncesvalles
12 Jul 2010
PSk
u600 is shutdown system, how to repair
a correction: it can play mp3 in the background, but only if you set it to "music player overrides other sounds: ON". then, when you press back, it continues playing. the side buttons now control the music volume, thank god.