Samsung unveils new 108MP sensor, new 48MP sensor for periscopes and ultrawide cams
Peter, 15 September 2020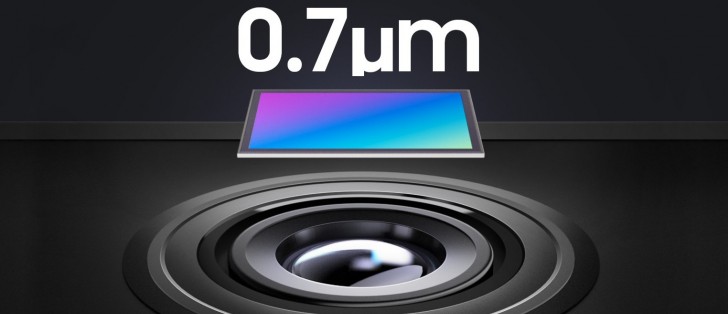 Samsung released the first image sensor with 0.7µm pixels last year and is now introducing four new models based on 0.7 µm pixels. The goal is to create smaller, thinner camera modules. These sensors use ISOCELL Plus but the company plans to introduce versions with the new ISOCELL 2.0 later this year.
Compared to 0.8µm sensors, the new ones are up to 15% smaller and camera modules using them will be up to 10% thinner, which will make for smaller camera bumps.
The ISOCELL HM2 is Samsung's third 108MP sensor. Like the HM1, it uses nine-pixel binning tech and can do up to 3x lossless zoom. It also supports Super-PD autofocus (like its predecessors) and 4K @ 120 fps video recording. The HM2 is smaller than the HM1, 1/1.52" vs. 1/1.33".
The ISOCELL GW3 is about the size of a 0.8µm 48MP sensor, but offers 64MP resolution (it's a 1/1.97" sensor). This one uses Tetracell (4-in-1 binning) and Smart-ISO to capture light more effectively. The GW3 can record 4K video at 60 fps and supports electronic image stabilization.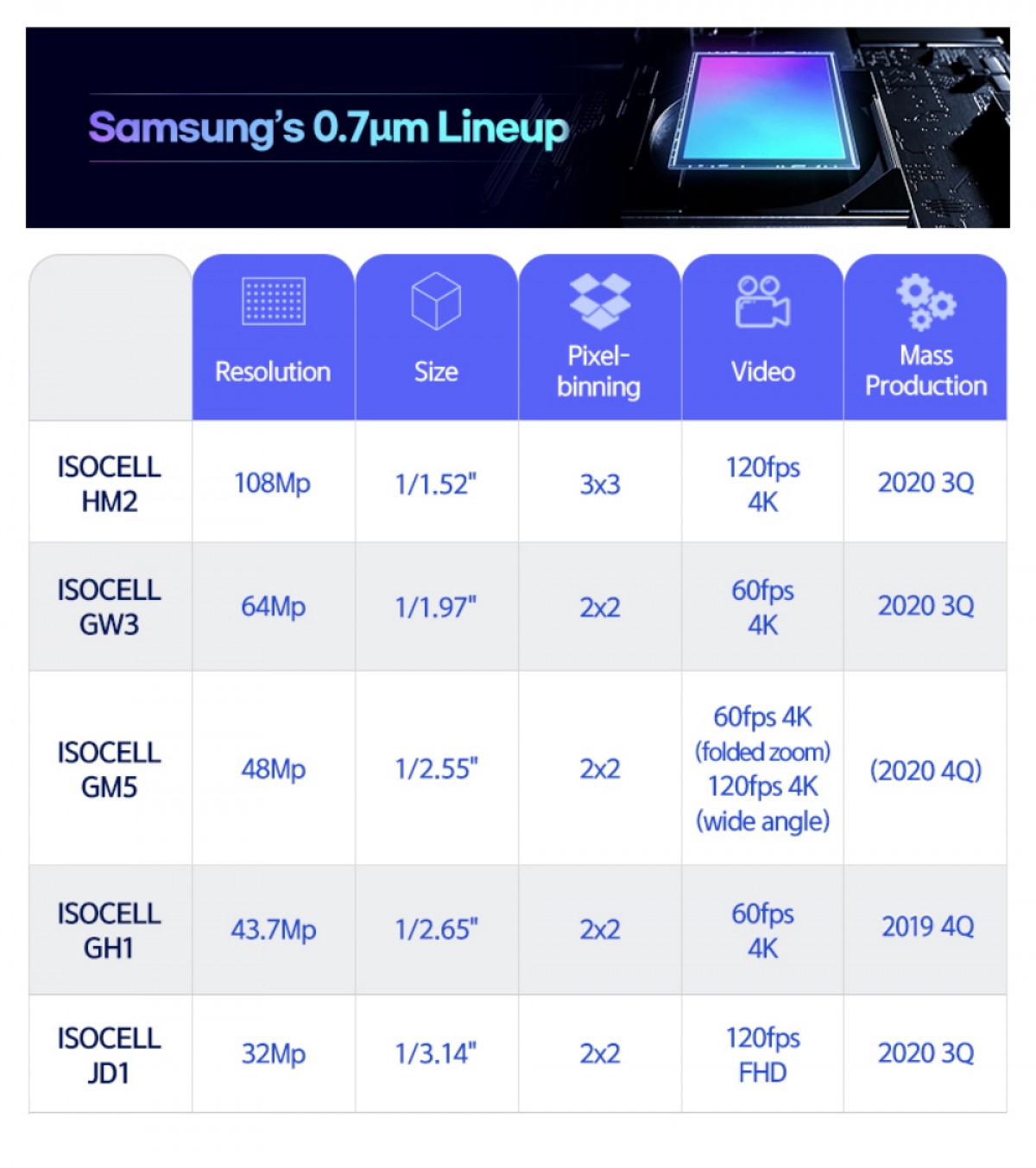 The first two are aimed at main cameras, the ISOCELL GM5 will be used in periscope zoom and ultra wide cameras. It has 48MP resolution and when used in an ultra wide module, it can record 1080p at 480 fps and 4K at 120 fps. As a periscope cam, it can do 4K at 60 fps instead.
As the industry's smallest 32 MP sensor, the ISOCELL JD1 is meant for punch hole and pop-up selfie cameras. It's about the size of a 16 MP 1.0 µm sensor. The GM5 above and the JD1 are one of the first sensors to support staggered HDR.
This mode leverages Tetracell (so it works on 1.4µm pixels) and sends three exposures to the image processor – long, medium and short. Compared to traditional HDR, Samsung says that staggered HDR is faster and more power-efficient.
The ISOCELL HM2, GW3 and JD1 are already being mass produced, the GM5 has been sent to manufacturers for evaluation.

Again, all four new sensors use ISOCELL Plus. Samsung will introduce ISOCELL 2.0 later this year, which enhances the walls between individual pixels and increases light sensitivity by up to 12% compared to Plus (which itself offered a boost of up to 15% compared to the original ISOCELL).
Related
To be fair, I'm not defending QB. I'm defending the one with proper "detail" which just incidentally, isn't the Sony 1 II. Want proof? Go to the money bills right at the "BANK of ENGLAND" name would show you a circl...
Well can't you just look at an established shot from GSMArena? At this point, if you can't replicate the exact same tests being made using an established set of rules then your samples were just a random set of opinions instead of a well re...
You're completely missing the point and I honestly don't see what you're seeing at all, and yes I'm not looking at those samples on a mobile display. Either I'm the blind one, or you are.
Popular articles
Popular devices
Electric Vehicles