Samsung unveils prices for Galaxy Z Flip4 and Z Fold4 in India, details discounts and promos
Peter, 16 August 2022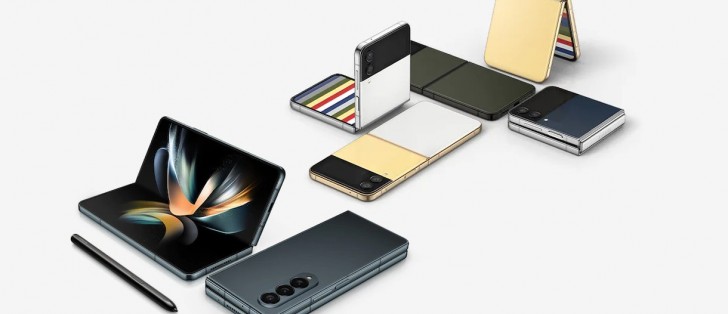 We have waited nearly a week for Samsung to unveil the prices for the new Galaxy Z foldables for the Indian market and here they are. Fans can now pre-book a Z Flip4 or Z Fold4 and score some gifts and discounts.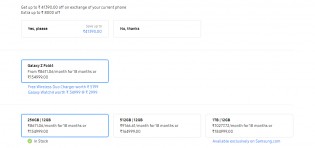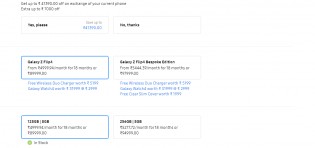 Pre-booking options for Samsung Galaxy Z Fold4 and Z Flip4
First, the prices. The table below has the breakdown by storage capacity. A couple of things to note about the Samsung Galaxy Z Flip4 – the customizable Bespoke Edition is available from Samsung Live and Samsung Exclusive Stores (and only in 256GB trim), the 512GB version is not available in the country. As for the Samsung Galaxy Z Fold4, the top 1TB model is available, but only through Samsung Live and Samsung Exclusive Stores.
Galaxy Z Fold4
256GB
512GB
1TB*
₹155,000
₹165,000
₹185,000
₹8,000 cashback or Upgrade Bonus
* 1TB variant exclusive to Samsung Live and Samsung Exclusive Stores
Galaxy Z Flip4
128GB
256GB
256GB Bespoke*
₹90,000
₹95,000
₹98,000
₹7,000 cashback or Upgrade Bonus
* Bespoke Edition exclusive to Samsung Live and Samsung Exclusive Stores
Note that these are the base prices, the two-day promo event offers some discounts. You can get ₹8,000 cashback with the pre-booking of a Z Fold4 or ₹7,000 with a Z Flip4. You will need an HDFC credit or debit card for that. Alternatively, if you are planning to trade in an old phone for credit, you will get an additional ₹8,000 or ₹7,000 towards purchasing the new foldable.
There's more – you get a free Wireless Charger Duo (normally valued at ₹5,200). The Galaxy Z Flip4 Bespoke Edition also comes with a free Slim Clear Cover (worth ₹2,000). This is a special Samsung Live promo event that starts today and ends tomorrow a midnight.






Some of the possible color combinations for the Galaxy Z Flip4 Bespoke Edition
For some peace of mind you ca get 1 year of Samsung Care+ at half price - ₹6,000. No Cost EMI is available for up to 24 months as well.
Finally, you can get a previous generation Galaxy watch at a hefty discount. Those who pre-book the Galaxy Z Fold4 can pick up a Galaxy Watch4 Classic (46mm, Bluetooth) for ₹3,000 (down from the MSRP of ₹35,000). If you picked the Z Flip4 instead you can grab a Watch4 Classic (42mm, Bluetooth) for ₹3,000 (down from ₹32,000).
If you prefer one of the new Galaxy Watch5 models, those are already on pre-order – here is the pricing info for them. You can pre-book one now and get a discount on the new Galaxy Buds2 Pro.
Related
You spoke my mind. But I would also like to add that even then i will buy that phone after a few months after it launches to get it at a reasonable price.
I am an Indian. Nobody is going to buy these phones at these prices in india. Probably 30-40 people out of a population of 1.3 billion will buy them. Even if samsung gives 10-15 thousand rupees discounts, it is still too high.
Fold 2, Fold 3, Fold 4 - all the same, nothing new. Make front panel wide like S22. It is so narrow and uncomfortable. People use basically front panel. I can not use whatsapp and othe massengers typing due to narrow panel. Samsung are u really so st...
Popular articles
Popular devices
Electric Vehicles