Samsung Galaxy Fit S5670 review: In shape droid
In shape droid
GSMArena team, 09 August 2011.
A great TouchWiz enhanced phonebook
The phonebook of the Samsung Galaxy Fit is plainly said, excellent. It has unlimited capacity and all the functionality you could want. The contacts application displays contacts stored in the SIM card, in your Google account or in the phone memory.
The TouchWiz interface has been at work in the phonebook bringing some special features. Instead of just flick-scrolling the list of people in the phonebook, you can search the entries by either typing the name of the person in the search box or by using the alphabet scroll at the right side of the screen.
The Samsung Galaxy Fit also packs the quick contacts feature, which first appeared on Android 2.1. Using a single click, it lets you use the contact photo in the phonebook and call, text, or email a contact.
Each contact can have multiple accounts for email and contact synchronization, including Exchange. There are many other details that you can assign to each entry, such as numbers, email addresses, IM, organization, and more. Clicking the plus sigh on the right adds another field of that type, while the minus sign deletes it.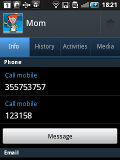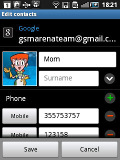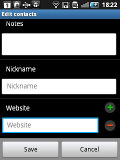 Checking out and editing a contact's details
The main contact list view hides some useful shortcuts too. Swiping your finger to the right on a name will dial the contact's default number, while a swipe to the left will start the message composer. The side-sweeping shortcuts are part of the TouchWiz UI and work in other lists too where you have names or numbers (such as the messaging menu).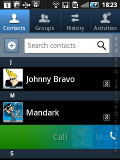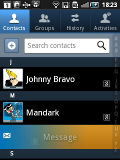 Swiping on a contact's name or number in the log will start a call or launch the message composer
Telephony
The Samsung Galaxy Fit handled calls without any hassle. The reception and in-call sound were alright and we didn't experience any dropped calls.
Smart Dialing is available and works beautifully. Tap a digit and it searches both contact numbers and names for it. If more than one contact is found, there's a number and an arrow, which show you the rest of the matches.
Thanks to the proximity sensor, your screen will automatically turn off during a call. The available options during a call include taking a note, using the keypad, muting, holding the call or adding another call to this conversation.
The call log is situated within the dialer. It shows all the dialed, received and missed calls in one list, which can be filtered to show only certain type of events.
We also ran our traditional loudspeaker test on the Galaxy Fit. It received a good mark and will let you know you have an incoming call in most loud environments. More info on the test itself as well as other results can be found here.
| | | | | |
| --- | --- | --- | --- | --- |
| Speakerphone test | Voice, dB | Pink noise/ Music, dB | Ringing phone, dB | Overall score |
| Samsung I9000 Galaxy S | 66.6 | 65.9 | 66.6 | Below Average |
| Google Nexus S | 68.1 | 66.3 | 69.3 | Average |
| HTC Sensation | 66.5 | 66.6 | 78.3 | Good |
| Samsung S5760 Galaxy Fit | 70.8 | 69.1 | 72.7 | Good |
| Samsung I9100 Galaxy S II | 70.0 | 66.6 | 75.7 | Good |
| Nokia N8 | 75.8 | 66.2 | 82.7 | Very Good |
| HTC Gratia | 73.2 | 73.6 | 83.5 | Excellent |
Rich messaging experience
The messaging application is quite straightforward. It has a new message button and bellow it are all the received messages organized in threads.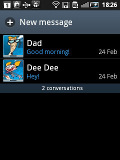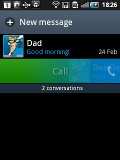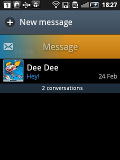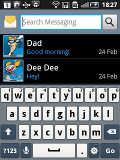 The Galaxy Fit messaging department and swipe functions • the app specific search
The same swiping functionality found in the phonebook has been integrated here as well. A swipe to the left starts a new message, while swiping to the right will start a call.
The application-specific search lets you quickly find a given message among all your stored SMS and MMS.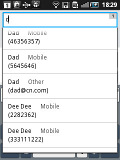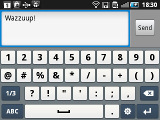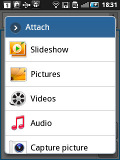 Adding recipients • Adding any multimedia content automatically turns an SMS into an MMS
Tap and hold on a message and a context menu brings up options such as edit, forward, delete and lock as well as view details and copy message text.
A press-and-hold in the tap-to-compose area gives you access to functions such as cut, copy and paste. Once a text is copied, you can paste it across applications like email, notes, chats, etc.
To add message recipients, just start typing the name or number and choose from the list of suggestions.
Adding multimedia content to a text message automatically turns into an MMS. You can just quickly add a photo or an audio file to go with the text or – depending on your needs – you can choose to go into a full-blown MMS editor.
Email is can be handled either by the standard Gmail app or the generic email app. The Gmail one supports batch operations, which allows multiple emails to be archived, labeled or deleted. Multiple Gmail accounts are supported too.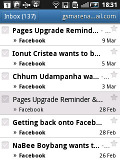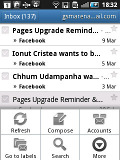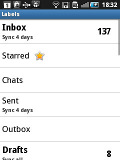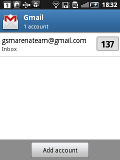 The Gmail should be pretty familiar to everyone by now
The generic email application is used for all your other non-gmail email accounts and supports multiple POP or IMAP inboxes. You have access to the original folders that are created online, along with the standard local ones such as inbox, drafts and sent items.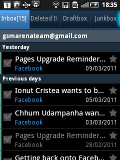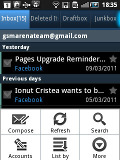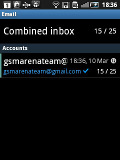 The standard email app also does a good job • the combined inbox
The TouchWiz UI in the Galaxy Fit features a combined inbox, which brings together all your mail in a single folder so you don't need to check each one for new mail. This can be quite handy if you have lots of accounts and you just want to check if there is a new message needing your attention.
Google Talk handles the Instant Messaging department. The G-Talk network is compatible with a variety of popular clients like Pidgin, Kopete, iChat and Ovi Contacts.
The Samsung Galaxy Fit comes with the Samsung home-baked keyboard preinstalled. Despite the smaller screen resolution, this keyboard feels comfortable to type on.
When you flip the phone on its side, the virtual keyboard automatically switches to the landscape mode, which is much bigger and more comfortable to use. It covers most of the screen however, leaving room for only two lines of text.
Voice input is also available and works quite good if you are in quieter environment.
Samsung has generously included Swype for an alternative input method – we covered it thoroughly in the Samsung I9000 Galaxy S review and we won't go into so much detail here. Swype is a life-saver on the smaller screens (such as the one of the Fit) – you don't have to be very accurate with your swyping, which makes text input faster and easier. It's only that, much like with any other text prediction method, it has to support the language you want to enter text in.
samsung galaxy fit is nice or not