Second wave iPhone SE and iPad Pro 9.7 pre-orders kick off
Kaloyan, 29 March, 2016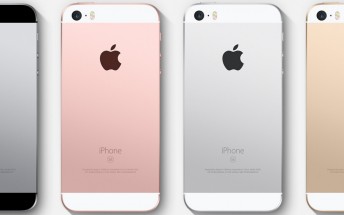 Apple iPhone SE and iPad Pro 9.7 went official on March 21 at a special Apple event in California. Both new gadgets went on pre-order on March 24 in select markets and shipping there will begin on March 31.
Today Apple expanded the availability of the iPhone SE and the iPad Pro 9.7 to many more markets. The long list of countries includes Albania, Andorra, Austria, Bahrain, Belgium, Bosnia, Bulgaria, Croatia, Czech Republic, Denmark, Estonia, Finland, Greece, Guernsey, Jersey, Hungary, Iceland, India, Ireland, Isle of Man, Italy, Kosovo, Kuwait, Latvia, Liechtenstein, Lithuania, Luxembourg, Macedonia, Maldives, Malta, Monaco, Netherlands, Norway, Poland, Portugal, Romania, Russia, Saudi Arabia, Slovakia, Slovenia, Spain, Sweden, Switzerland, Taiwan, Turkey, and UAE.
The pre-orders are live in those markets, and you can book your iPhone SE unlocked or carrier-bound. The iPhone SE and the iPad Pro 9.7 are expected to ship in 3 to 5 business days upon the order confirmation. Some of the models may take a week while others (such as the 64GB iPhone SE) may require from 4 up to 6 weeks.
Thank you, Guido, for the tip!
Related
489 EURO??? They said 400 when they introduced it! Check check Apple Store Germany
iPhone SE sales are only 3% of the sales of iPhone6S in the US by the Slice estimate. No wonder Apple wants to expand as soon as possible.
actually it's 2ways bud, it's either your TV networks approached Apple to advertise their products so they can get profit from it OR Apple approached your TV networks and gave them offer for them to advertise Apple products, eitherway the TV networks...
Popular articles
Popular devices