See if the Black Shark 4 bends like the Asus ROG Phone 5 and the Lenovo Legion Duel 2
Vlad, 23 April 2021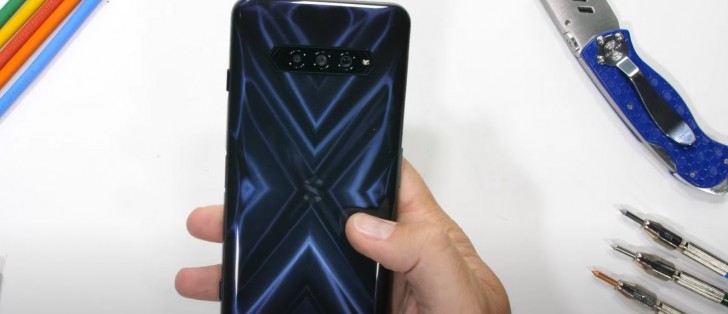 2021 gaming phones have so far turned out to be suffering on the durability front, especially when we're talking bend tests. Recently we've seen both the Asus ROG Phone 5 and the Lenovo Legion Duel 2 snapping in two (or even three) when subjected to some bending pressure, and now it's another gaming phone's turn.
The Black Shark 4 is the cheapest of the bunch, so does that mean it will fare even worse? There's only one way to tell, and that's to watch the JerryRigEverything video embedded below, in which Zack takes the phone through the usual 'durability test' procedures: scratching, burning, and, finally - bending (or not). Grab some popcorn and let's go. There's even a bonus disassembly of the Fun Cooler 2 accessory, along with an explanation of how it works.
If you can't watch the video, here's the nitty gritty. The phone comes with a preinstalled screen protector, but the glass underneath is... glass. It scratches at level 6 on the Mohs hardness scale, with deeper grooves at level 7. So far so good.
The frame is metal, as are the buttons - including the shoulder buttons that can be raised on demand. These even survive some light hammering. The screen takes a direct flame for about 25 seconds before going white, but did eventually recover. Oh, and shockingly, the Black Shark 4 is so far the only gaming phone of the year that doesn't bend.
Related
Anonymous
18 May 2021
J5s
Who cares will it bend or not. Worthless crap.
Anonymous
26 Apr 2021
4DI
What's more the guy virtue signals while contributing his own decimal percentile to e-waste.
Popular articles
Popular devices
Electric Vehicles