See if Microsoft's dual-screen Surface Duo 2 survives scratch, burn, and bend testing
Vlad, 22 November 2021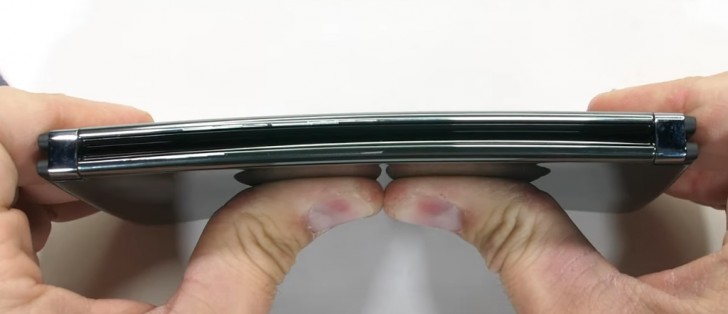 Microsoft hasn't let the complete market failure of the first Surface Duo deter it from launching the Surface Duo 2 a few weeks ago, and while there are some notable improvements in this one compared to its predecessor, it probably isn't going to be popular either.
The dual-screen construction presents a 'foldable' device of sorts, although not in the way we're used to thinking about that word. Neither of the two screens folds, this is just a device with two screens separated by a hinge - and bezels. But here's the million dollar question: how will it do when subjected to some torture testing?
That's exactly what YouTuber Zack from JerryRigEverything set out to discover, and you can see his entire experience documented in the video embedded above.
In case you can't watch, we'll give you the gist of things. Because these screens aren't flexible, they are both covered with Gorilla Glass Victus, which scratches at level 6 on the Mohs hardness scale, with deeper grooves at level 7 - just as expected, and just as on any other phone. The sides of the Surface Duo 2 are plastic, and that includes the fingerprint sensor, which means that if you scratch it, it won't work very well (or at all) anymore.
Both screens can take a direct flame from a lighter for a very long time without leaving huge marks, and when it comes to bend testing... the phone survives, but it's clear that the part opposite the hinge is quite prone to flexing - and not in a good way.
Related
The camera could be better, and Windows would be far better than Android for the Surface Duo. But it's a great idea and a high qualtiy device (I am not interested in a bending test) ... actually I don't want to switch to any other phone. Ex...
I'd buy it in a heartbeat if it ran windows. This would be a perfect way to replace a laptop.
Anonymous
23 Nov 2021
j%t
The soft plastic screens of the foldables are junk imo. 2 pieces of glass is a far better option in this regard, it is unfortunate that they can't make the inner bezels barely there but whatever. And so what if you need to use the camera while...
Popular articles
Popular devices
Electric Vehicles